Wild and Hatchery Populations of Korean Starry Flounder (Platichthys stellatus) Compared Using Microsatellite DNA Markers
Genetics and Breeding Research Center, National Fisheries Research and Development Institute, Namseoro 81-9, Gyeongsangnamdo 656-842, Korea
*
Author to whom correspondence should be addressed.
Received: 22 November 2011 / Revised: 2 December 2011 / Accepted: 5 December 2011 / Published: 9 December 2011
Abstract
Starry flounder (
Platichthys stellatus
) is an important sport and food fish found around the margins of the North Pacific. Aquaculture production of this species in Korea has increased because of its commercial value. Microsatellite DNA markers are a useful DNA-based tool for monitoring the genetic variation of starry flounder populations. In this study, 12 polymorphic microsatellite DNA markers were identified from a partial genomic starry flounder DNA library enriched in CA repeats, and used to compare allelic variation between wild and hatchery starry flounder populations in Korea. All loci were readily amplified and demonstrated high allelic diversity, with the number of alleles ranging from 6 to 18 in the wild population and from 2 to 12 in the farmed population. A total of 136 alleles were detected at the 12 microsatellite loci in the two populations. The mean observed and expected heterozygosities were 0.62 and 0.68, respectively, in the hatchery samples and 0.67 and 0.75, respectively, in the wild samples. These results indicate lower genetic variability in the hatchery population as compared to the wild population. Significant shifts in allelic frequencies were detected at eight loci, which resulted in a small but significant genetic differences between the wild and hatchery populations (
F
ST
= 0.043,
P
< 0.05). Further studies with additional starry flounder sample collections are needed for comprehensive determinations of the genetic varieties between the wild and hatchery populations. These microsatellite loci may be valuable for future population genetic studies, monitoring the genetic variation for successful aquaculture management and the preservation of aquatic biodiversity.
View Full-Text
►

▼

Figures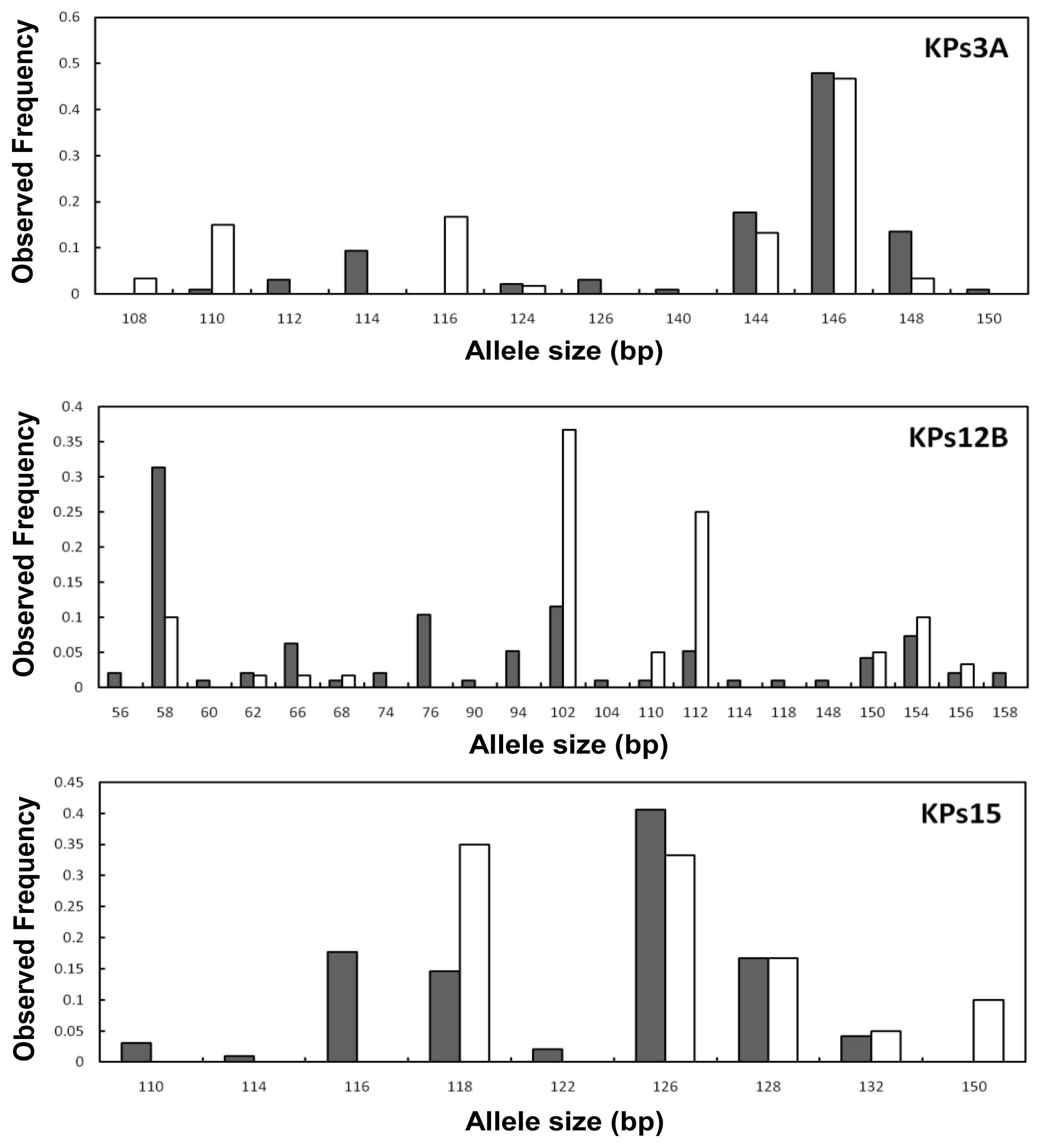 Share & Cite This Article
MDPI and ACS Style
An, H.S.; Byun, S.G.; Kim, Y.C.; Lee, J.W.; Myeong, J.-I. Wild and Hatchery Populations of Korean Starry Flounder (Platichthys stellatus) Compared Using Microsatellite DNA Markers. Int. J. Mol. Sci. 2011, 12, 9189-9202.
Related Articles
Comments
[Return to top]