A Germin-Like Protein Gene (CchGLP) of Capsicum chinense Jacq. Is Induced during Incompatible Interactions and Displays Mn-Superoxide Dismutase Activity
1
División de Ciencias de la Vida, Departamento de Ingeniería en Alimentos, Campus Irapuato-Salamanca, Universidad de Guanajuato, Ex-Hacienda el Copal km 9, Carretera Irapuato-Silao, CP 36500, Irapuato Guanajuato, Mexico
2
División de Biología Molecular, Instituto Potosino de Investigación Científica y Tecnológica, Camino a la Presa San José 2055, Colima, Lomas 4 sección CP 78216, San Luis Potosí, S.L.P. Mexico
3
Laboratorio de Biología Molecular, Departamento de Ingeniería Bioquímica, Instituto Tecnológico de Celaya, Avenida Tecnológico y A, García-Cubas, S/N, Col, FOVISSSTE, CP 38010, Celaya, Guanajuato, Mexico
4
C.A de Ingeniería de Biosistemas, Facultad de Ingeniería, Universidad Autónoma de Querétaro, Centro Universitario Cerro de las Campanas, S/N, Col, Las Campanas, CP 76010, Santiago de Querétaro, Querétaro, Mexico
5
Unidad de Biotecnología, Instituto Nacional de Investigaciones Forestales, Agrícolas y Pecuarias, Carr, Celaya-San Miguel de Allende, km 6, CP 38010, Celaya, Guanajuato, Mexico
*
Author to whom correspondence should be addressed.
Received: 21 July 2011 / Revised: 4 September 2011 / Accepted: 17 October 2011 / Published: 25 October 2011
Abstract
A germin-like gene (
CchGLP
) cloned from geminivirus-resistant pepper (
Capsicum chinense
Jacq. Line BG-3821) was characterized and the enzymatic activity of the expressed protein analyzed. The predicted protein consists of 203 amino acids, similar to other germin-like proteins. A highly conserved cupin domain and typical germin boxes, one of them containing three histidines and one glutamate, are also present in CchGLP. A signal peptide was predicted in the first 18
N
-terminal amino acids, as well as one putative
N
-glycosylation site from residues 44–47.
CchGLP
was expressed in
E. coli
and the recombinant protein displayed manganese superoxide dismutase (Mn-SOD) activity. Molecular analysis showed that
CchGLP
is present in one copy in the
C. chinense
Jacq. genome and was induced in plants by ethylene (Et) and salicylic acid (SA) but not jasmonic acid (JA) applications in the absence of pathogens. Meanwhile, incompatible interactions with either
Pepper golden mosaic virus
(PepGMV) or
Pepper huasteco yellow vein virus
(PHYVV) caused local and systemic
CchGLP
induction in these geminivirus-resistant plants, but not in a susceptible accession. Compatible interactions with PHYVV, PepGMV and oomycete
Phytophthora capsici
did not induce
CchGLP
expression. Thus, these results indicate that
CchGLP
encodes a Mn-SOD, which is induced in the
C. chinense
geminivirus-resistant line BG-3821, likely using SA and Et signaling pathways during incompatible interactions with geminiviruses PepGMV and PHYVV.
View Full-Text
►

▼

Figures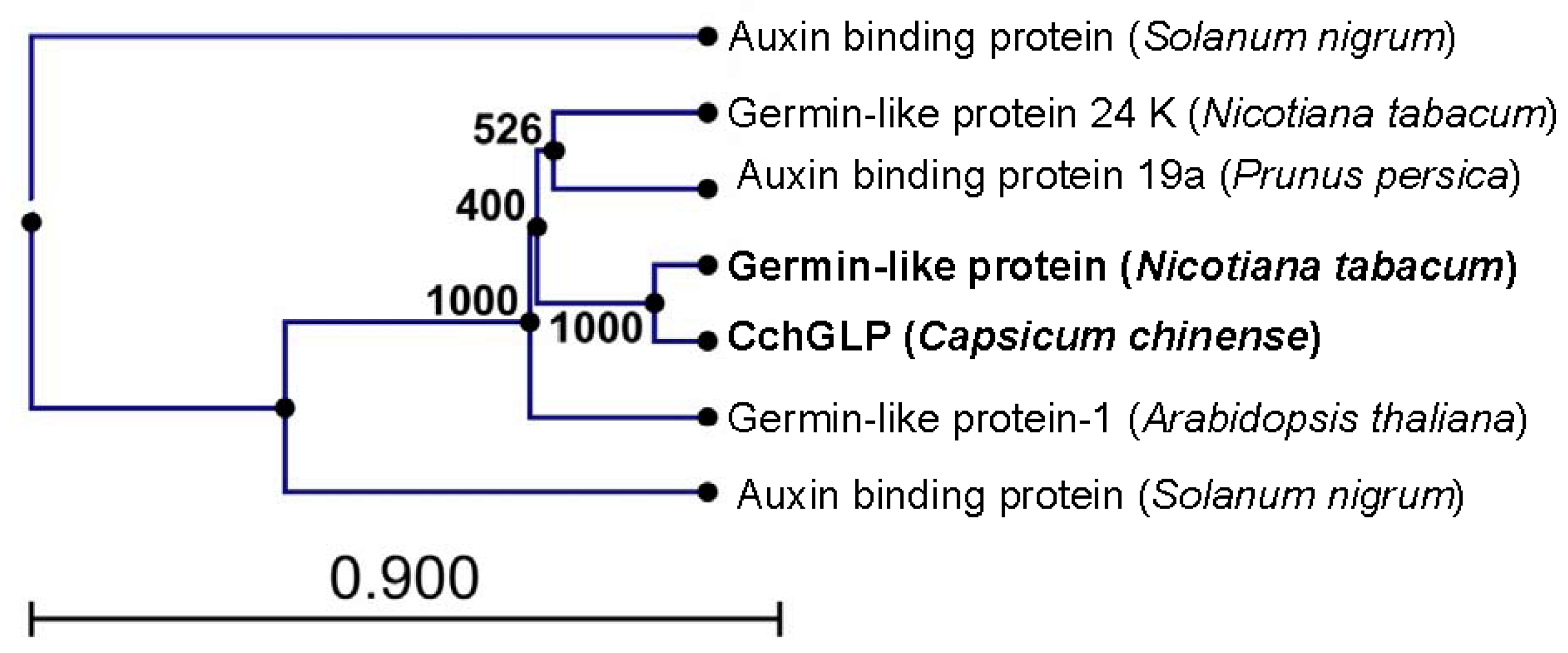 Share & Cite This Article
MDPI and ACS Style
León-Galván, F.; Joaquín-Ramos, A.J.; Torres-Pacheco, I.; de la Rosa, A.P.B.; Guevara-Olvera, L.; González-Chavira, M.M.; Ocampo-Velazquez, R.V.; Rico-García, E.; Guevara-González, R.G. A Germin-Like Protein Gene (CchGLP) of Capsicum chinense Jacq. Is Induced during Incompatible Interactions and Displays Mn-Superoxide Dismutase Activity. Int. J. Mol. Sci. 2011, 12, 7301-7313.
Related Articles
Comments
[Return to top]