Isolation and Characterization of Microsatellite Loci in the Asian Rice Gall Midge (Orseolia oryzae) (Diptera: Cecidomyiidae)
1
Directorate of Rice Research, Rajendranagar, Hyderabad 500030, India
2
Centre for DNA Fingerprinting and Diagnostics, Hyderabad 500001, India
*
Author to whom correspondence should be addressed.
Received: 10 December 2010 / Revised: 1 January 2011 / Accepted: 13 January 2011 / Published: 20 January 2011
Abstract
Microsatellite loci were isolated from the genomic DNA of
the Asian rice gall midge,
Orseolia oryzae
(Wood-Mason) using a hybridization capture approach. A total of 90 non-redundant primer pairs, representing unique loci, were designed. These simple sequence repeat (SSR) markers represented di (72%), tri (15.3%), and complex repeats (12.7%). Three biotypes of gall midge (20 individuals for each biotype) were screened using these SSRs. The results revealed that 15 loci were hyper variable and showed polymorphism among different biotypes of this pest. The number of alleles ranged from two to 11 and expected heterozygosity was above 0.5. Inheritance studies with three markers (observed to be polymorphic between sexes) revealed sex linked inheritance of two SSRs (Oosat55 and Oosat59) and autosomal inheritance of one marker (Oosat43). These markers will prove to be a useful tool to devise strategies for integrated pest management and in the study of biotype evolution in this important rice pest.
View Full-Text
►

▼

Figures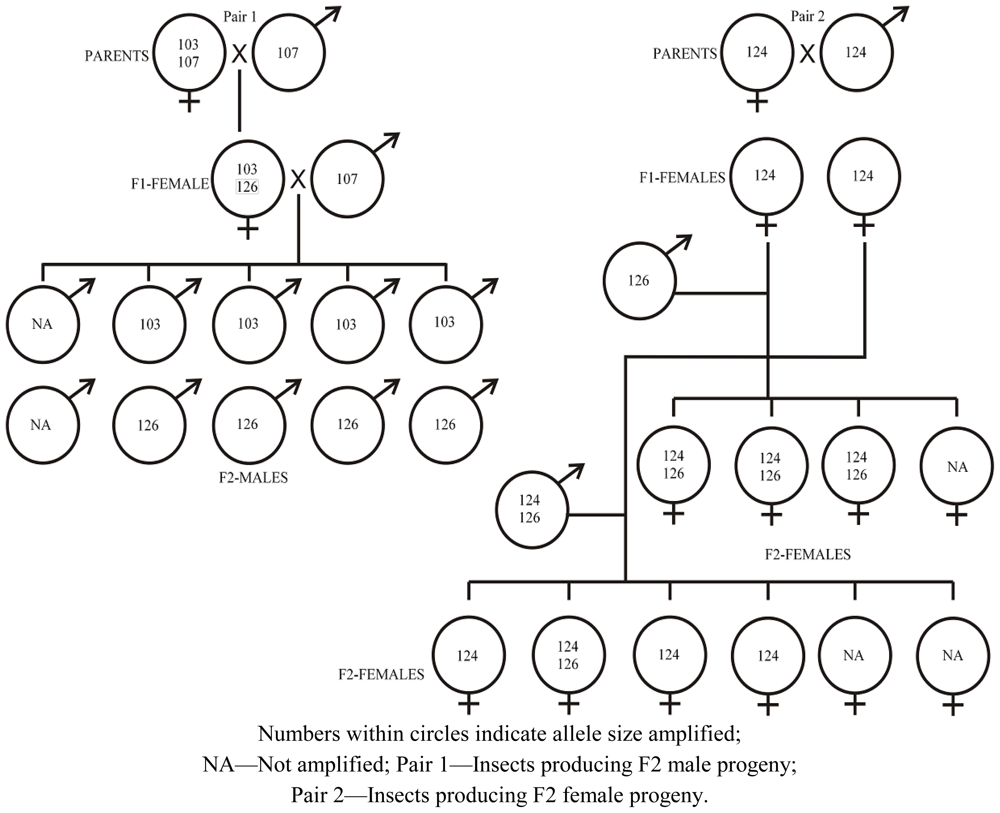 Share & Cite This Article
MDPI and ACS Style
Bentur, J.S.; Sinha, D.K.; Padmavathy, C.; Revathy, C.; Muthulakshmi, M.; Nagaraju, J. Isolation and Characterization of Microsatellite Loci in the Asian Rice Gall Midge (Orseolia oryzae) (Diptera: Cecidomyiidae). Int. J. Mol. Sci. 2011, 12, 755-772.
Related Articles
Comments
[Return to top]