Modulation of Ca2+ Signals by Epigallocatechin-3-gallate(EGCG) in Cultured Rat Hippocampal Neurons
1
College of Fisheries, Huazhong Agricultural University, Wuhan 430070, Hubei, China
2
Department of Pharmacy, The Affiliated Xiangfan Hospital of TongJi Medical College of Huazhong University of Science & Technology, Xiangfan 441021, Hubei, China
3
Department of Pharmacology, Medical College, Xianning University, Xianning 437100, Hubei, China
4
Department of Osteopaedics, Center Hospital of Xianning, Xianning 437100, Hubei, China
*
Author to whom correspondence should be addressed.
Received: 22 December 2010 / Revised: 30 December 2010 / Accepted: 4 January 2011 / Published: 20 January 2011
Abstract
Green tea has been receiving considerable attention as a possible neuroprotective agent against neurodegenerative disease. Epigallocatechin-3-gallate (EGCG) is the major compound of green tea. Calcium signaling has profound effects on almost all aspects of neuronal function. Using digital calcium imaging and patch-clamp technique, we determined the effects of EGCG on Ca
2+
signals in hippocampal neurons. The results indicated that EGCG caused a dose-dependent increase in intracellular Ca
2+
([Ca
2+
]
i
). This [Ca
2+
]
i
increase was blocked by depleting intracellular Ca
2+
stores with the endoplasmic reticulum Ca
2+
pump inhibitor thapsigargin and cyclopiazonic acid. Furthermore, EGCG-stimulated increase in [Ca
2+
]
i
was abolished following treatment with a PLC inhibitor. However, EGCG inhibited high-voltage activated Ca
2+
currents (I
HVA
) and NMDA-induced inward currents (I
NMDA
). These data suggest that EGCG triggers a cascade of events: it activates phospholipase C (PLC), mobilizes intracellular Ca
2+
stores, raises the cytosolic Ca
2+
levels, and inhibits the VGCC and NMDA receptors-mediated Ca
2+
influx through a process that remains to be determined.
View Full-Text
►

▼

Figures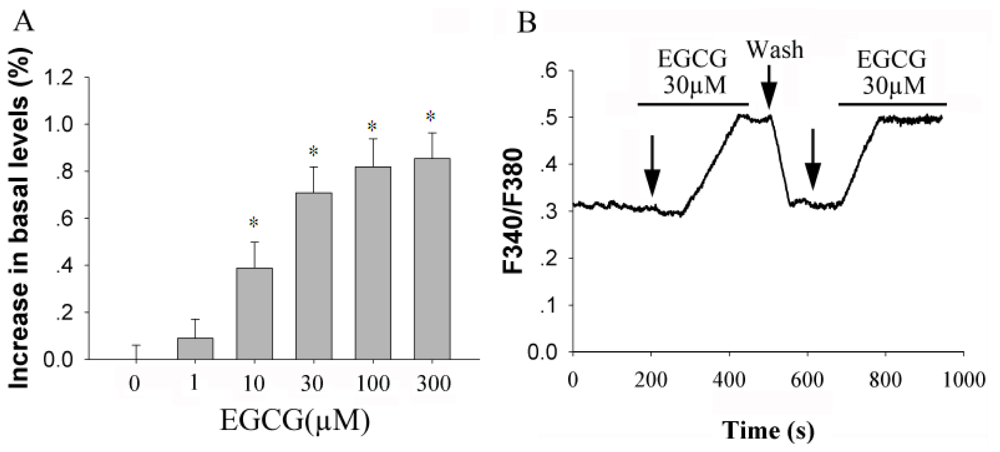 Share & Cite This Article
MDPI and ACS Style
Wang, J.-H.; Cheng, J.; Li, C.-R.; Ye, M.; Ma, Z.; Cai, F. Modulation of Ca2+ Signals by Epigallocatechin-3-gallate(EGCG) in Cultured Rat Hippocampal Neurons. Int. J. Mol. Sci. 2011, 12, 742-754.
Related Articles
Comments
[Return to top]