Open Access This article is
freely available
re-usable
Review
Neural Membrane Signaling Platforms
Department of Anthropology, University of Central Florida, Box 25000, Orlando, FL, 32816, USA; E-Mail: Tel.: +1-407-823-2227; Fax: +1-407-823-3498
Received: 8 March 2010; in revised form: 3 June 2010 / Accepted: 9 June 2010 / Published: 10 June 2010
Abstract
:
Throughout much of the history of biology, the cell membrane was functionally defined as a semi-permeable barrier separating aqueous compartments, and an anchoring site for proteins. Little attention was devoted to its possible regulatory role in intracellular molecular processes and neuron electrical signaling. This article reviews the history of membrane studies and the current state of the art. Emphasis is placed on natural and artificial membrane studies of electric field effects on molecular organization, especially as these may relate to impulse propagation in neurons. Implications of these studies for new designs in artificial intelligence are briefly examined.
Keywords:
microdomains; rafts; lipids; neurons; artificial intelligence
1. Introduction
The plasma membrane of eukaryotic cells constantly mediates between internal and external environments. Consistent with its role as a regulatory boundary, the membrane is not a homogeneous liquid, as originally believed, but a richly compartmentalized dynamic structure with a wide range of functional properties. This review evaluates a rapidly growing body of evidence suggesting that microdomains or rafts may modulate membrane protein activity and thus function as signaling platforms. Microdomains are very small membrane regions (5–20 nm) with elevated concentrations of sphingolipids and cholesterol. (Caveolae, which are flask-shaped invaginations of the plasma membrane, are not discussed in this review. For a good recent overview of the topic see [
1
]). The smallest microdomains may contain as few as ∼30–40 lipids and ∼6–10 proteins. Their lifetimes tend to be short (1 millisecond or less), and their composition may vary due to molecules in the fluid environment diffusing in and out of the microdomains [
2
–
4
]. In the neuron, microdomain interaction with ion channels may play an important role in action potential (AP) propagation. The review begins with an historical overview of pioneering membrane studies, ranging from the 19
th
century experiments of Henri Dutrochet which first suggested the membrane's existence, to the 1972 Fluid Mosaic Model proposed by Singer and Nicolson. Subsequent studies of membrane order are then examined in some detail, methodological problems are discussed, and a revised understanding of neuron information-processing involving electrostatic interaction between ion channel charge groups and transient membrane dipoles is briefly presented. Finally, the possibility of membrane-based devices which simulate neuron microdomains is schematically evaluated. It is concluded that despite significant engineering obstacles, such devices would possibly have important implications for artificial intelligence.
2. Pioneering Studies: From Dutrochet to Singer and Nicolson
Membrane researchers in the early 19
th
century energetically engaged the question of whether the membrane in fact existed [
5
,
6
]. The controversy was almost inevitable, given the instrumental limitations of the day including, in particular, the low-resolution microscopes. Thus when Henri Dutrochet in 1824 advanced the concept of a "globule" (cell) semi-permeable membrane, based on the uniform cell morphology he had observed in animal tissue, his view was strongly resisted by many of his contemporaries. Fallible instrumentation, however, was not the only issue. German cytologists, especially Max Schultze and Franz Unger, proponents of the "Membraneless State Model", were impressed by phagocytotic movements observed in unicellular organisms. (Their opponents, the "Membran" school, argued for a rigid cell wall comparable to that of plant cells.) These dynamics seemed incompatible with the constraint of a membrane, and were attributed to "monads" characterized by "self-determination". The latter view, clearly influenced by vitalistic philosophy, impeded membrane research until nearly the end of the century when the field was dramatically transformed by the work of Charles Ernest Overton.
As he addressed the October 31, 1898 gathering of the Science Foundation in Zurich, Charles Overton noted that for over nine years he had conducted some 10,000 experiments "on the general osmotic properties of plant and animal cells." "I should have reached," he said in deliberate understatement, "a satisfactory general view about them." The experiments were models of scientific caution. Initially, he extended Hugo de Vries' studies in osmosis by investigating cell permeability in solutions containing increasing quantities of a compound. Satisfied that the cell boundary was a semi-permeable barrier, he then turned to the problem of explaining the varied rates at which compounds entered the cell. He found that compounds soluble in fatty oils entered the cell very quickly while compounds soluble in water but "insoluble or very slightly soluble" in fatty oil would either penetrate the cell very slowly or would not penetrate it at all. He was ultimately led to the notion that the cell's outer boundary—he was now using the phrase "precipitation membrane"—was "impregnated by a substance whose dissolving properties for various compounds may well match those of a fatty oil." The concept of the lipid membrane as a selective semipermeable barrier was thus introduced to cell biology.
Overton's inability to describe membrane structure in any but the most general terms reflected the persisting limits of instrumentation. Not until the development of electron microscopy in the 1930s and 1940s would it be possible to directly observe the lipid membrane
in situ
. Nonetheless, attempts to design a device for preparing thin films, or artificial membranes, were already underway eight years before the Zurich paper. Agnes Pockels, a pioneering amateur, had used "a rectangular tin trough filled with water to the brim" to study the surface tension of fluids. Her apparatus was modified in 1917 by Irving Langmuir and Katherine Blodgett and is now known, perhaps somewhat unfairly, as a Langmuir-Blodgett (LB) trough. Using the improved device, Langmuir and Blodgett demonstrated that lipids with varied hydrocarbon-chain lengths would always produce films with the same surface area. This result would only occur, they reasoned, if the lipid molecules were vertical. The most chemically plausible orientation would be for the polar head group to be in contact with the water, and the non-polar hydrocarbon chains pointing upward. Seeking to replicate this result, Edwin Gorter and F. Grendel in 1925 extracted lipids from erythrocytes of several different animal species and applied them to the surface of water in a modified LB trough. Their unexpected finding—only possible because their mathematical and procedural errors cancelled each other out—was that the area covered by the lipids was twice the total surface area of the erythrocytes. This result was only possible, they concluded, if the cell membrane were a bilayer: "One obtains a quantity of lipoids that is exactly sufficient to cover the total surface of the chromocytes [erythrocytes] in a layer that is two molecules thick."
It is retrospectively somewhat surprising that these progressively accurate understandings of membrane structure were succeeded in the 1930s by a model both counterintuitive and historically retrograde. Hugh Davson and James F. Danielli proposed in 1935 that the membrane was a sandwich-like structure with protein surfaces and a lipid interior [
7
]. The Davson-Danielli (DD) model, reminiscent of the rigid cell wall ("Membran") of 19
th
century German cytology, was nearly as difficult to reconcile with membrane flexibility as its counterpart had been in the previous century. However, membrane studies conducted in the 1940s and 1950s using the newly-developed electron microscope initially appeared consistent with the model. The 1 nm resolution images revealed a trilaminar membrane structure of dark, light, and dark bands, often analogized to railroad tracks. The dark bands were believed to be the protein coats, while the light band was proposed to be the lipid interior. J.D. Robertson importantly modified the model in 1960 by demonstrating that the dark bands were headgroups and associated proteins of lipid monolayers, noting correctly that the lipid bilayer was a universal structural feature of animal cells [
8
]. With Robertson's modifications, DD continued as the dominant model until a decisive experiment conducted in 1970 by L.D. Frye and Michael Edidin.
The central feature of DD, the protein "sandwich", implied limited protein mobility in the plane of the bilayer. Frye and Edidin tested this feature by fusing mouse and human lymphocytes (heterokaryon assay) and then tracking the lateral mobility of major histocompatibility complex (MHC) proteins of the two species [
9
]. Within 40 min after fusion, they noted that "total mixing of both parental antigens occurred in over 90% of the heterokaryons." Based on this observation, they proposed a major revision in the understanding of membrane structure: "It appears that the cell surface of heterokaryons is not a rigid structure, but is 'fluid' enough to allow free 'diffusion' of surface antigens resulting in their intermingling within minutes after the initiation of fusion." Strongly influenced by this experiment (as well as by earlier studies conducted by Lenard and Singer indicating that labeled proteins form isolated spots in some membranes), Jonathan Singer and Garth Nicolson proposed the Fluid Mosaic model (FM) of membrane architecture in 1972, which has continued as the dominant model to the present day [
10
]. In FM, the membrane is construed as a 2D sea of lipids with a "mosaic" of integral proteins. Consistent with the fluid viewpoint, molecules comprising the membrane form random associations, resulting in overall lateral disorder. It is important to note, however, that Singer and Nicolson expressed reservations regarding the scale of disorder, noting that FM applied to "distances of the order of a few tenths of a micron and greater." Their caveat left open the possibility of small-scale order, and ushered in an era of research on membrane lateral heterogeneities.
3. Membrane Small-scale Oder: Microdomains
4. Neural Membrane Microdomains as Signaling Platforms
From the standpoint of information theory, any signal is a physical structure for which temporal or spatial changes of state encode information, or recognized contrast with the environment. In the neuron, signals include ligand- and voltage-gated ion channels, G-protein-coupled receptors, receptor tyrosine kinases, and a variety of other molecular factors. The simplest function of a microdomain is to provide a scaffold or platform to co-localize the molecular signals, thus facilitating their interaction [
24
–
26
]. For example, a neuron receptor could be localized only to those microdomains which contain a specific set of signal components, thereby preventing or significantly limiting non-specific signaling. A more complex possibility exists: In a microdomain-based switching sytem, the components necessary to activate or modulate a signaling pathway could initially be segregated into separate microdomains. Subsequent microdomain fusion, induced by an external input, could activate or refine the signal. The separation of the microdomains, following the termination of the input, would then re-set the system. It is important to note that in both types of processes, microdomains are essentially passive, providing platforms for proteins. Is it possible that microdomains may also play a more active role, modulating by means of their intrinsic chemical structure intracellular traffic and electrical signaling in the neuron? In this section, we review recent studies of neuron microdomains, and evaluate this possibility.
4.1. Neural Microdomains, Development, and Plasticity
4.2. Microdomains, Action Potential Propagation, and Synaptic Transmission
The computational implications of the Fantini-Barrantes model are worth considering. In essence, their viewpoint appears consistent with a concept of sub-neural information-processing modules in which the tokens are a set of interacting molecules seeking a minimum local potential energy. Receptor-channel gating and subsequent field-induced lateral movement of sphingolipids between post-synaptic microdomains, possibly by hop diffusion over cytoskeleton barriers, would modulate the computation, thus amounting to a form of learning. Possibilities such as these reflect the growing conceptual richness of microdomain theory, now entering its third decade. They also suggest a role for molecular-machine mimics in extending current models of artificial intelligence. This strategy will be discussed briefly in the following section.
5. Microdomain-based Molecular Machines and Artificial Intelligence
This review has evaluated a rapidly growing body of evidence suggesting that neural-membrane microdomains may function as dynamic scaffolds which co-localize signal units, thereby modulating neuron electrochemical information. These data, if reinforced by future investigations, may have important implications for the understanding of how the neuron works. In an admittedly speculative vein, but consistent with available data, it is here proposed that the neuron is not the fundamental unit of brain information-processing; rather, the neuron is more accurately regarded as a linear array of microdomain computational modules which can propagate, amplify, and indeed extinguish an AP, based on moment-to-moment changes in lipid composition and lipid-protein interactions [
71
]. As well, microdomains may up- or down-regulate intracellular molecular signals including, importantly, signaling to the nucleus. This approach is clearly at variance with the foundations of artificial intelligence. Over 60 years ago, Warren McCulloch and Walter Pitts, inspired by the symbolic logic of philosophers Alfred North Whitehead and Bertrand Russell, proposed an idealized neuron [
72
]. In their mathematical model, the neuron computed a weighted sum of inhibitory and excitatory inputs with regard to a threshold value, fired (if inputs were at or above threshold) in an all-or-none fashion, and propagated an invariant signal to another target unit. This view, which has given rise to many intellectual descendants—including the units in neural-network, perceptron, and connectionist theory—remains the key mathematical concept underlying formal modeling and physical implementation of neuropsychological processes. Yet, as several researchers have noted (based largely on extensive evidence for signal modulation in dendrites, as well as groups of synapses that depress nearest-neighbor activity) the neuron may not be analogous to a gate composed of a single transistor [
73
–
75
]. Instead, consistent with the viewpoint presented in this article, the neuron is more properly analogized to a chip or integrated circuit comprised of interconnected transistors.
Can molecular-machine mimics of neural membrane microdomains contribute to more realistic, computationally subtle models in neural networks and artificial intelligence? The answer is guardedly affirmative because, although much has been accomplished, significant engineering obstacles remain [
76
–
81
]. The most promising architectures for investigating signal-protein interactions and ion-channel functioning in microdomains are mobile planar lipid bilayers on solid supports such as gold or silicon (
Figure 3
). Ion-channel insertion, measurable ion flow, and membrane lateral mobility are best achieved by decoupling the membrane from the support by means of a water layer or hydrated polymer. The latter, a biomimic of the cytoskeleton, can stabilize the system for analysis (while sacrificing some lateral mobility) if the polymer layer is covalently tethered to the substrate and attached to the membrane by anchor lipids. Channel-forming proteins have been inserted into engineered membranes with varying levels of biological realism. Traditionally, gramicidin A—a dimer synthesized by binding immobile and mobile half-channels to create a conducting channel—has been widely used as an ion-channel model system. Although this strategy continues, interest in alternative models has been stimulated by the recent successful insertion of functioning glutamate-receptor ion channels (mostly NMDA type) into a mixed hybrid bilayer membrane [
82
]. Gabriele Favero's team, who carried out the study, anticipates similar analyses of AMPA and other receptors.
Under more biologically realistic—albeit less stabilized—conditions in which the supported membrane is comprised of a mixture of tethered microdomains and interstitial liquid-disordered regions, it may be possible to investigate the putative NMDA-induced recruitment of AMPA into microdomains (as proposed in Hou's study), as well as the interactions of other scaffolded signal proteins. Another potentially valuable study would examine microdomain effects on the voltage-gated A-current potassium channel (K
A
). Members of this microdomain-localized channel vary in their kinetics and voltage dependence, but share a critical property: they are transiently activated by depolarization following a period of hyperpolarization [
83
]. This feature has the important consequence of increasing local hyperpolarization, frequently resulting in AP propagation failure. If K
A
kinetics in an artificial system can be directionally modulated by the microdomain environment (e.g., via lipid-protein electrostatics as outlined briefly above), this finding would be consistent with a model of neuron modules regulating AP propagation. Studies along these lines could potentially motivate the development of novel architectures (perhaps departing significantly from the traditional McCulloch-Pitts neuron) in neural networks and artificial intelligence.
6. Conclusion
Frequently misunderstood by early cell biologists due to flawed instrumentation and inaccurate paradigms, the cell membrane is now widely recognized as an important regulatory structure. The microdomain (or raft) in particular is increasingly viewed as a molecular scaffold which co-localizes signal proteins for orchestrating extra- and intracellular molecular processes. In the special case of the neuron, microdomains appear to modulate AP propagation, synaptic transmission, and a wide variety of cytosolic cascades. Growing evidence therefore supports a revised view of the neuron as an array of computational modules analogous to a chip or integrated circuit. The new viewpoint, if supported by subsequent investigations, may have significant implications for novel artificial-intelligence and neural network designs.
Acknowledgments
I am indebted to fellow participants in the annual Sanibel Symposium on Atomic, Molecular, Biophysical and Condensed Matter Theory (sponsored by the University of Florida Quantum Theory Project) with whom I have had, for nearly a decade, many helpful discussions regarding neural membrane microdomains. While these exchanges have contributed strongly to whatever strengths this review may possess, the responsibility for any errors of fact or interpretation remains entirely my own.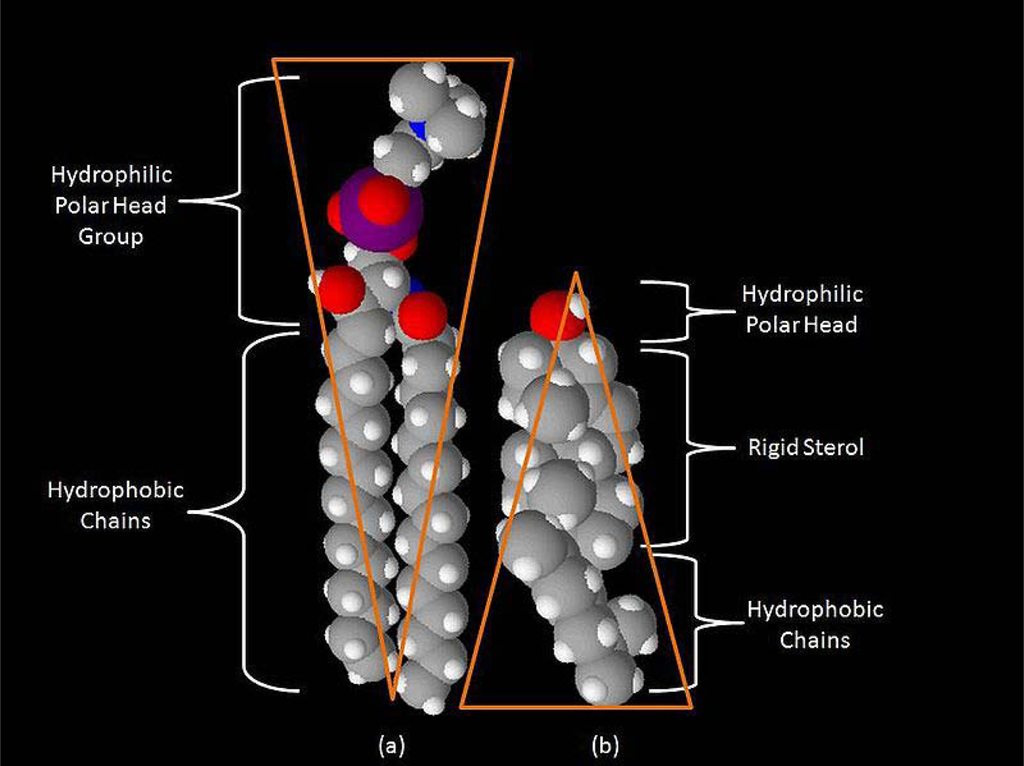 Figure 1. Space-filling models of sphingomyelin (a) and cholesterol (b). Note the complementary cone-like shapes representing spaces occupied by hydrophobic and hydrophilic regions. Sphingolipids (such as sphingomyelin) and cholesterol form aggregates in the cell membrane known as microdomains or rafts. Ranging in size from 5-20 nanometers, with lifetimes of 1 millisecond or less, they play critical roles in cell signaling, including electrochemical signaling in the neuron.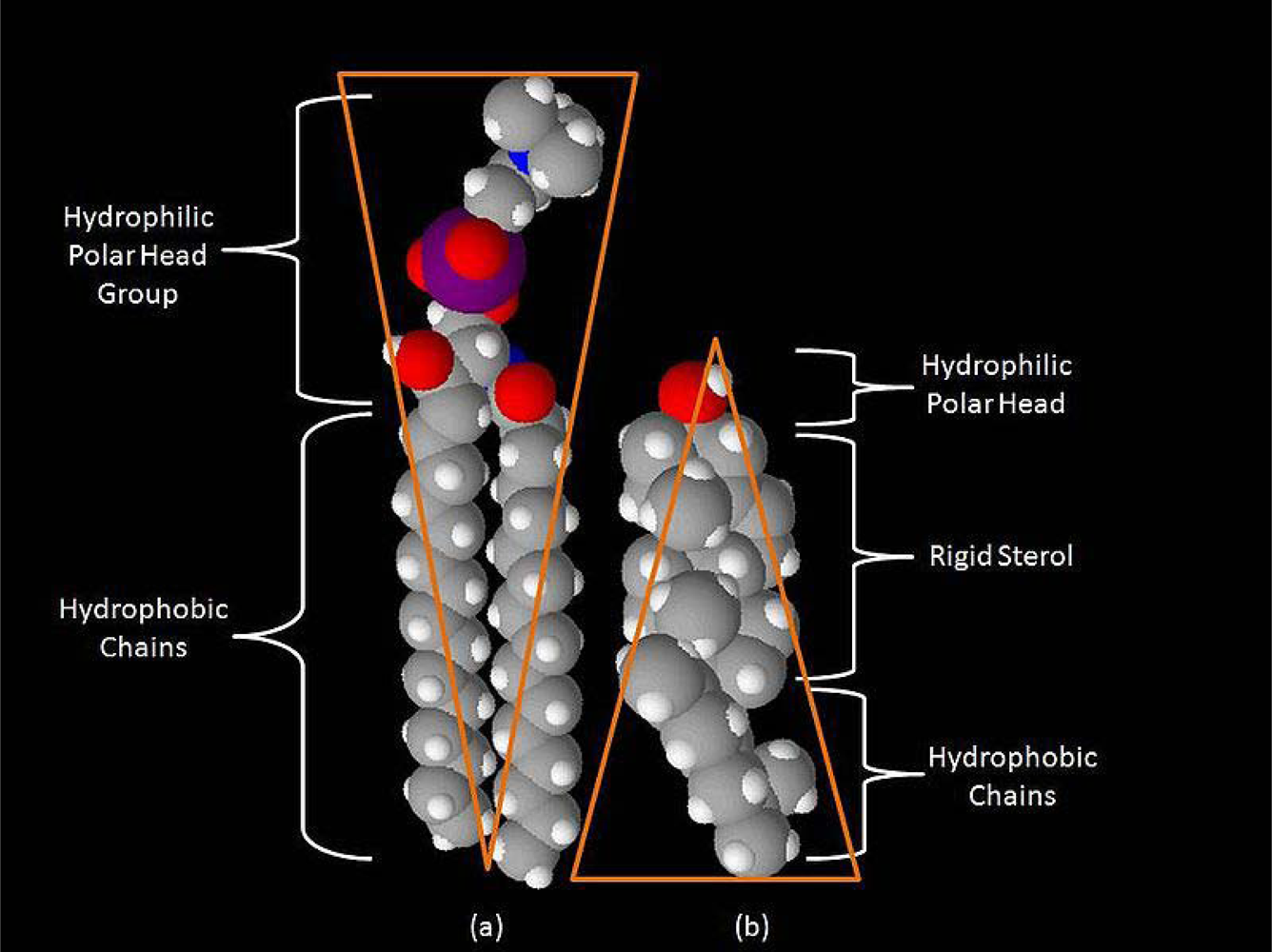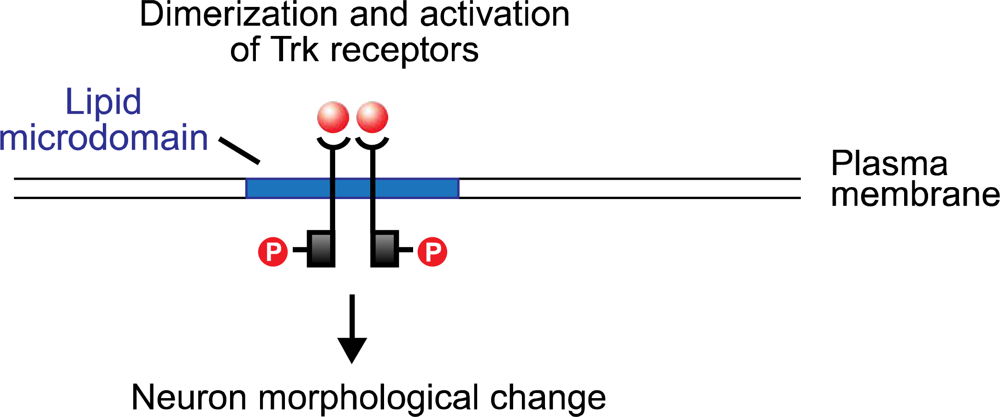 Figure 2.
Microdomain (raft) scaffolding permits stable co-localization of molecular signals, thus facilitating their interaction. Neurotrophin binds as a dimer to the microdomain-stabilized Trk receptor protein. The Trk receptor then dimerizes, which initiates a complex chain of phosphorylation events resulting in neuron morphological change. Illustration adapted from [
31
].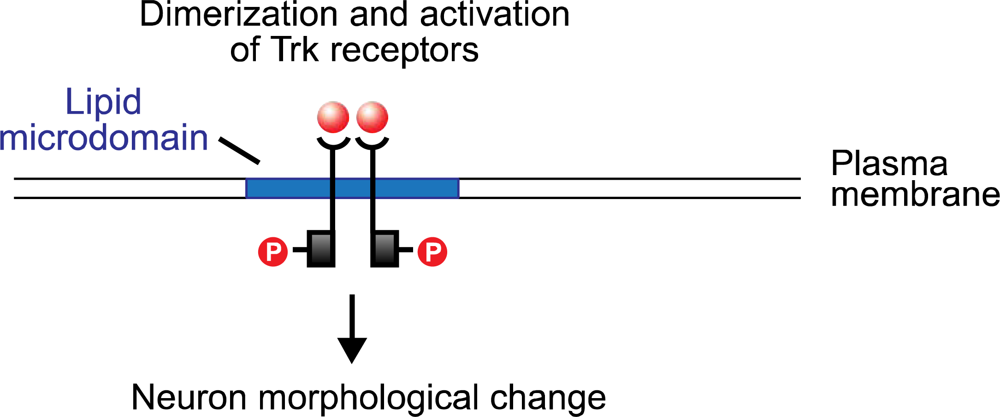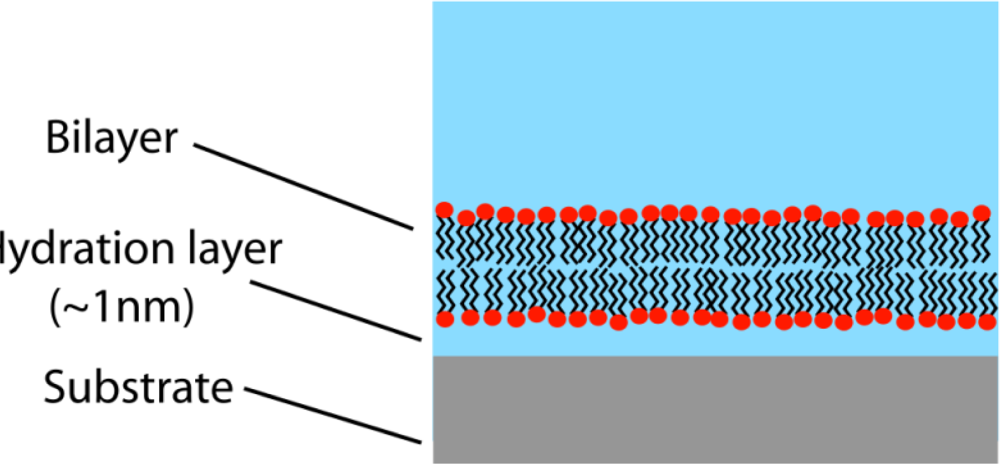 Figure 3. Supported lipid bilayer (highly schematic). Supports are typically gold or silicon. The membrane may be decoupled from the support by a water layer (shown) or a hydrated polymer. For stabilization, the latter structure is typically attached to the membrane by anchor lipids, and covalently tethered to the substrate. Functioning ion-channels can be inserted into the membrane. An important research goal is the synthesis of increasingly realistic supported membranes comprised of microdomains with interstitial liquid-disordered (non-raft) regions.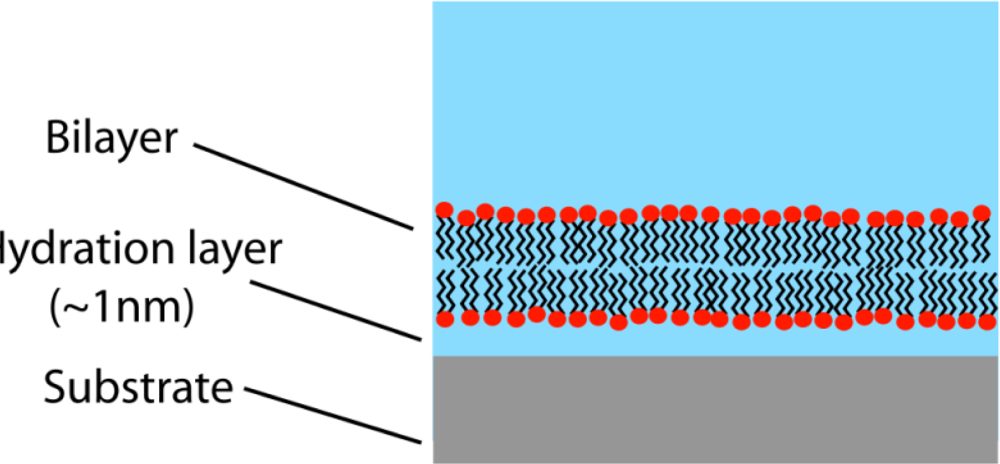 © 2010 by the authors; licensee Molecular Diversity Preservation International, Basel, Switzerland. This article is an open-access article distributed under the terms and conditions of the Creative Commons Attribution license (http://creativecommons.org/licenses/by/3.0/).