Effects of Titanium Dioxide Nanoparticle Aggregate Size on Gene Expression
1
Advanced Medical biomaterials Group, Biomaterials Center, National Institute for Materials Science (NIMS)/1-1, Namiki, Tsukuba, Ibaraki, 305-0044, Japan
2
TOTO Ltd. Research Institute/Nakashima 2-1-1, Kokurakita, Kitakyushu, 802-8601, Japan
*
Author to whom correspondence should be addressed.
Received: 26 April 2010 / Revised: 19 May 2010 / Accepted: 1 June 2010 / Published: 7 June 2010
Abstract
Titanium dioxide (titania) nanoparticle aggregation is an important factor in understanding cytotoxicity. However, the effect of the aggregate size of nanoparticles on cells is unclear. We prepared two sizes of titania aggregate particles and investigated their biological activity by analyzing biomarker expression based on mRNA expression analysis. The aggregate particle sizes of small and large aggregated titania were 166 nm (PDI = 0.291) and 596 nm (PDI = 0.417), respectively. These two size groups were separated by centrifugation from the same initial nanoparticle sample. We analyzed the gene expression of biomarkers focused on stress, inflammation, and cytotoxicity. Large titania aggregates show a larger effect on cell viability and gene expression when compared with the small aggregates. This suggests that particle aggregate size is related to cellular effects.
View Full-Text
►

▼

Figures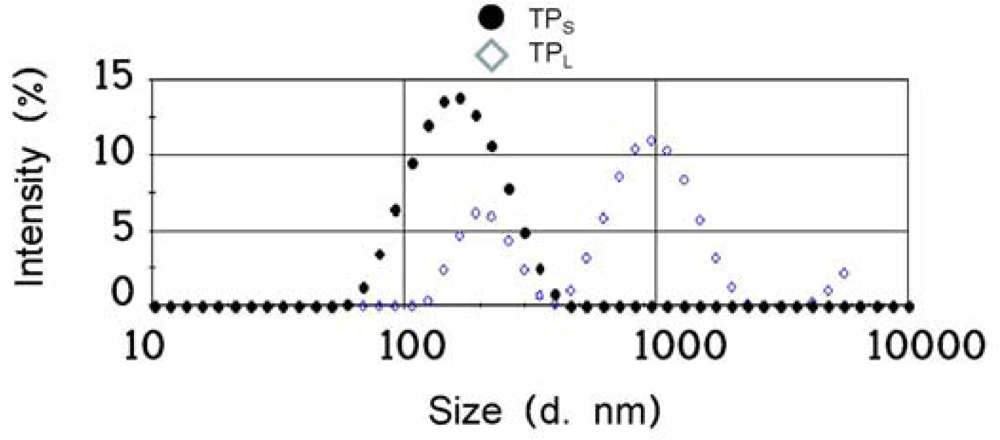 Share & Cite This Article
MDPI and ACS Style
Okuda-Shimazaki, J.; Takaku, S.; Kanehira, K.; Sonezaki, S.; Taniguchi, A. Effects of Titanium Dioxide Nanoparticle Aggregate Size on Gene Expression. Int. J. Mol. Sci. 2010, 11, 2383-2392.
Related Articles
Comments
[Return to top]