Open Access This article is
freely available
re-usable
Article
Bacterial Expression of Mouse Argonaute 2 for Functional and Mutational Studies
Department of Life Sciences, Second University of Naples, Via Vivaldi 43, 81100 Caserta, Italy
*
Author to whom correspondence should be addressed; Tel.: +39-0823-274569; Fax: +39-0823-274571.
Received: 13 January 2010 / Accepted: 10 February 2010 / Published: 12 February 2010
Abstract
:
RNA interference (RNAi) is a post-transcriptional gene-silencing process that occurs in many eukaryotic organisms upon intracellular exposure to double-stranded RNA. Argonaute 2 (Ago2) protein is the catalytic engine of mammalian RNAi. It contains a PIWI domain that is structurally related to RNases H and possibly shares with them a two-metal-ion catalysis mechanism. Here we describe the expression in
E. coli
of mouse Ago2 and testing of its enzymatic activity in a RISC assay,
i.e.
, for the ability to cleave a target RNA in a single position specified by a complementary small interfering RNA (siRNA). The results show that the enzyme can load the siRNA and cleave the complementary RNA in absence of other cellular factors, as described for human Ago2. It was also found that mutation of Arg669, a residue previously proposed to be involved in substrate and/or B metal ion binding, doesn't affect the enzymatic activity, suggesting that this residue doesn't belong to the active site.
Keywords:
RNA interference; microRNA; small interfering RNA; RNA-induced silencing complex
Acknowledgments
We are grateful to K. Saigo of the University of Tokyo for providing the mouse Argonaute 2 cDNA and to Augusto Parente and Antimo Di Maro of this University for performing the amino acid sequence analysis. This work was supported by a grant from Regione Campania.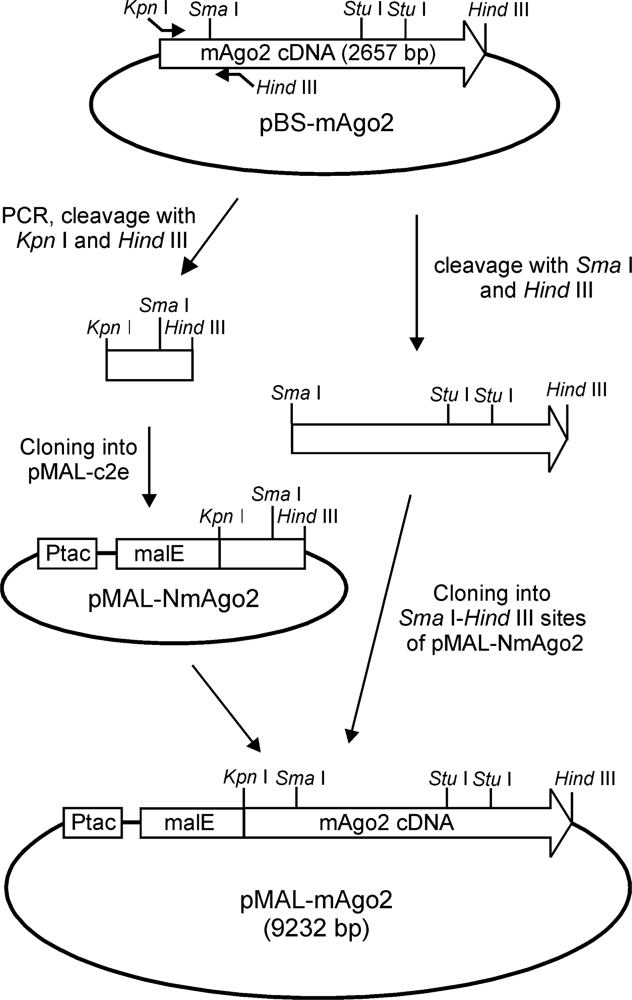 Figure 1. Construction of the expression vector pMAL-mAgo2. The cDNA coding for mouse Ago2 was cloned in frame with the 3′ end of the DNA encoding the maltose binding protein (MBP), under the transcriptional control of Ptac promoter. For description see the text.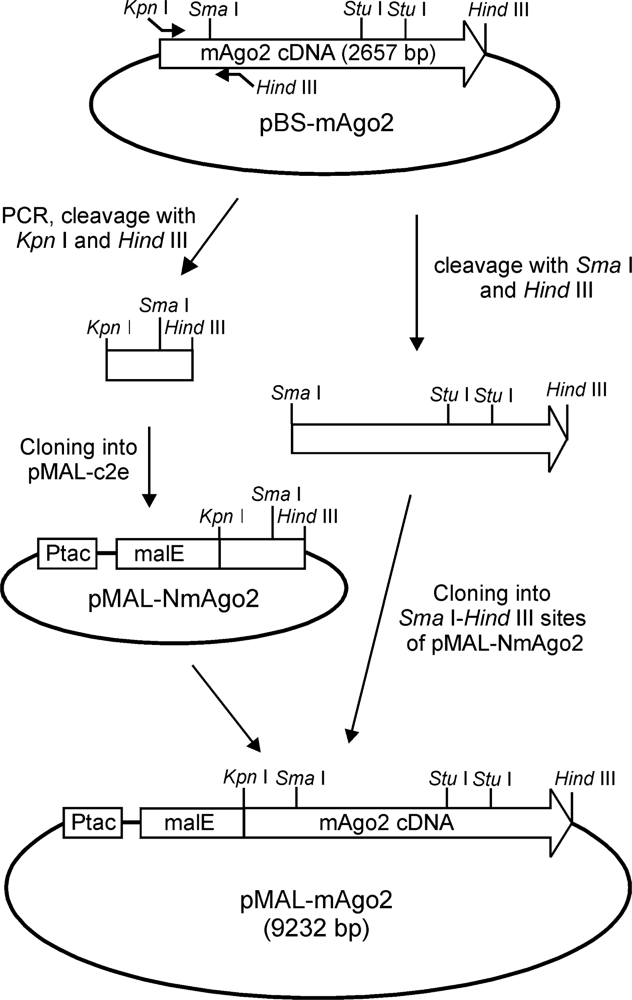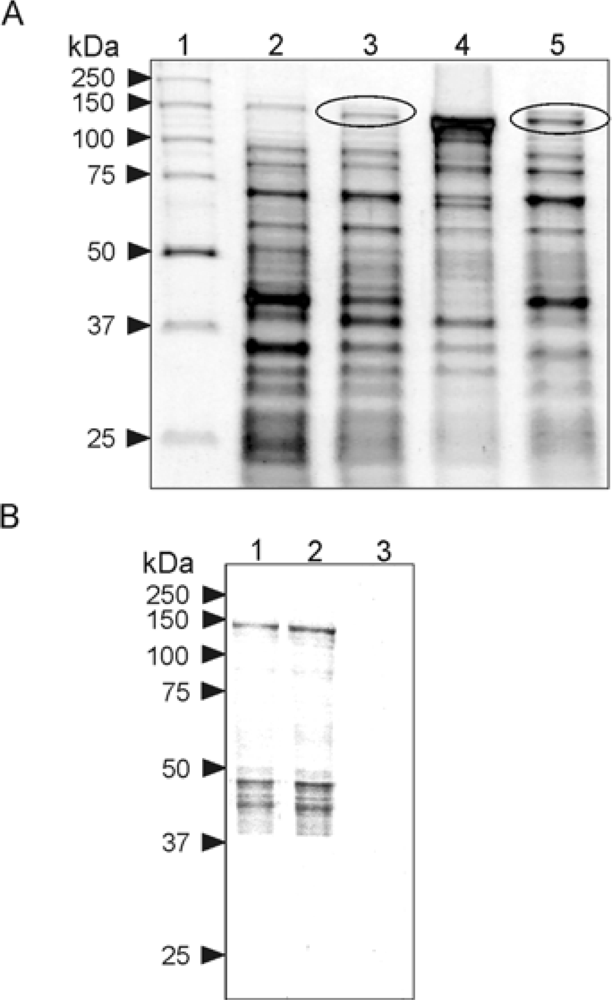 Figure 2.
Expression and purification of MBP-mAgo2. Panel A: SDS-PAGE of lysates from uninduced (lane 2) and induced (lane 3)
E. coli
cells transformed with the expression vector pMAL-mAgo2; lanes 4 and 5 contain the insoluble and soluble phases of the bacterial lysate from induced cells, respectively; circles mark the expression product. Panel B: Protein sample eluted from the affinity chromatography on the amylose resin (lane 1); lanes 2 and 3 contain the soluble and insoluble phases of the eluate obtained by its centrifugation after two days of storage at 4 °C.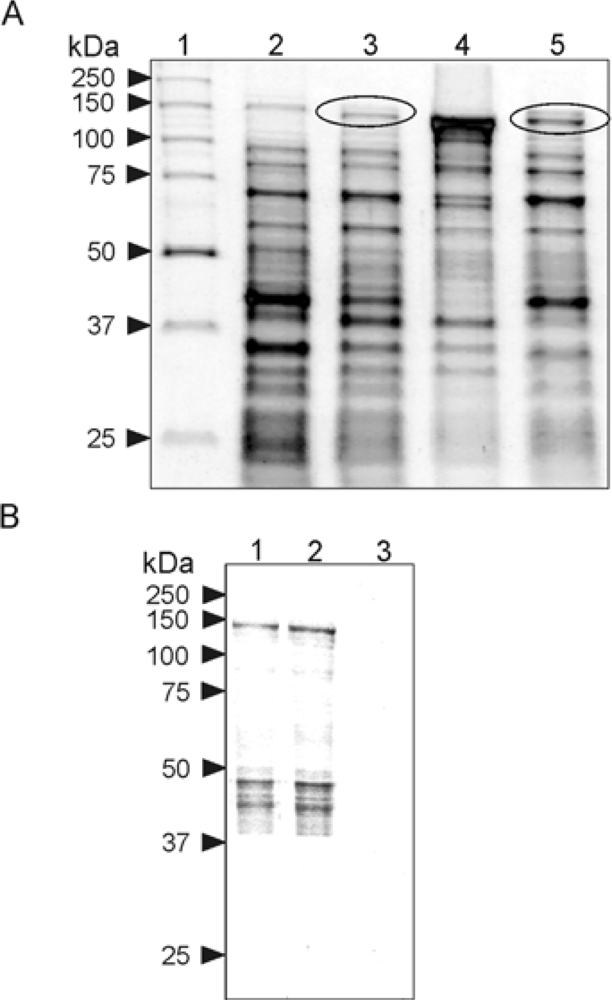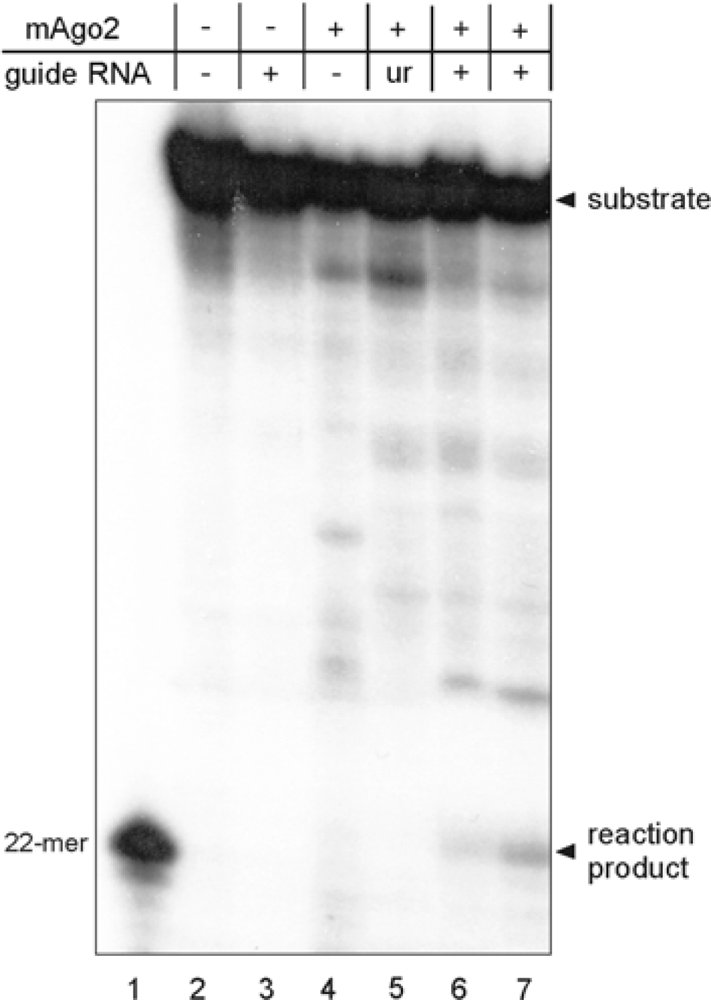 Figure 3.
RISC assay for MBP-mAgo2. The enzyme was loaded with the guide siRNA and then incubated with a synthetic 50-mer RNA substrate that had been labeled with
32
P at its 5′-end. Reaction products were revealed by denaturing PAGE followed by autoradiography. They included an unlabeled 28-mer product (not visible in the autoradiography) and a labeled 22-mer. Lane 1, molecular marker; lanes 2–7, reaction mixtures containing the labeled substrate, mAgo2 and/or the guide siRNA, as specified in the top of the figure;
ur
indicates a guide RNA with unrelated sequence,
i.e.
, not complementary to the substrate. Reaction mixtures contained 140 ng (lanes 4–6) or 280 ng (lane 7) of mAgo2.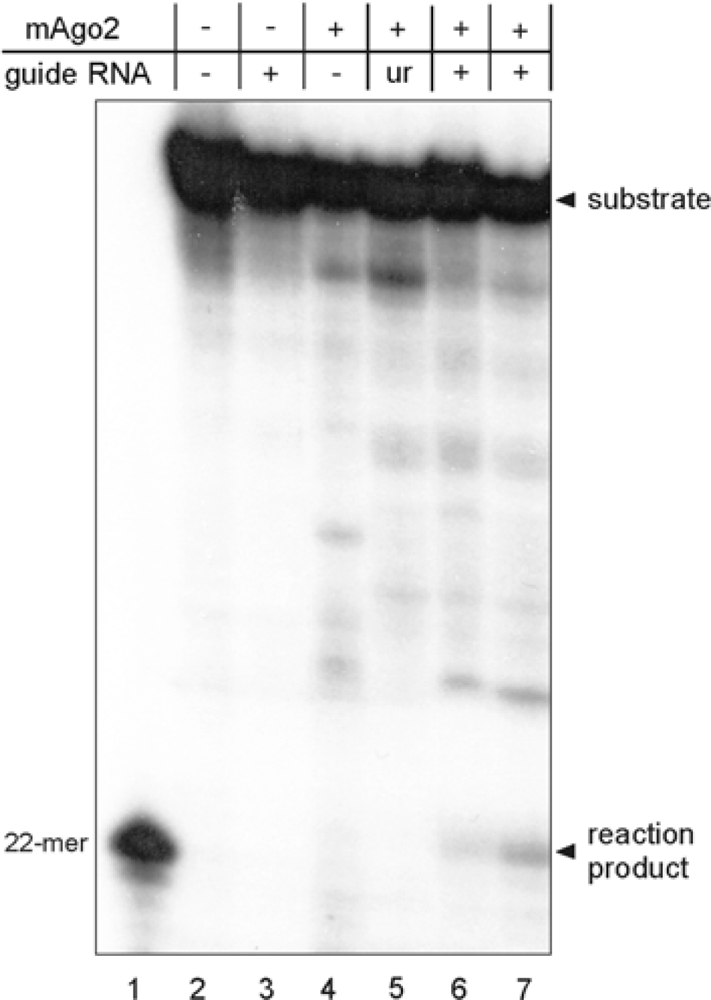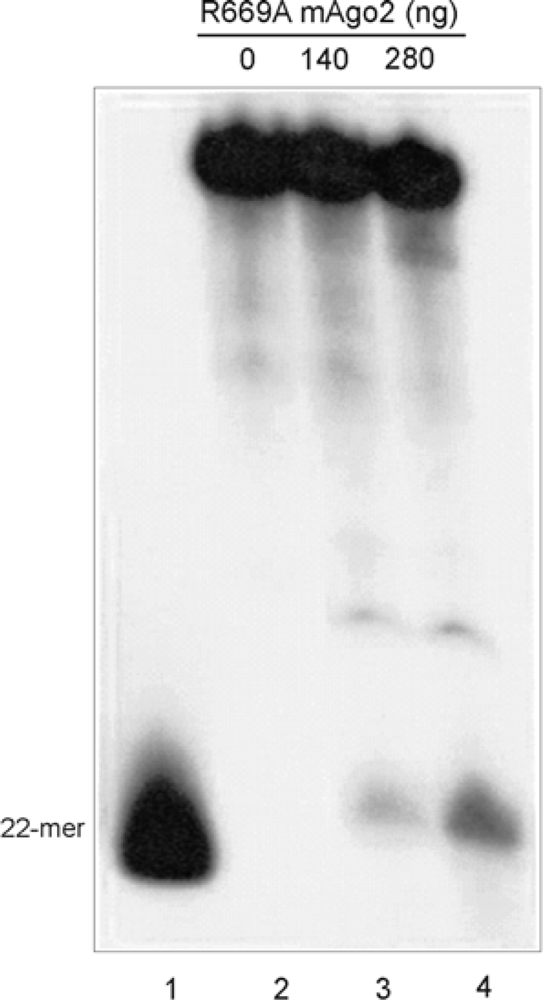 Figure 4.
RISC assay for R669A mAgo2. Samples were treated as described in the legend of
Figure 3
. Lane 1, molecular marker; lanes 2–4, reaction mixtures containing the labeled substrate, the guide siRNA and the indicated amounts of R669A mAgo2.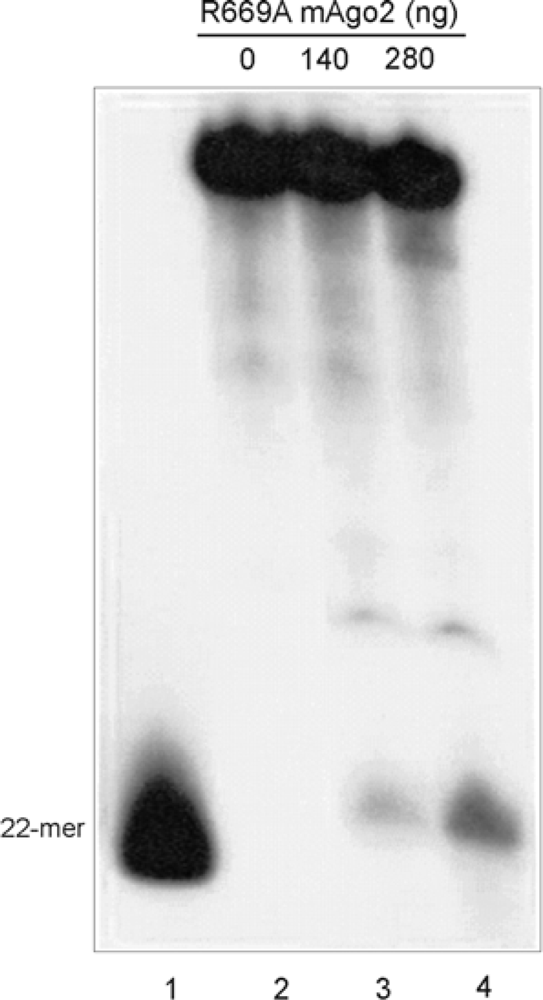 © 2010 by the authors; licensee Molecular Diversity Preservation International, Basel, Switzerland. This article is an open-access article distributed under the terms and conditions of the Creative Commons Attribution license (http://creativecommons.org/licenses/by/3.0/).