The Fibrillar Collagen Family
Institut de Biologie et Chimie des Protéines, IFR 128 Biosciences Lyon-Gerland, CNRS UMR 5086, Université de Lyon, 7 passage du Vercors, F-69367 Lyon Cedex 07, France
*
Author to whom correspondence should be addressed.
Received: 30 December 2009 / Revised: 22 January 2010 / Accepted: 23 January 2010 / Published: 28 January 2010
Abstract
Collagens, or more precisely collagen-based extracellular matrices, are often considered as a metazoan hallmark. Among the collagens, fibrillar collagens are present from sponges to humans, and are involved in the formation of the well-known striated fibrils. In this review we discuss the different steps in the evolution of this protein family, from the formation of an ancestral fibrillar collagen gene to the formation of different clades. Genomic data from the choanoflagellate (sister group of Metazoa)
Monosiga brevicollis
, and from diploblast animals, have suggested that the formation of an ancestral α chain occurred before the metazoan radiation. Phylogenetic studies have suggested an early emergence of the three clades that were first described in mammals. Hence the duplication events leading to the formation of the A, B and C clades occurred before the eumetazoan radiation. Another important event has been the two rounds of "whole genome duplication" leading to the amplification of fibrillar collagen gene numbers, and the importance of this diversification in developmental processes. We will also discuss some other aspects of fibrillar collagen evolution such as the development of the molecular mechanisms involved in the formation of procollagen molecules and of striated fibrils.
View Full-Text
►

▼

Figures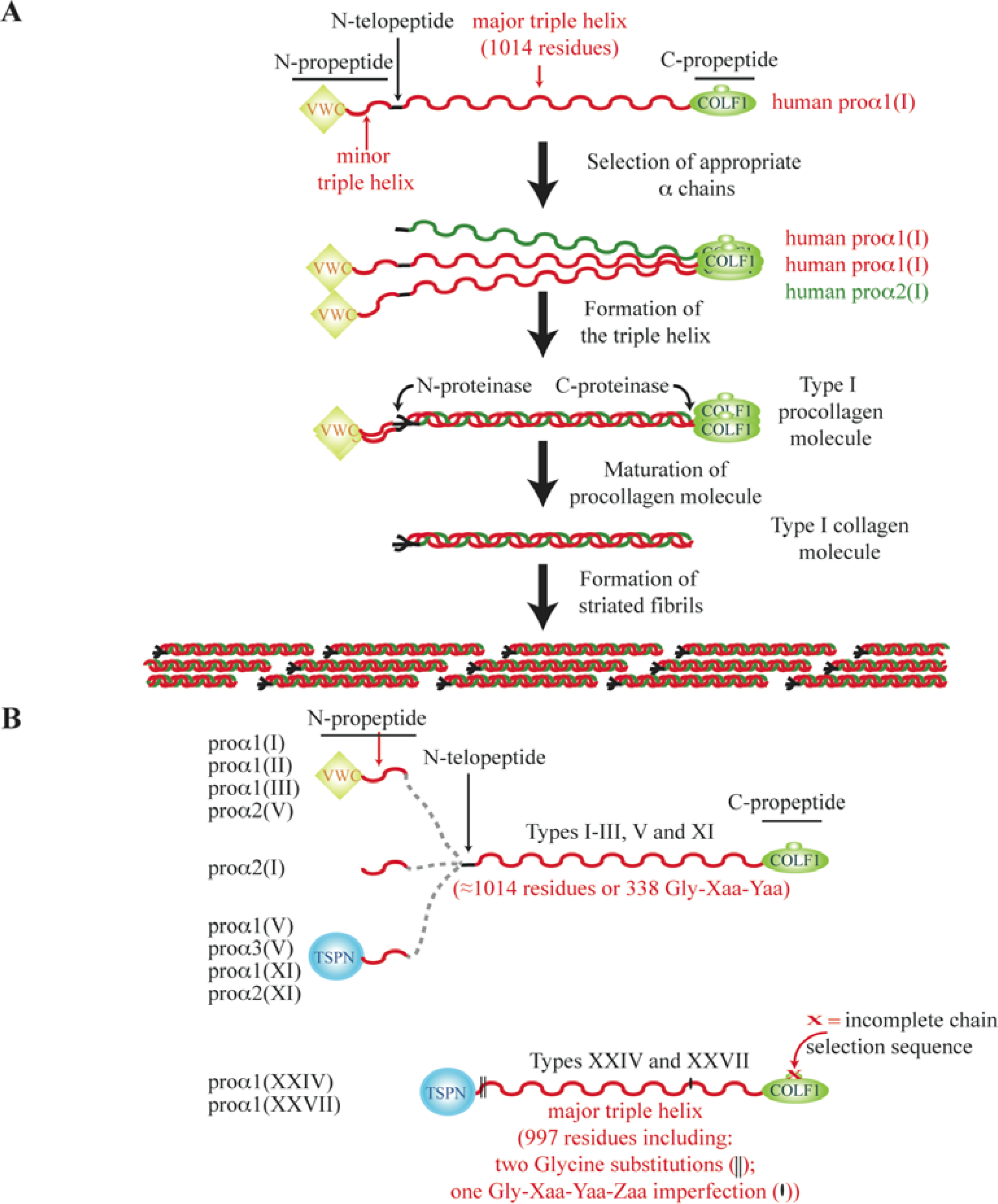 Share & Cite This Article
MDPI and ACS Style
Exposito, J.-Y.; Valcourt, U.; Cluzel, C.; Lethias, C. The Fibrillar Collagen Family. Int. J. Mol. Sci. 2010, 11, 407-426.
Related Articles
Comments
[Return to top]