In Vitro Response of Retinal Pigment Epithelial Cells Exposed to Chitosan Materials Prepared with Different Cross-Linkers
1
Institute of Biochemical and Biomedical Engineering, Chang Gung University, Taoyuan, 33302, Taiwan
2
Biomedical Engineering Research Center, Chang Gung University, Taoyuan, 33302, Taiwan
3
Molecular Medicine Research Center, Chang Gung University, Taoyuan, 33302, Taiwan
*
Author to whom correspondence should be addressed.
Received: 18 November 2010 / Revised: 13 December 2010 / Accepted: 20 December 2010 / Published: 20 December 2010
Abstract
The interaction between cells and biopolymers is the evaluation indicator of the biocompatibility of materials. The purpose of this work was to examine the responses of retinal pigment epithelial (RPE) cells to genipin (GP) or glutaraldehyde (GTA) cross-linked chitosan by means of cell viability assays, cytokine expression analyses, and apoptosis assays. Evaluations of non-cross-linked chitosan were conducted simultaneously for comparison. Both GP and GTA treated samples with the same extent of cross-linking (around 80%) were prepared by varying cross-linking time. Our results showed that GP cross-linking was carried out by either radical polymerization of the monomers or S
N
2 nucleophilic substitution reaction involving the replacement of the ester group on the monomer with a secondary amide linkage. On the other hand, GTA could react with free amino groups of chitosan, leading to the formation of either the Schiff bases or the Michael-type adducts with terminal aldehydes. The biocompatibility of non-cross-linked chitosan membranes was demonstrated by the absence of any signs of toxicity or inflammation reaction. The present study showed that the ARPE-19 cells exposed to GTA cross-linked chitosan membranes had significantly higher cytotoxicity, interleukin-6 levels, and number of TUNEL-positive nuclei than did those exposed to GP treated samples. In addition, the materials modified with GTA trigger apoptosis at an early stage and may induce toxicity in the RPE cells later. The findings suggest that while the chitosan molecules bridged by GP are satisfactorily cytocompatible, the counterparts treated by GTA do not seem to be tolerated. In terms of material safety, the GP cross-linked chitosan may be compatible with human RPE cells and may have a potential application as delivery carriers in the treatment of posterior segment diseases.
View Full-Text
►

▼

Figures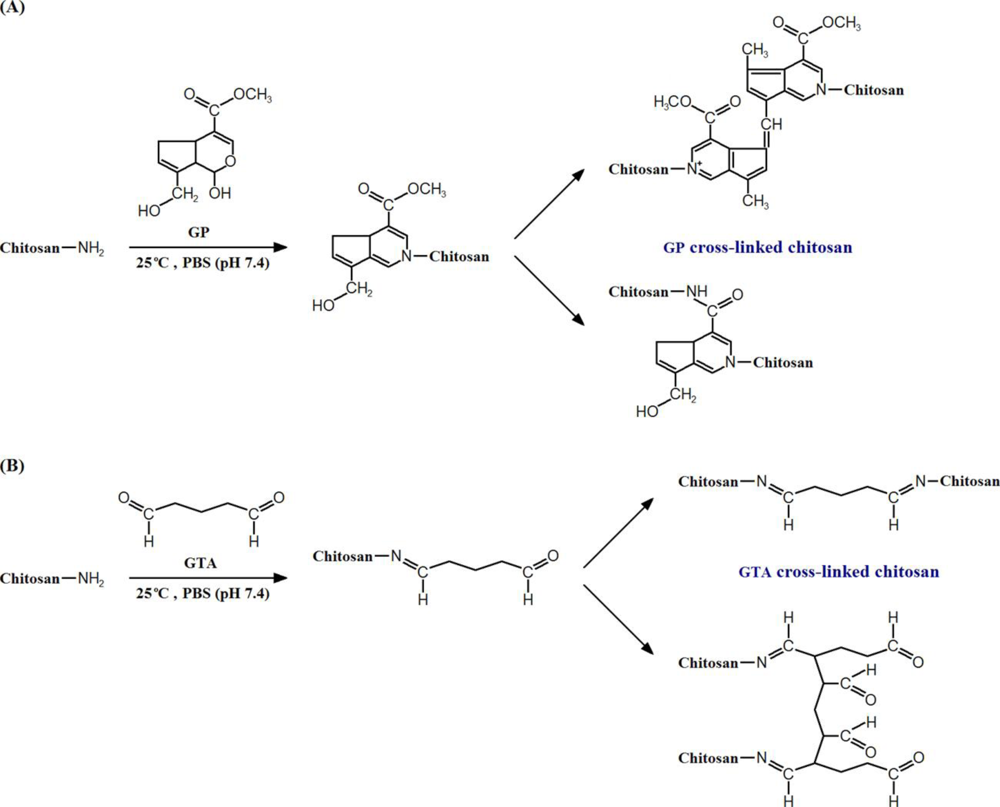 Share & Cite This Article
MDPI and ACS Style
Lai, J.-Y.; Li, Y.-T.; Wang, T.-P. In Vitro Response of Retinal Pigment Epithelial Cells Exposed to Chitosan Materials Prepared with Different Cross-Linkers. Int. J. Mol. Sci. 2010, 11, 5256-5272.
Related Articles
Comments
[Return to top]