Explaining Ionic Liquid Water Solubility in Terms of Cation and Anion Hydrophobicity
1
Abteilung Nachhaltigkeit in der Chemie, UFT Zentrum f¨ur Umweltforschung und Umwelttechnologie, Universit¨at Bremen, Postfach 330440, 28334 Bremen, Germany
2
Medical biochemistry department, Kasr Alainy faculty of medicine Cairo University, Cairo, Egypt
3
School of Engineering and Science, Jacobs University Bremen, Postfach 750561, 28725 Bremen, Germany
*
Author to whom correspondence should be addressed.
Received: 12 February 2009 / Revised: 11 March 2009 / Accepted: 16 March 2009 / Published: 18 March 2009
Abstract
The water solubility of salts is ordinarily dictated by lattice energy and ion solvation. However, in the case of low melting salts also known as ionic liquids, lattice energy is immaterial and differences in hydrophobicity largely account for differences in their water solubility. In this contribution, the activity coefficients of ionic liquids in water are split into cation and anion contributions by regression against cation hydrophobicity parameters that are experimentally determined by reversed phase liquid chromatography. In this way, anion hydrophobicity parameters are derived, as well as an equation to estimate water solubilities for cation-anion combinations for which the water solubility has not been measured. Thus, a new pathway to the quantification of aqueous ion solvation is shown, making use of the relative weakness of interactions between ionic liquid ions as compared to their hydrophobicities.
View Full-Text
►

▼

Figures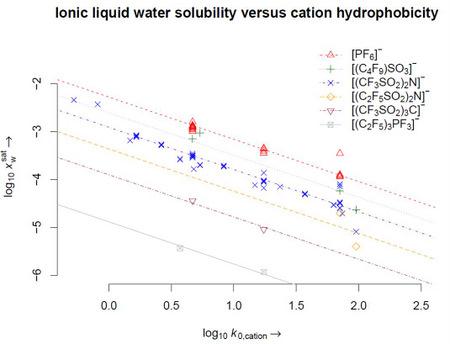 Share & Cite This Article
MDPI and ACS Style
Ranke, J.; Othman, A.; Fan, P.; Müller, A. Explaining Ionic Liquid Water Solubility in Terms of Cation and Anion Hydrophobicity. Int. J. Mol. Sci. 2009, 10, 1271-1289.
Related Articles
Comments
[Return to top]