New Routes to Pyridino[2,3-d]pyrimidin-4-one and Pyridino-[2,3-d]triazolino[4,5-a]pyrimidin-5-one Derivatives
Department of Chemistry, Faculty of Science, University of Cairo, Giza, Egypt
*
Author to whom correspondence should be addressed.
Received: 2 December 2002 / Revised: 13 January 2003 / Accepted: 9 January 2003 / Published: 31 March 2003
Abstract
2-Thioxopyrimidinyl-5-(N,N-dimethylamino)formamidine (5) and 1,3-diphenyltriazolo[3,4-
d
]pyrimidinyl-N,N-dimethylformamidine (14) were prepared by condensation of 6-amino-2-thioxo-1,3-dihydropyrimidin-4-one (2) and 7-amino-1,3-diphenyl-1,2,4-triazolo[4,3-
a
]pyrimidin-4-one (13) with dimethylformamide dimethyl-acetal (DMFDMA). Compound 5 reacts with acetophenone and 2-acetylthiophene to give the 2-thioxo-1,3-dihydropyridino[2,3-d]pyrimidin-4-ones 3a and 3b, respectively. Compounds 3a,b react with hydrazonoyl halides 6,7 to give pyridino[2,3-
d
]triazolo[4,5-a]pyrimidin-4-ones 11a-d and not the isomeric structures 12a-d. Formamidines of type 14 react with ethyl cyanoacetate, malononitrile and benzoyl acetonitrile to give the 1,3-diphenyl-3a-hydropyridino[2,3-
d
]1,2,4-triazolo[4,5-
a
]pyrimidin-4-one derivatives 15a,b and 18, respectively. The structures of the newly synthesized compounds are established on the basis of chemical and spectroscopic evidences as well as their synthesis by alternative methods.
View Full-Text
►

▼

Figures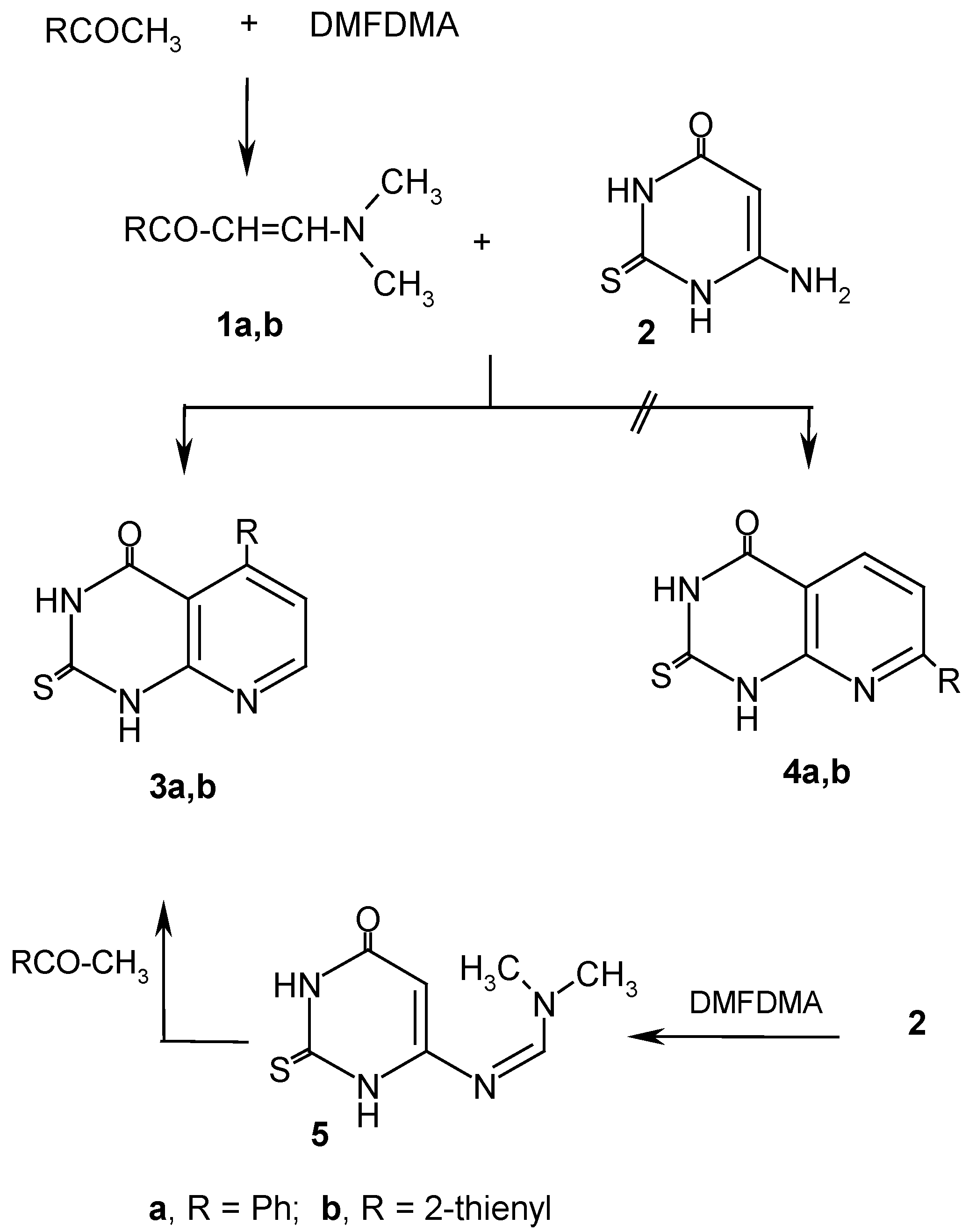 Figure 1
Share & Cite This Article
MDPI and ACS Style
Hassneen, H.M.; Abdallah, T.A. New Routes to Pyridino[2,3-d]pyrimidin-4-one and Pyridino-[2,3-d]triazolino[4,5-a]pyrimidin-5-one Derivatives. Molecules 2003, 8, 333-341.
Related Articles
Comments
[Return to top]