Solvent and Substituent Effects on the Kinetics of Thermolysis of cis-Fused 1,2,4-Trioxanes
1
Laboratorio LADECOR, Facultad de Ciencias Exactas, Universidad Nacional de La Plata, Calle 47 esq. 115 (1900), La Plata, República Argentina
2
Laboratoire de Chimie Organique, University of Geneva, Switzerland
*
Author to whom correspondence should be addressed.
Received: 12 December 2000 / Revised: 21 June 2001 / Accepted: 9 July 2001 / Published: 31 July 2001
Abstract
The kinetics of the thermal decomposition reaction of cis-6-phenyl-5,6-(2-phenylpropyliden)-3,3-pentamethylene-1,2,4-trioxacyclohexane (Ia) were investigated in benzene and methanol solutions in the temperature and concentration ranges of 353.3 – 413.2 K and (1.1 – 13.1)x10
-3
M, respectively. First-order rate constant values were obtained for up to at least ca. 20% conversions of that cyclic peroxide. The activation parameter values for the initial unimolecular homolysis of that molecule, results supported by the effect of the addition of di-
tert
-butyl-
p
-cresol as a free radical scavenger, indicate a stepwise reaction mechanism which is in keeping with the reaction products analysis. The corresponding activation parameters for the reaction of Ia in methanol (ΔH# = 20.2 ± 0.6 kcal mol
-1
; ΔS
#
= 0.1 ± 1.6 cal mol
-1
K-1; ΔG
#
= 20.2 ± 0.6 kcal mol
-1
) and in benzene (ΔH
#
= 15.4 ± 0.2 kcal mol
-1
; ΔS
#
= -13.2 ± 0.5 cal mol
-1
K
-1
; ΔG
#
= 20.5 ± 0.2 kcal mol
-1
) solutions are compared with values obtained for cis-6-phenyl-5,6-(2-phenylpropyliden)-3,3-tetramethylene-1,2,4-trioxacyclohexane (Ib) thermolysis in the same solvents. The thermolysis kinetics of Ia are less sensitive to solvent changes compared to the behaviour already reported for the analogous reactions of Ib. Because both molecules in solution are flexible structures due to their configurations, the relatively small solvent effect found on the former trioxane reaction is attributed to the extent of the chain of methylene groups attached on C-3 of the corresponding molecular rings. Furthermore, the pertinent substituent effect on the peroxidic bond strength of those molecules in solution was evaluated.
View Full-Text
►

▼

Figures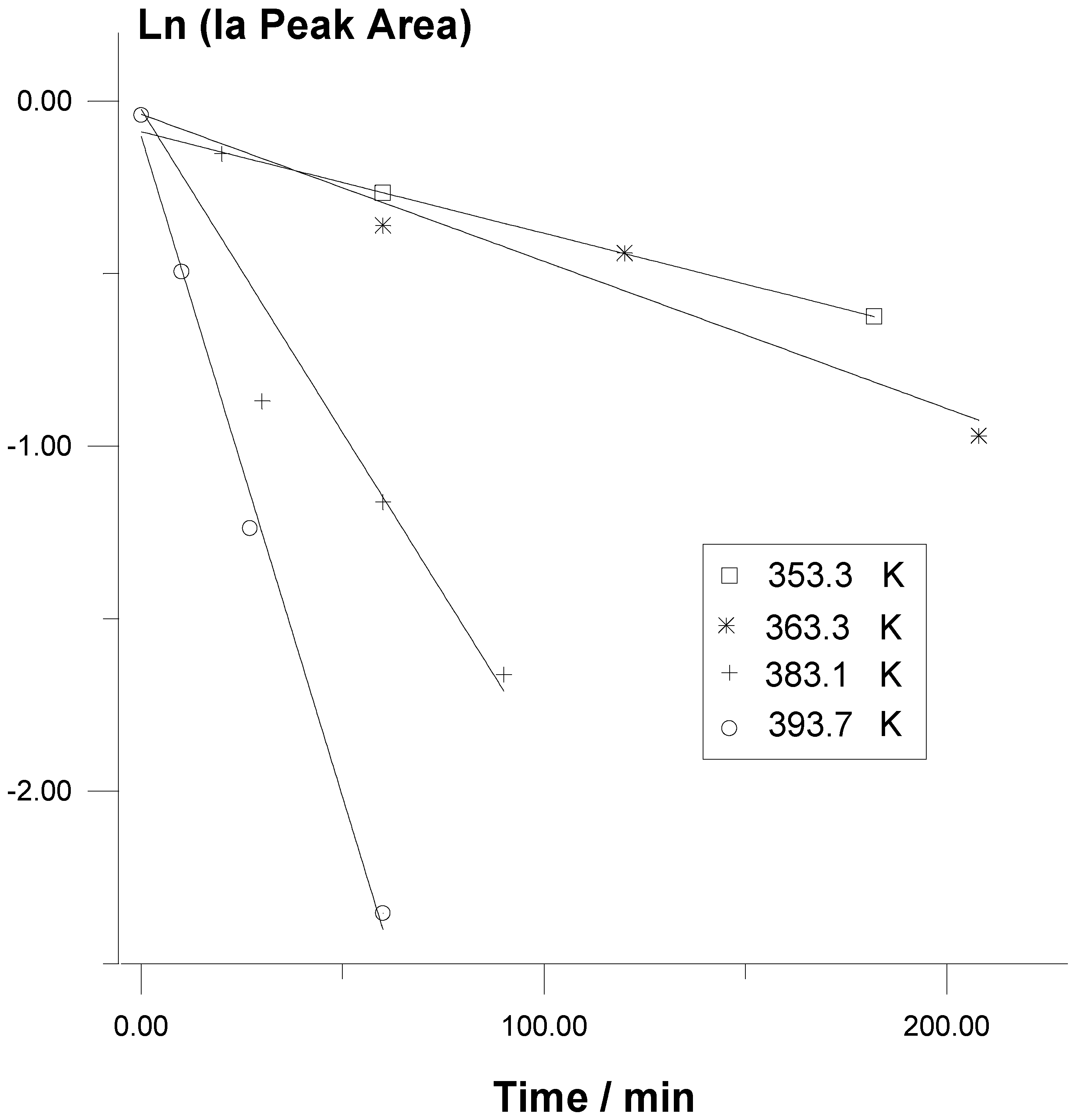 Figure 1
Share & Cite This Article
MDPI and ACS Style
Cafferata, L.F.R.; Jefford, C.W. Solvent and Substituent Effects on the Kinetics of Thermolysis of cis-Fused 1,2,4-Trioxanes. Molecules 2001, 6, 699-709.
Related Articles
Comments
[Return to top]