Predicting Vapour Pressures of Organic Compounds from Their Chemical Structure for Classification According to the VOCDirective and Risk Assessment in General
1
National Institute of Occupational Health. Lersø Parkallé 105. DK 2100 Copenhagen Ø, Denmark
2
Faxe Paper Pigments. Strandeksplanaden 110, DK 2665, Vallensbæk Strand, Denmark
*
Author to whom correspondence should be addressed.
Received: 8 August 2000 / Revised: 22 February 2001 / Accepted: 14 March 2001 / Published: 31 March 2001
Abstract
The use of organic compounds in the European Union will in the future be regulated in accordance with the Council Directive 1999/13/EC of 11 March 1999 [1]. In this directive, any organic compound is considered to be a volatile organic compound (VOC) if it has a vapour pressure of 10 Pa or more at 20
o
C, or has a corresponding volatility under the particular condition of use. Introduction of such a limit will sometimes create problems, because vapour pressures cannot be determined with an infinite accuracy. Published data on vapour pressures for a true VOC will sometimes be found to be below 10 Pa and vice versa. When the same limit was introduced in the USA, a considerable amount of time and money were spent in vain on comparing incommensurable data [2]. In this paper, a model is presented for prediction of the vapour pressures of VOCs at 20o
C
from their chemical (UNIFAC) structure. The model is implemented in a computer program, named P_PREDICT, which has larger prediction power close to 10 Pa at 20
o
C than the other models tested. The main advantage of the model, however, is that no experimental data, which will introduce uncertainty in the predictions, is needed. Classification using P_PREDICT, which only predicts one value for a given UNIFAC structure, is proposed. Organic compounds, which can be described by the UNIFAC groups in the present version of P_PREDICT, therefore, can be classified unambiguously as either VOCs or non-VOCs. Most people, including the present authors, feel uneasy about prioritising precision above accuracy. Modelling vapour pressures, however, could save a lot of money and the errors introduced are not large enough to have any substantial adverse effects for neither human beings nor the environment. A method for calculating vapour pressures at other temperatures than 20
o
C is tested with a dubious result. This method is used for EU risk assessment of new and existing chemicals.
View Full-Text
►

▼

Figures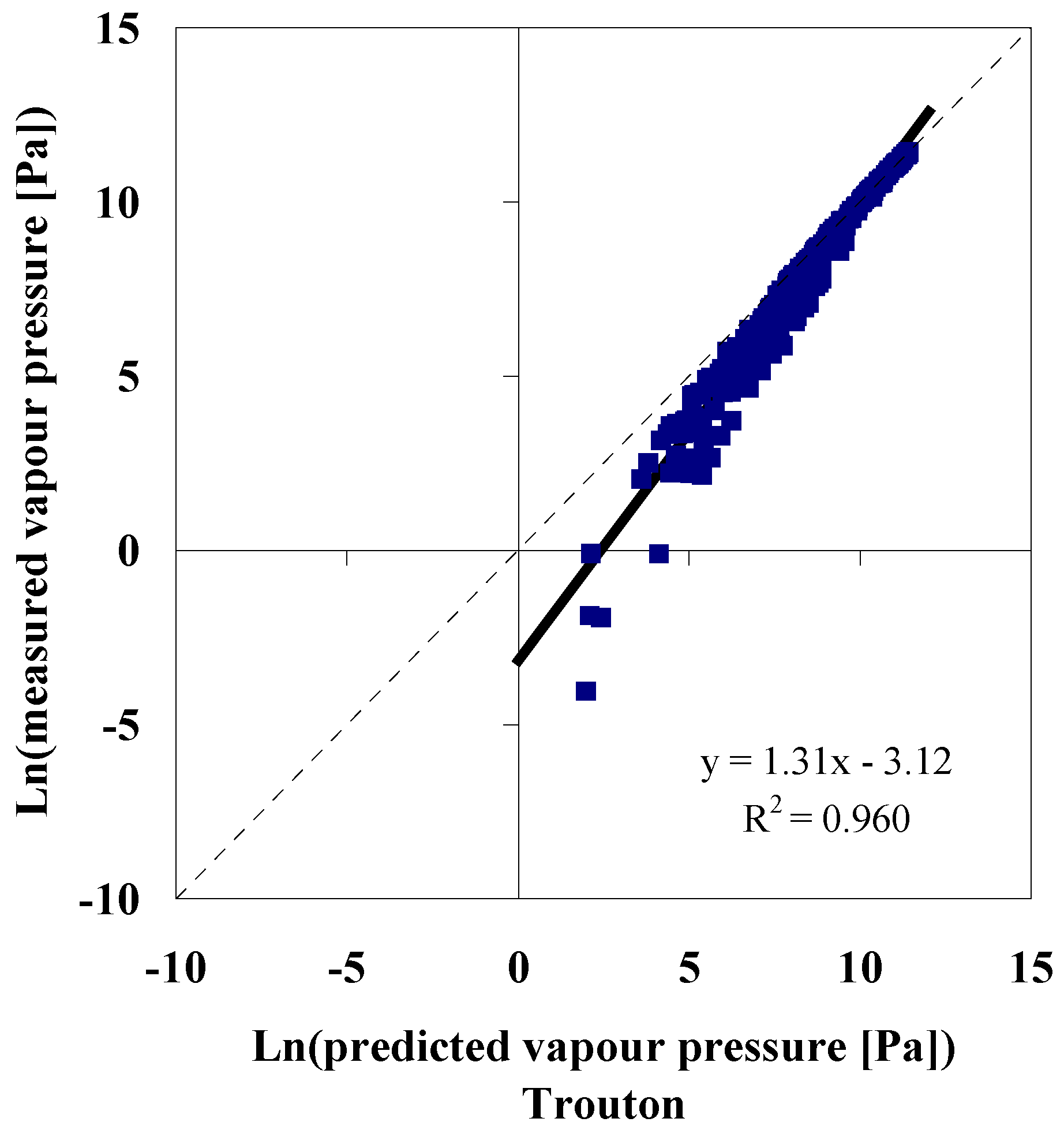 Figure 1
Share & Cite This Article
MDPI and ACS Style
Olsen, E.; Nielsen, F. Predicting Vapour Pressures of Organic Compounds from Their Chemical Structure for Classification According to the VOCDirective and Risk Assessment in General. Molecules 2001, 6, 370-389.
Related Articles
Comments
[Return to top]