Acid-Base Initiated Cyclization and Retrocyclization Reactions of Ethyl 2-(3-Acylselenoureido)benzoates, -thiophene-3-carboxylates and the Corresponding 2-(3-Acylisoselenoureido) Derivatives
Department of Organic chemistry, Faculty of Science, Masaryk University, CZ-611 37 Brno, Czech Republic
*
Author to whom correspondence should be addressed.
Received: 27 May 1999 / Accepted: 29 November 1999 / Published: 21 January 2000
Abstract
Acid and base initiated cyclization and retrocyclization reactions of the selenoureas 1-6 and isoselenoureas 7-12 to fused 4H-1,3-selenazine and 1,2,3,4-tetrahydropyrimidine-4-one skeletons are reported. Fused 2-acylamino-4H-1,3-selenazine-4-ones 13-18 were formed by the action of concentrated sulfuric acid on acylselenoureas 1-6 or on 2,2-dimethylpropanoylisoselenoureas 10-12 at room temperature. On the other hand, benzoylisoselenoureas 7-9 were not obtained in this cyclocondensation under the same conditions. The reaction of potassium ethoxide on selenazines 13-18 in the ethanol solution evoked retrocyclization to the starting acylselenoureas 1-6. Both types of the title compounds,
i.e.
selenoureas 1-6 and isoselenoureas 7-12, were deprotonated in a methanol solution of potassium hydroxide used in an equimolar amount, giving rise to potassium salts 19-24, which were isolated only for the thiophene series. By heating the separated potassium salts 20, 21, 23 and 24 in the methanol solution provided, deacylation and isoselenoureas 26, 27 were formed. The
in situ
prepared salts 19, 22 cyclized under the same conditions with deacylation to 4-selanyl-3,4-dihydroquinazoline-4-one 28. The title compounds 1-6, 7-12 and products of their deacylation 26, 27 on boiling in methanolic potassium hydroxide cyclized to the corresponding fused 2-selenoxo-1,2,3,4-tetrahydropyrimidine-4-one potassium salts. These compounds provided pyrimidine-4-ones 28-30 on acidification. Acid initiated retrocyclization 28-30 to the corresponding 2-amino-4H-1,3-selenazine-4-ones was unsuccessful. C, H, N, Se elemental analyses, FTIR, 1H-NMR, and 13C-NMR spectroscopies supported the structure of synthesized compounds.A short review on cardiotonic steroids and their analogues is presented. The natural, semisynthetic and synthetic derivatives, as well as their mechanism of action and structure-activity relationships are shown, with a special reference to aminoguanidine derivatives.
View Full-Text
►

▼

Figures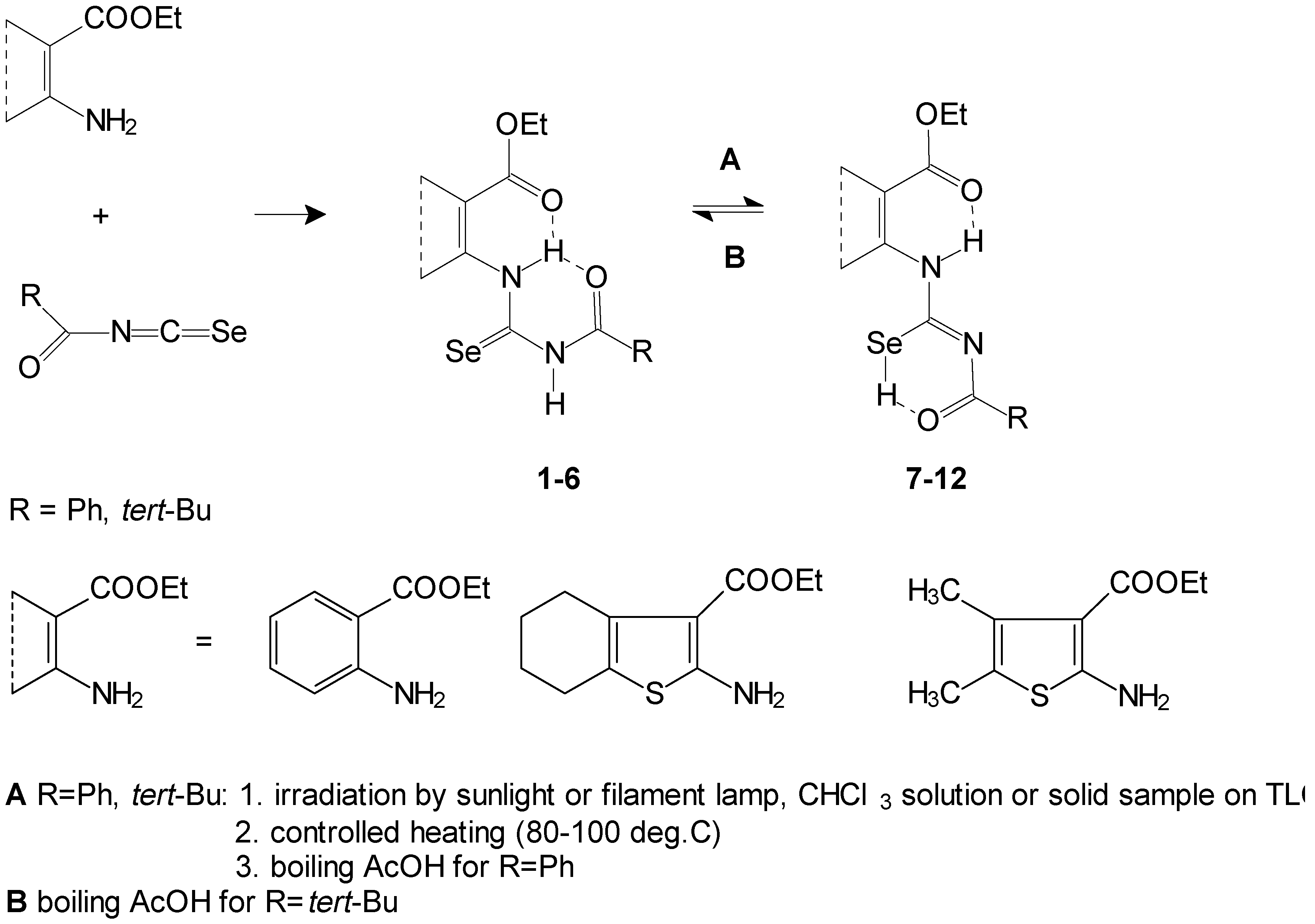 Scheme 1
Share & Cite This Article
MDPI and ACS Style
Šibor, J.; Žůrek, D.; Humpa, O.; Pazdera, P. Acid-Base Initiated Cyclization and Retrocyclization Reactions of Ethyl 2-(3-Acylselenoureido)benzoates, -thiophene-3-carboxylates and the Corresponding 2-(3-Acylisoselenoureido) Derivatives. Molecules 2000, 5, 37-50.
Related Articles
Comments
[Return to top]