Maternal Melatonin Therapy Attenuated Maternal High-Fructose Combined with Post-Weaning High-Salt Diets-Induced Hypertension in Adult Male Rat Offspring
1
Department of Pediatrics, Kaohsiung Chang Gung Memorial Hospital and Chang Gung University College of Medicine, Kaohsiung 833, Taiwan
2
Institute for Translational Research in Biomedicine, Kaohsiung Chang Gung Memorial Hospital and Chang Gung University College of Medicine, Kaohsiung 833, Taiwan
3
Department of Urology, Kaohsiung Chang Gung Memorial Hospital and Chang Gung University College of Medicine, Kaohsiung 833, Taiwan
*
Author to whom correspondence should be addressed.
Academic Editor: Dun-Xian Tan
Received: 4 March 2018 / Revised: 22 March 2018 / Accepted: 9 April 2018 / Published: 11 April 2018
Abstract
Consumption of food high in fructose and salt is associated with the epidemic of hypertension. Hypertension can originate from early life. Melatonin, a pleiotropic hormone, regulates blood pressure. We examined whether maternal melatonin therapy can prevent maternal high-fructose combined with post-weaning high-salt diet-induced programmed hypertension in adult offspring. Pregnant Sprague-Dawley rats received either a normal diet (ND) or a 60% fructose diet (HF) during pregnancy and the lactation period. Male offspring were on either the ND or a high-salt diet (HS, 1% NaCl) from weaning to 12 weeks of age and were assigned to five groups (n = 8/group): ND/ND, HF/ND, ND/HS, HF/HS, and HF/HS+melatonin. Melatonin (0.01% in drinking water) was administered during pregnancy and lactation. We observed that maternal HF combined with post-weaning HS diets induced hypertension in male adult offspring, which was attenuated by maternal melatonin therapy. The beneficial effects of maternal melatonin therapy on HF/HS-induced hypertension related to regulating several nutrient-sensing signals, including
Sirt1
,
Sirt4
,
Prkaa2
,
Prkab2
,
Pparg
, and
Ppargc1a
. Additionally, melatonin increased protein levels of mammalian targets of rapamycin (mTOR), decreased plasma asymmetric dimethylarginine (ADMA) and symmetric dimethylarginine levels, and increased the
l
-arginine-to-ADMA ratio. The reprogramming effects by which maternal melatonin therapy protects against hypertension of developmental origin awaits further elucidation.
View Full-Text
►

▼

Figures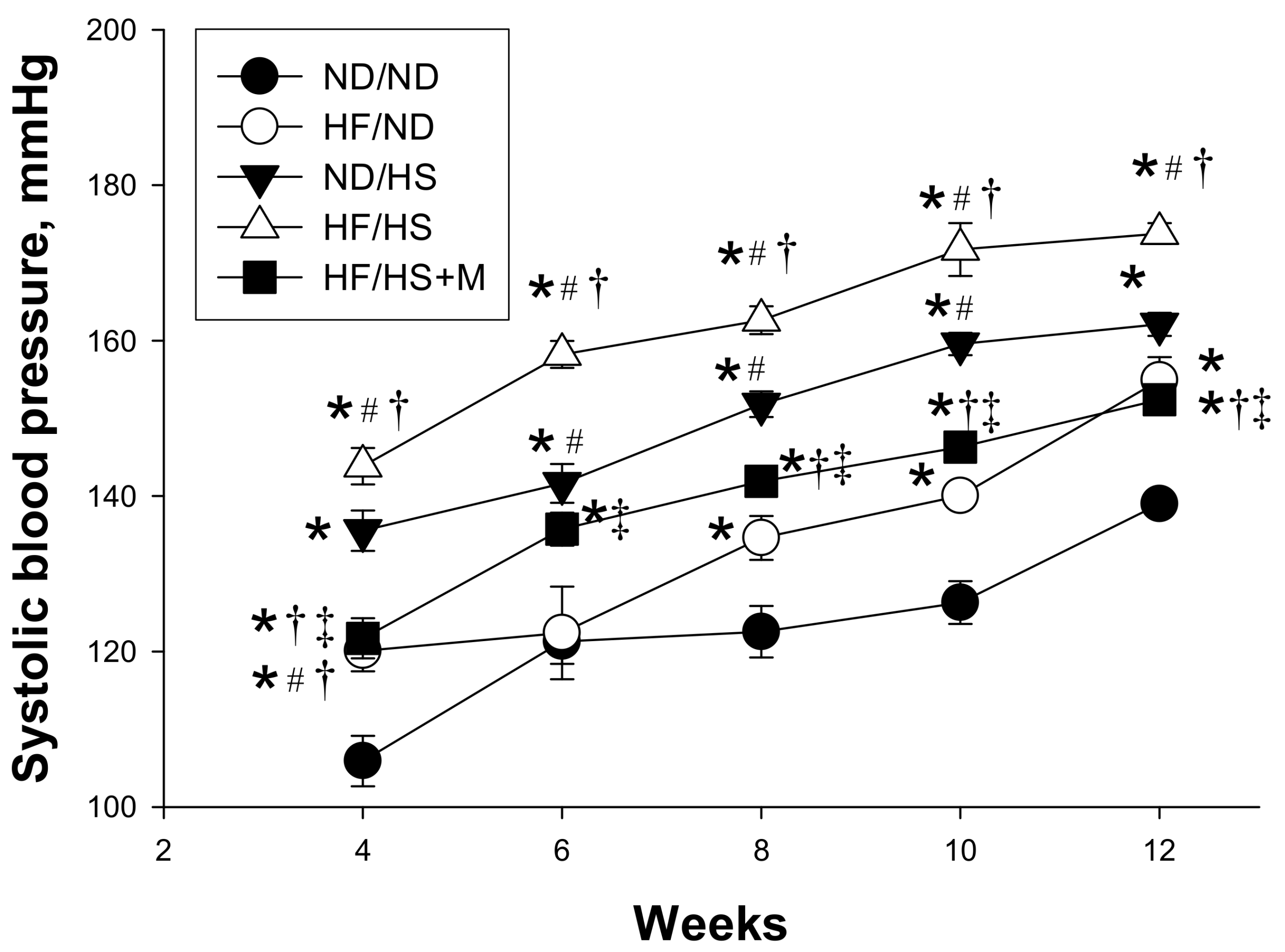 Figure 1
This is an open access article distributed under the
Creative Commons Attribution License
which permits unrestricted use, distribution, and reproduction in any medium, provided the original work is properly cited. (CC BY 4.0).
Share & Cite This Article
MDPI and ACS Style
Tain, Y.-L.; Leu, S.; Lee, W.-C.; Wu, K.L.H.; Chan, J.Y.H. Maternal Melatonin Therapy Attenuated Maternal High-Fructose Combined with Post-Weaning High-Salt Diets-Induced Hypertension in Adult Male Rat Offspring. Molecules 2018, 23, 886.
Note that from the first issue of 2016, MDPI journals use article numbers instead of page numbers. See further details here.
Related Articles
Comments
[Return to top]