Open Access This article is
freely available
re-usable
Article
Complete Chloroplast Genome of
Pinus massoniana
(Pinaceae): Gene Rearrangements, Loss of
ndh
Genes, and Short Inverted Repeats Contraction, Expansion
1
Co-Innovation Center for Sustainable Forestry in Southern China, Nanjing Forestry University, Nanjing 210037, China
2
Forestry College, Guangxi University, Nanning 530004, China
*
Author to whom correspondence should be addressed.
Received: 17 August 2017 / Accepted: 10 September 2017 / Published: 11 September 2017
Abstract
:
The chloroplast genome (CPG) of
Pinus massoniana
belonging to the genus
Pinus
(Pinaceae), which is a primary source of turpentine, was sequenced and analyzed in terms of gene rearrangements,
ndh
genes loss, and the contraction and expansion of short inverted repeats (IRs).
P. massoniana
CPG has a typical quadripartite structure that includes large single copy (LSC) (65,563 bp), small single copy (SSC) (53,230 bp) and two IRs (IRa and IRb, 485 bp). The 108 unique genes were identified, including 73 protein-coding genes, 31 tRNAs, and 4 rRNAs. Most of the 81 simple sequence repeats (SSRs) identified in CPG were mononucleotides motifs of A/T types and located in non-coding regions. Comparisons with related species revealed an inversion (21,556 bp) in the LSC region;
P. massoniana
CPG lacks all 11 intact
ndh
genes (four
ndh
genes lost completely; the five remained truncated as pseudogenes; and the other two
ndh
genes remain as pseudogenes because of short insertions or deletions). A pair of short IRs was found instead of large IRs, and size variations among pine species were observed, which resulted from short insertions or deletions and non-synchronized variations between "IRa" and "IRb". The results of phylogenetic analyses based on whole CPG sequences of 16 conifers indicated that the whole CPG sequences could be used as a powerful tool in phylogenetic analyses.
Keywords:
conifer species; genome annotation; structural inversion; comparative genomics; phylogenetic analysis
1. Introduction
The chloroplast genome (CPG) has multiple copies in a chloroplastid, which consists of 110–210 kb of circular DNA [
1
,
2
,
3
]. It has a quadripartite structure containing large and small single copy (LSC and SSC) regions, and two inverted repeats (IRs). There are 110–130 genes in most land plant CPGs [
3
,
4
]. With the development of next-generation sequencing, more than 1,000 CPGs have been reported in NCBI (
http://www.ncbi.nlm.nih.gov/genomes/GenomesGroup.cgi?taxid=2759&opt=plastid
).
Large IRs are typical structures in CPGs, and have sizes ranging from 15 kb to 30 kb [
3
,
5
]. Some tRNA and rRNA genes (e.g.,
trnaI
-GAU,
trnV
-GAC and 16S rRNA) are located in the large IRs. However, there are some differences in the gene numbers among species because of the contraction or expansion of IRs [
5
]. In addition, large IRs play important roles in stabilizing the CPG structure [
6
,
7
] due to the low rate of nucleotide substitution and enhanced copy-correction activity [
5
,
8
]. Thus, the loss of large IRs could result in the shortening of intergenic spaces [
6
], gene loss, and structural variations in CPGs [
7
,
9
]. The loss of large IRs has been confirmed in species in Pinaceae, Taxodiaceae [
10
,
11
], Cephalotaxaceae [
12
] and Legumes [
8
].
The contraction or expansion of large IRs could cause gene loss in some species' CPGs, as mentioned above. In addition, gene transfer among chloroplast, mitochondrial, and nuclear genomes could lead to the transfer of some CPG genes to the nuclear genome [
13
]. A copy of the
accD
gene, which has been lost in the CPGs of
Sciadopitys verticillata
, has been found in the nuclear genome [
10
]. The
infA
gene has also transferred from the CPGs to the nuclear genome [
14
]. Additionally, the CPGs of species in Orchidaceae [
15
], Geraniaceae [
16
], and Pinaceae [
17
] lack all of the 11 intact
ndh
genes, which can also be observed in many land plants [
15
], and is related to gene transfer or
ndh
gene functions [
15
,
17
,
18
]. Besides those mentioned previously, the coding regions of matK, rbcL, and rpoB genes and non-coding regions of atpF-atpH, trnH-psbA, and psbK-psbI have been widely used in phylogenetic analyses of plants [
19
,
20
]. Additionally next-generation sequencing allows the LSC, SSC, and IRs regions, and shared protein-coding genes (PCGs), to be used as powerful tools in phylogenetic analyses [
5
,
21
].
Pinaceae is the largest family in gymnosperms, which includes three subfamilies, 10 genera and more than 230 species. Most of the species in Pinaceae are forest and timber species distributed in the northern hemisphere.
Pinus
is the only genus in the subfamily Pinoideae, which consists of more than 80 species. The species in
Pinus
are also the main wood and turpentine producers worldwide. In southern China,
Pinus massoniana
is an outstanding wood resource due to its economic value and broad geographic distribution. Additionally, the chloroplast genome plays an important role in studies of phylogenetic analysis, parental analysis, genetic structure, and germplasm resources evaluation, because of its characteristics of uniparental inheritance and conserved sequence.
In the present study, we obtained the complete CPG sequence of
Pinus massoniana
, and describe its gene content and microsatellite distribution. Comparisons with related species for gene content, gene rearrangements,
ndh
gene loss, and the contraction and expansion of short IRs were also performed. A phylogenetic analysis was performed on the basis of the whole CPGs of 16 conifers.
2. Results and Discussion
Supplementary Materials
Supplementary materials are available online.
Acknowledgments
This research was supported by the National Natural Science Foundation of China (No.31400575) and the Program Development of Jiangsu Higher Education Institutions (PAPD).
Author Contributions
Z.N. and L.-A.X. conceived and designed the experiments; Z.N. performed the experiments and analyzed the data; Y.Y. contributed reagents/materials/analysis tools; Z.N. wrote the paper; T.B. and M.X. corrected the paper. Authorship must be limited to those who have contributed substantially to the work reported.
Conflicts of Interest
The authors declare no conflict of interest.
Sample Availability: Sequence data of

Pinus massoniana

are not available from the authors.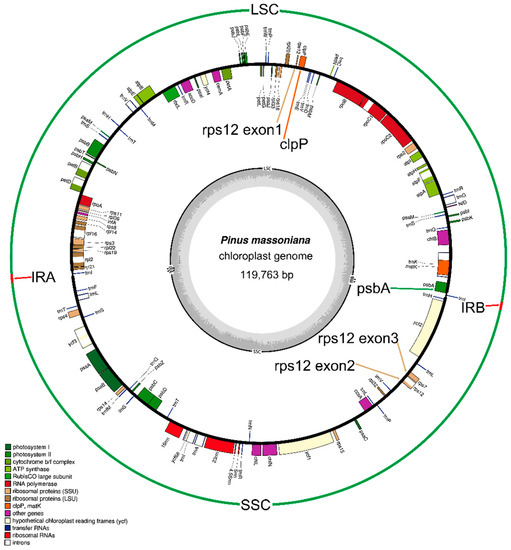 Figure 1.
Chloroplast genome annotation map for
Pinus massoniana
. Genes lying outside the circle are transcribed in a clockwise direction, whereas genes inside are transcribed in a counterclockwise direction. Different colors represent different functional groups. The dashed darker and lighter gray in the inner circle denote GC and AT contents of chloroplast genome, respectively. LSC, SSC and IRs means long single copy, small sngle copy, and inverted repeat regions, respectively.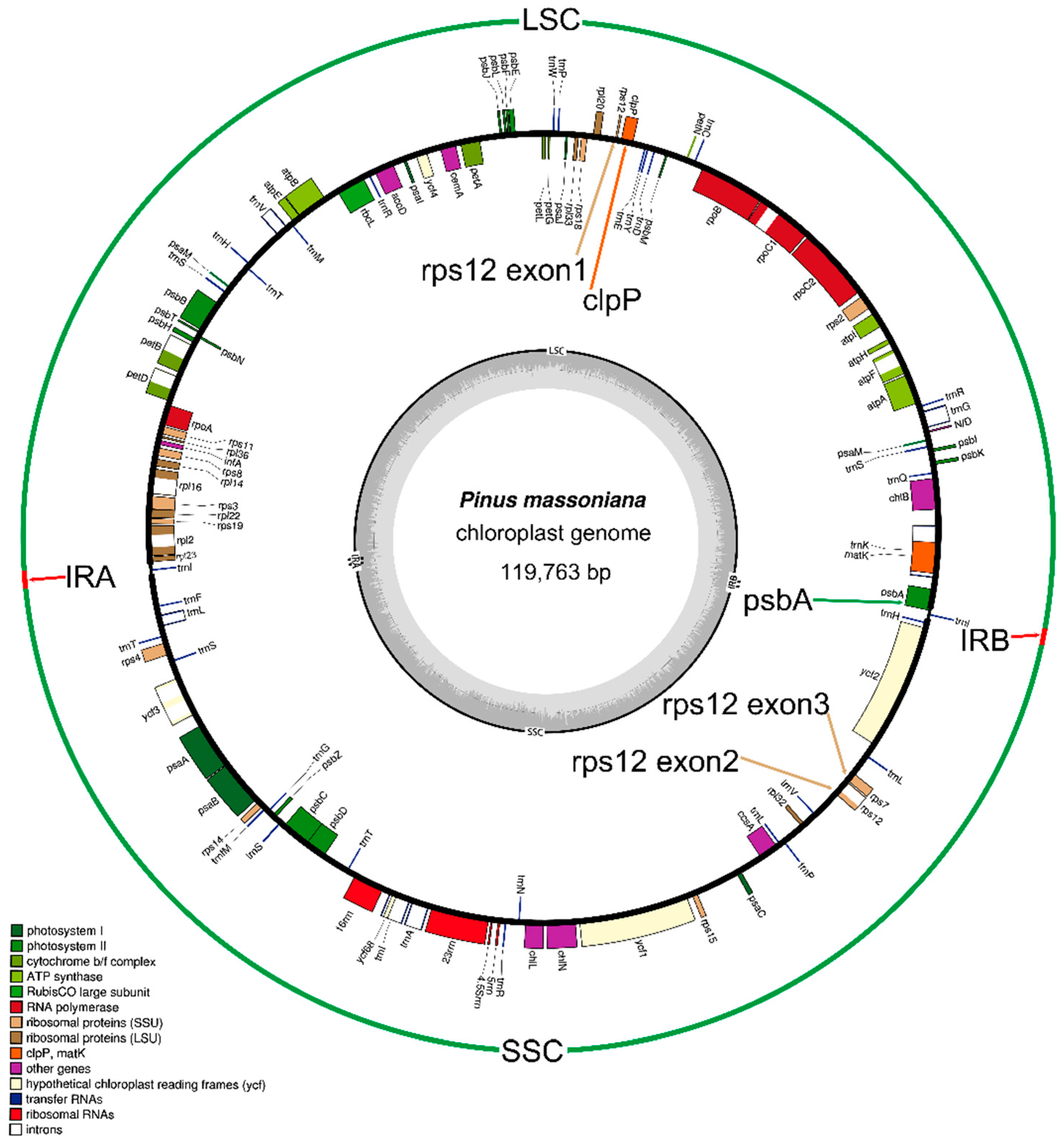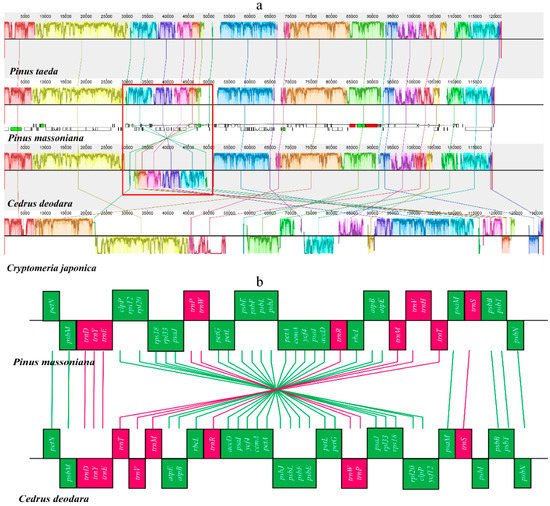 Figure 2. Synteny and rearrangements detected in chloroplast genome sequences of four Coniferous species using the Mauve multiple-genome alignment. (b) is a schematic illustration of the red frame part of the (a). (a) Color bars indicate syntenic blocks, and connecting lines indicate correspondence blocks; (b) Green boxes means protein-coding genes; red boxes means tRNAs. Boxes above and below the main line indicate the forward and reverse direction, respectively.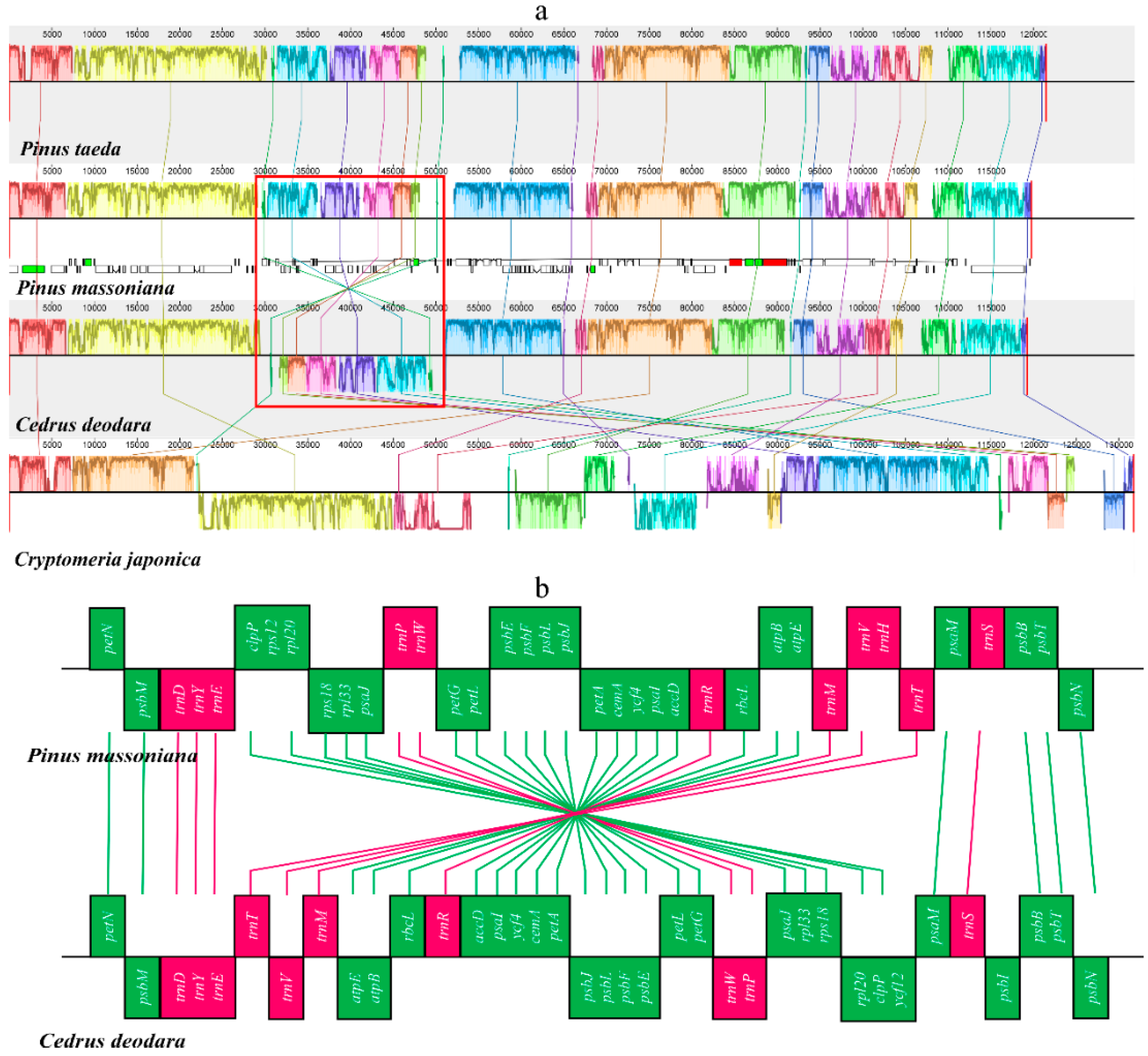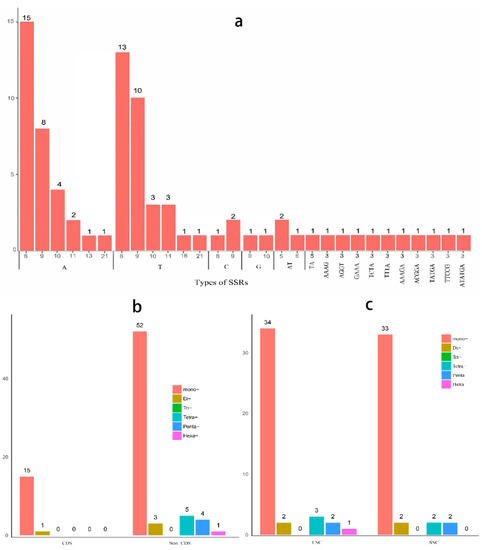 Figure 3.
Distribution of each simple sequence repeats (SSR) category in chloroplast genome (CPG) of
Pinus massoniana
. (
a
) Distribution of each SSR category in whole chloroplast genome; (
b
) Distribution of each SSR category in the coding sequence (CDS) and non-CDS of CPG; (
c
) Distribution of each SSR category in LSC and SSC of CPG.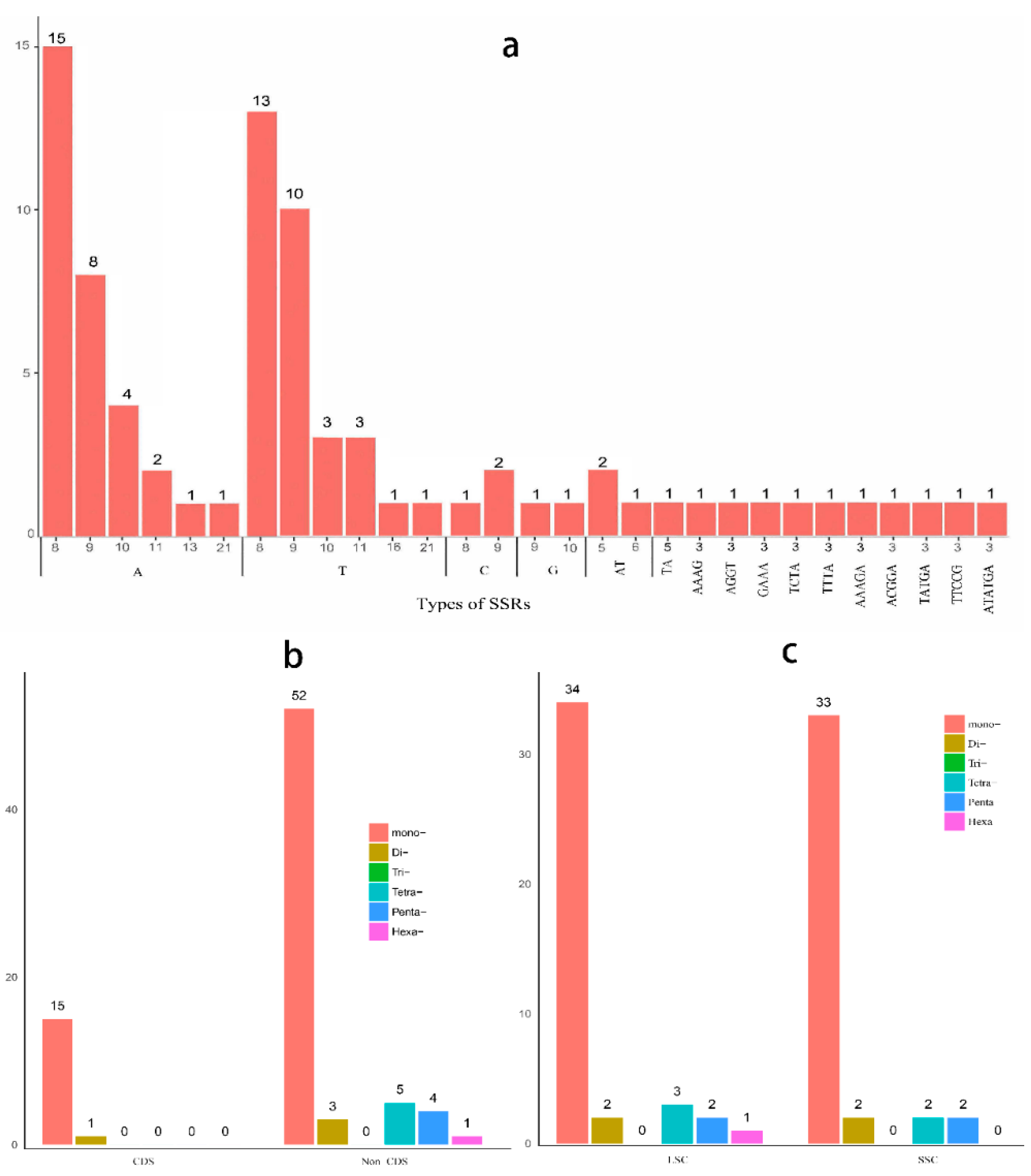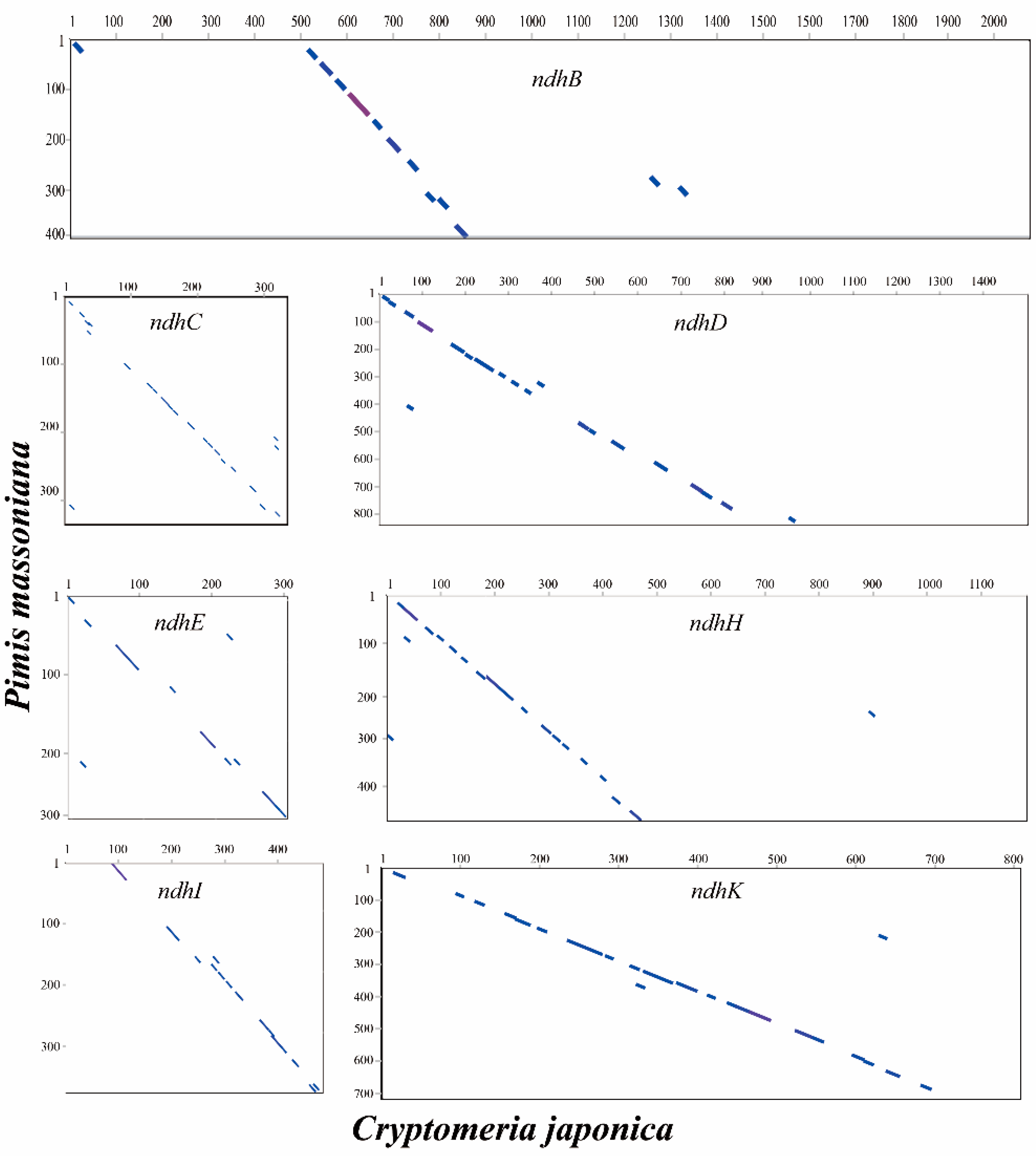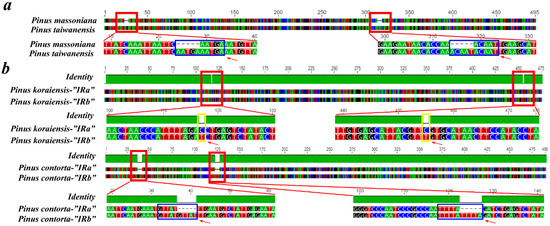 Figure 5.
Variations of inverted repeats (IRs) using multiple alignment. (
a
) Variations between
P. massoniana
and
P. taiwanensis
; (
b
) variations between "IRa" and "IRb" in
P. koraiensis
and
P. contorta
. Variations are in red frames: Single Nucleotide Polymorphisms (SNPs) are in yellow frames; microsatellites are in blue frames.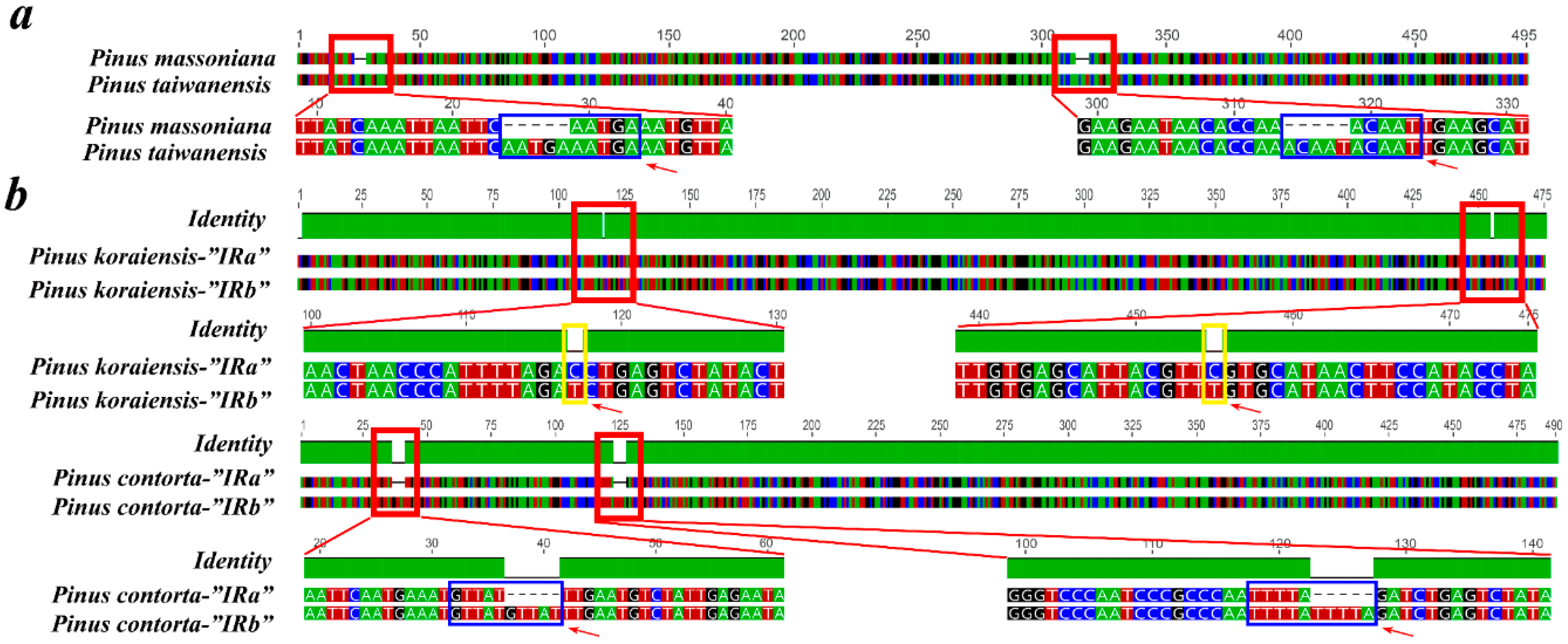 Figure 6.
Phylogenetic tree constructed by maximum likelihood (ML) and Bayesian inference (BI) methods based on whole chloroplast genome sequences and 56 shared protein-coding genes of 16 conifers. (
a
) Phylogenetic tree based on whole chloroplast genome sequences of 16 conifers; (
b
) Phylogenetic tree based on 56 shared protein-coding genes of 16 conifers chloroplast genomes;
Ginkgo biloba
as an outgroup; BI posterior probability/ML bootstrap support values were listed at each node.

Table 1. Gene contents of

P.massoniana

chloroplast genome based on genome annotation.
Category
Gene Contents
Subunits of photosystem I

psaA

,

psaB

,

psaC

,

psaI

,

psaJ

, psaMa
Subunits of photosystem II

psbA

,

psbB

,

psbC

,

psbD

,

psbE

,

psbF

,

psbH

,

psbI

,

psbJ

,

psbK

,

psbL

,

psbM

,

psbN

,

psbT

,

psbZ

Small subunit of ribosome

rps2

,

rps3

,

rps4

,

rps7

,

rps8

,

rps11

, rps12b,

rps14

,

rps15

,

rps18

,

rps19

Large subunit of ribosome
rpl2b,

rpl14

, rpl16b,

rpl20

,

rpl22

,

rpl23

,

rpl32

,

rpl33

,

rpl36

Subunits of cytochrome b/f complex

petA

, petBb, petDb,

petG

,

petL

,

petN

Subunits of ATP synthase

atpA

,

atpB

,

atpE

, atpFb,

atpH

,

atpI

DNA-dependent RNA polymerase

rpoA

,

rpoB

, rpoC1b,

rpoC2

ChlorophyII biosynthesis

chlB

,

chlL

,

chlN

Protease

clpP

Maturase

matK

Envelope membrane protein

cemA

Translation initiation factor

infA

Cytochrome c biogenesis

ccsA

Subunit Acetyl-CoA-Carboxylate

accD

Subunit of rubisco

rbcL

Ribosomal RNAs

rrn4.5

,

rrn5

,

rrn16

,

rrn23

Conserved open reading frames

ycf1

,

ycf2

, ycf3b,

ycf4

,

ycf12

,

ycf68

Transfer RNA
trnA-UGCb,

trnC-GCA

,

trnD-GUC

,

trnE-UUC

,

trnF-GAA

,

trnfM-CAU

,

trnG-UCC

, trnG-GCCb, trnH-GUGa, trnI-GAUab, trnK-UUUb

trnL-CAA

, trnL-UAAb,

trnL-UAG

,

trnM-CAU

,

trnN-GUU

,

trnP-GGG

,

trnP-UGG

,

trnQ-UUG

,

trnR-ACG

,

trnR-CCG

,

trnR-UCU

trnS-GCUa,

trnS-GGA

,

trnS-UGA

, trnT-GGUa,

trnT-UGU

,

trnV-GAC

, trnV-UACb,

trnW-CCA

,

trnY-GUA
a Gene-copies in genome; b Intro-containing gene.
© 2017 by the authors. Licensee MDPI, Basel, Switzerland. This article is an open access article distributed under the terms and conditions of the Creative Commons Attribution (CC BY) license (http://creativecommons.org/licenses/by/4.0/).