Open Access This article is
freely available
re-usable
Review
The Role of Kinase Modulators in Cellular Senescence for Use in Cancer Treatment
College of Pharmacy and Research Institute of Pharmaceutical Sciences, Gyeongsang National University, 501 Jinju-daero, Jinju, Gyeongnam 52828, Korea
†
These authors contributed equally to the work.
*
Author to whom correspondence should be addressed.
Received: 11 July 2017 / Accepted: 24 August 2017 / Published: 25 August 2017
Abstract
:
Recently, more than 30 small molecules and eight monoclonal antibodies that modulate kinase signaling have been approved for the treatment of several pathological conditions, including cancer, idiopathic pulmonary fibrosis, and rheumatoid arthritis. Among them, kinase modulators have been a primary focus for use in cancer treatment. Cellular senescence is believed to protect cells from tumorigenesis by irreversibly halting cell cycle progression and avoiding the growth of damaged cells and tissues. Senescence can also contribute to tumor suppression and be utilized as a mechanism by anti-cancer agents. Although the role of kinase modulators in cancer treatment and their effects on senescence in tumor development have been extensively studied, the relationship between kinase modulators for cancer treatment and senescence has not been fully discussed. In this review, we discuss the pro- and anti-tumorigenesis functions of senescence and summarize the key roles of kinase modulators in the regulation of senescence against tumors.
Keywords:
aging; cancer; kinase inhibitor; senescence
Acknowledgments
This research was supported by the Basic Science Research Program through the National Research Foundation (NRF), funded by the Ministry of Science, ICT & Future Planning (2015R1C1A2A01053928 and 2017R1A2B1005773) and a grant (2016-04-0033) from the Research Promotion Program of Gyeongsang National University (2016).
Author Contributions
C.S.L., J.B., and S.-Y.H. wrote the manuscript with guidance from S.-Y.H., J.B. investigated and collected the data. C.S.L. and J.B. contributed equally to the work.
Conflicts of Interest
The authors declare no conflict of interest.
Abbreviations
The U.S. Food and Drug administration (FDA), Adenosine triphosphate (ATP), Cyclin dependent kinase (CDK), Phosphatidylinositol-4,5-bisphosphate 3-kinase δ (PI3Kδ), Human epidermal growth factor receptor 2 (HER2), DNA damage response (DDR), Oncogene-induced senescence (OIS), Ultraviolet (UV), Reactive oxygen species (ROS), Ataxia telangiectasia mutated kinase (ATM), ATM-related kinase (ATR), Mitogen-activated protein kinase (MAPK), Senescence-associated β-galactosidase (SA-β-gal), Senescence-associated heterochromatin foci (SAHF), Senescence-associated secretory phenotype (SASP), Matrix metalloproteinase 2 (MMP2), Granulocyte macrophage colony-stimulating factor (GM-CSF), Hepatocyte growth factor (HGF), Interleukin (IL), Epithelial to mesenchymal transition (EMT), Heterochromatin protein 1-γ (HP1-γ), Chronic myeloid leukemia (CML), Non-small cell lung cancer (NSCLC), Epidermal growth factor receptor (EGFR), Vascular endothelial growth factor receptor (VEGF), Human papilloma virus (HPV), Retinoblastoma (Rb), Renal cell carcinoma (RCC), Decoy receptor 2 (DcR2), Deleted in esophageal cancer 1 (Dec1), Metastatic colorectal cancer (CRC), Promyelocytic leukemia (PML).
Sample Availability: Samples of the compounds are not available from the authors.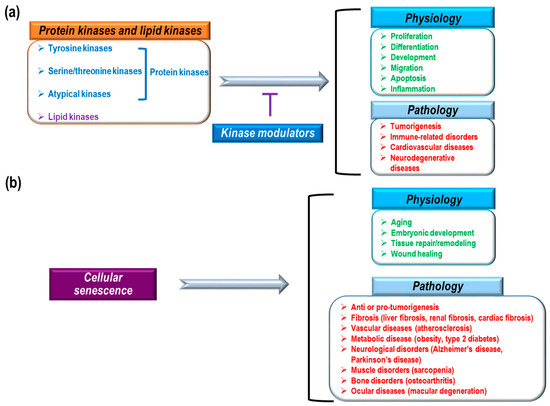 Figure 1. Physiological and pathological roles of protein and lipid kinases and cellular senescence. (a) 518 kinases (protein kinases (blue): tyrosine kinases, serine/threonine kinases, and atypical kinases; lipid kinases (purple)); and (b) cellular senescence has a variety of physiological (green) and pathological (red) functions.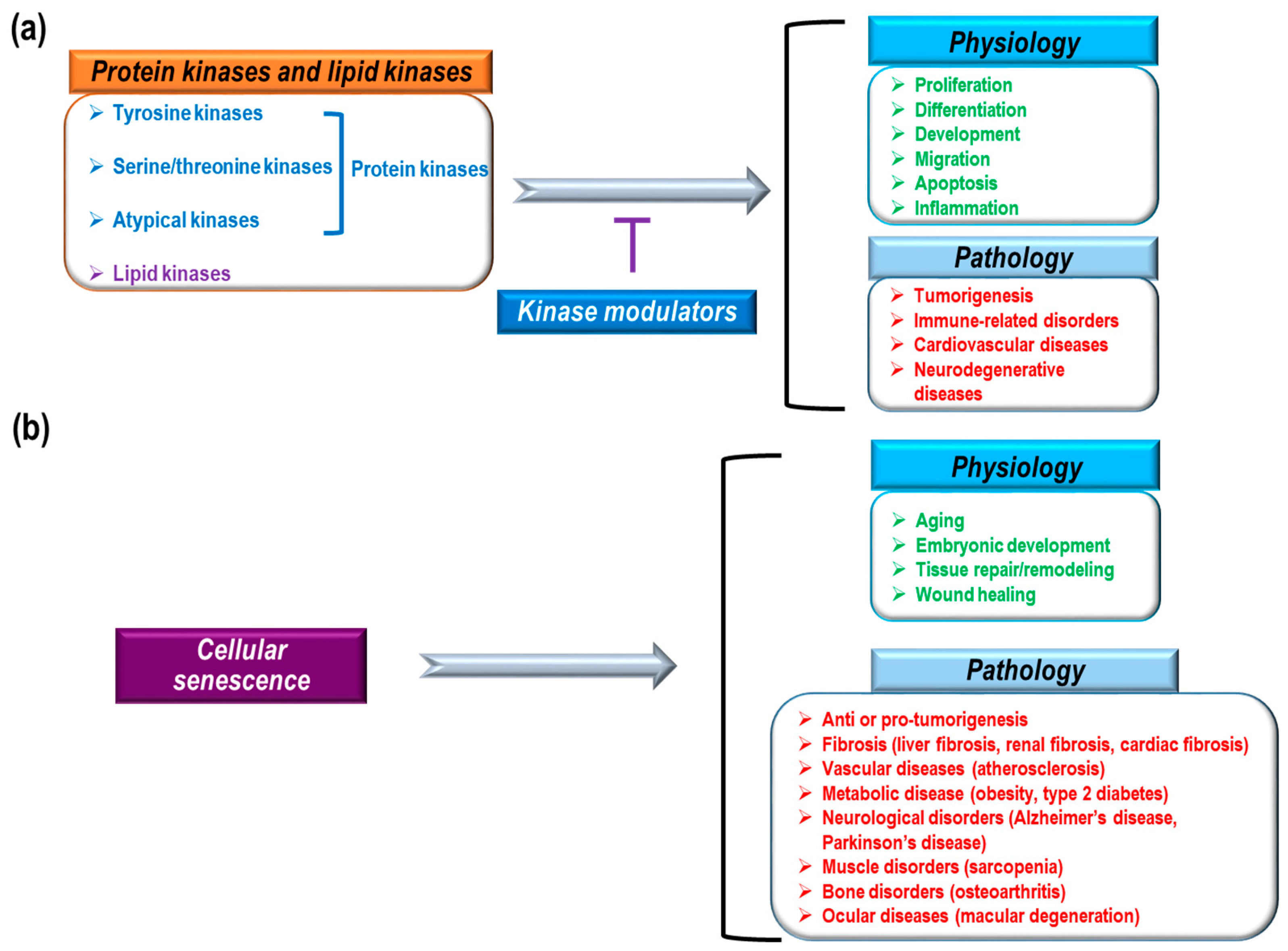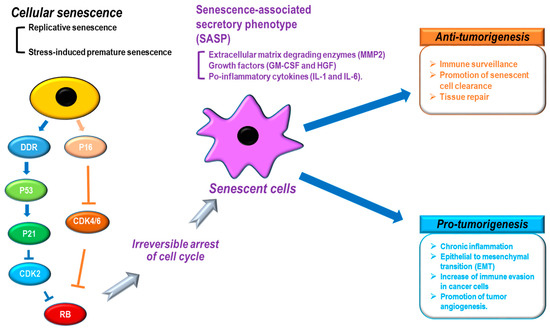 Figure 2. Senescence-associated secretory phenotype (SASP) and tumorigenesis. Cellular senescence by multiple causes: (black) shows distinct phenotypes, including SASP (purple) that can induce anti-tumor (orange) or pro-tumor (sky-blue) development. DDR: DNA damage response, CDK: cyclin-dependent kinase, MMP2: matrix metalloproteinase 2, GM-CSF: granulocyte-macrophage colony-stimulating factor, HGF: hepatocyte growth factor.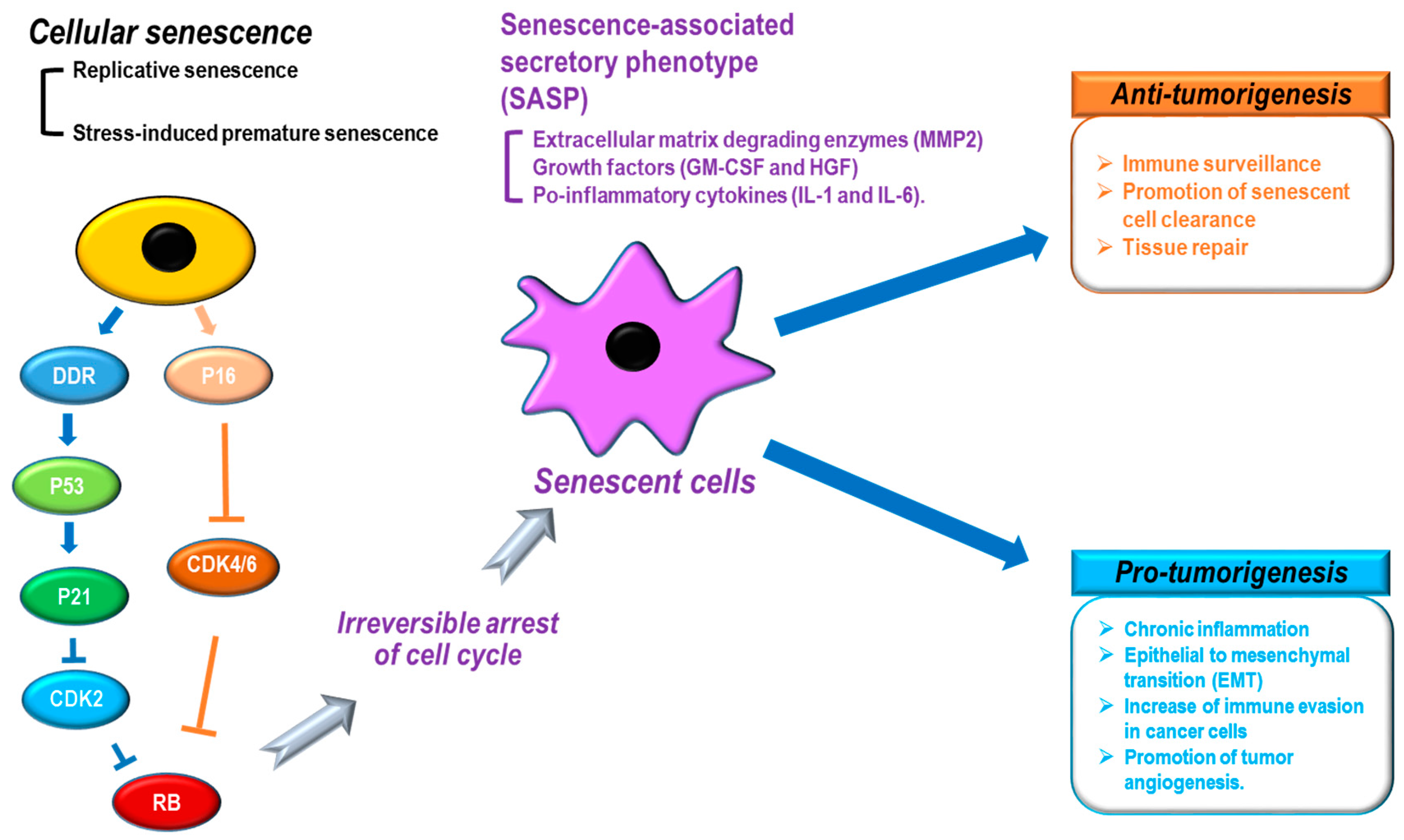 Table 1. FDA-approved kinase modulators and cellular senescence.

| Drugs | Target | Effect on Senescence | References |
| --- | --- | --- | --- |
| Imatinib | BCR-ABL | Induction | [82] |
| Dasatinib | BCR-ABL | Induction | [84,85] |
| Gefitinib | EGFR | Induction | [87] |
| Erlotinib | EGFR | Induction | [88,89] |
| Lapatinib | EGFR, HER2 | Suppression, Induction | [90,93,94,95] |
| Cetuximab | EGFR | No change | [97] |
| Sunitinib | VEGFR, multikinases | Induction | [99] |
| Axitinib | VEGFR, multikinases | Induction | [100,101] |
| Bevacizumab | VEGF | Induction | [102] |
| Vemurafenib | B-RAF | Induction | [104] |
| Trametinib | MEK1/2 | Induction | [107] |
| Palbociclib | CDK4/6 | Induction | [109] |
© 2017 by the authors. Licensee MDPI, Basel, Switzerland. This article is an open access article distributed under the terms and conditions of the Creative Commons Attribution (CC BY) license (http://creativecommons.org/licenses/by/4.0/).