Isolation, Characterization and Antiproliferative Activity of New Metabolites from the South African Endemic Red Algal Species Laurencia alfredensis
1
Department of Chemistry, University of Cape Town, Rondebosch 7701, South Africa
2
Biomedical Biotechnology Research Unit, Department of Biochemistry and Microbiology, Rhodes University, Grahamstown 6140, South Africa
3
Department of Biological Sciences, University of Cape Town, Rondebosch 7701, South Africa
4
Marine Research (Ma-Re) Institute, University of Cape Town, Rondebosch 7701, South Africa
5
School of Pharmacy Department of Pharmaceutical Chemistry, University of the Western Cape, Bellville 7535, South Africa
6
South African Medical Research Council Drug Discovery and Development Research Unit, University of Cape Town, Rondebosch 7701, South Africa
*
Author to whom correspondence should be addressed.
Academic Editor: David J. Newman
Received: 27 February 2017 / Revised: 21 March 2017 / Accepted: 21 March 2017 / Published: 23 March 2017
Abstract
The marine red algae of the genus
Laurencia
have been widely studied for their structurally diverse and biologically active secondary metabolites. We report here the natural product investigation of the organic extract of a newly identified South African endemic species,
Laurencia alfredensis
. A sequence of column chromatography, preparative TLC and normal phase HPLC resulted in the isolation of eleven compounds comprising three labdane-type diterpenes (
1
–
3
), four polyether triterpenes (
4
–
7
), three cholestane-type ecdysteroids (
8
–
10
) and a glycolipid (
11
). Compounds
1
–
3
,
5
–
8
and
10
have not previously been reported, while compound
9
is reported here for the first time from a natural source and the known compound
11
isolated for the first time from the genus
Laurencia
. The structural elucidation and the relative configuration assignments of the compounds were accomplished by extensive use of 1D- and 2D-NMR, HR-ESI-MS, UV and IR spectroscopic techniques, while the absolute configuration of compound
1
was determined by single-crystal X-ray diffraction analysis. All compounds were evaluated against the MDA-MB-231 breast and HeLa cervical cancer cell lines. Compound
2
exhibited low micromolar antiproliferative activity (IC
50
= 9.3 µM) against the triple negative breast carcinoma and compound
7
was similarly active (IC
50
= 8.8 µM) against the cervical cancer cell line.
View Full-Text
►

▼

Figures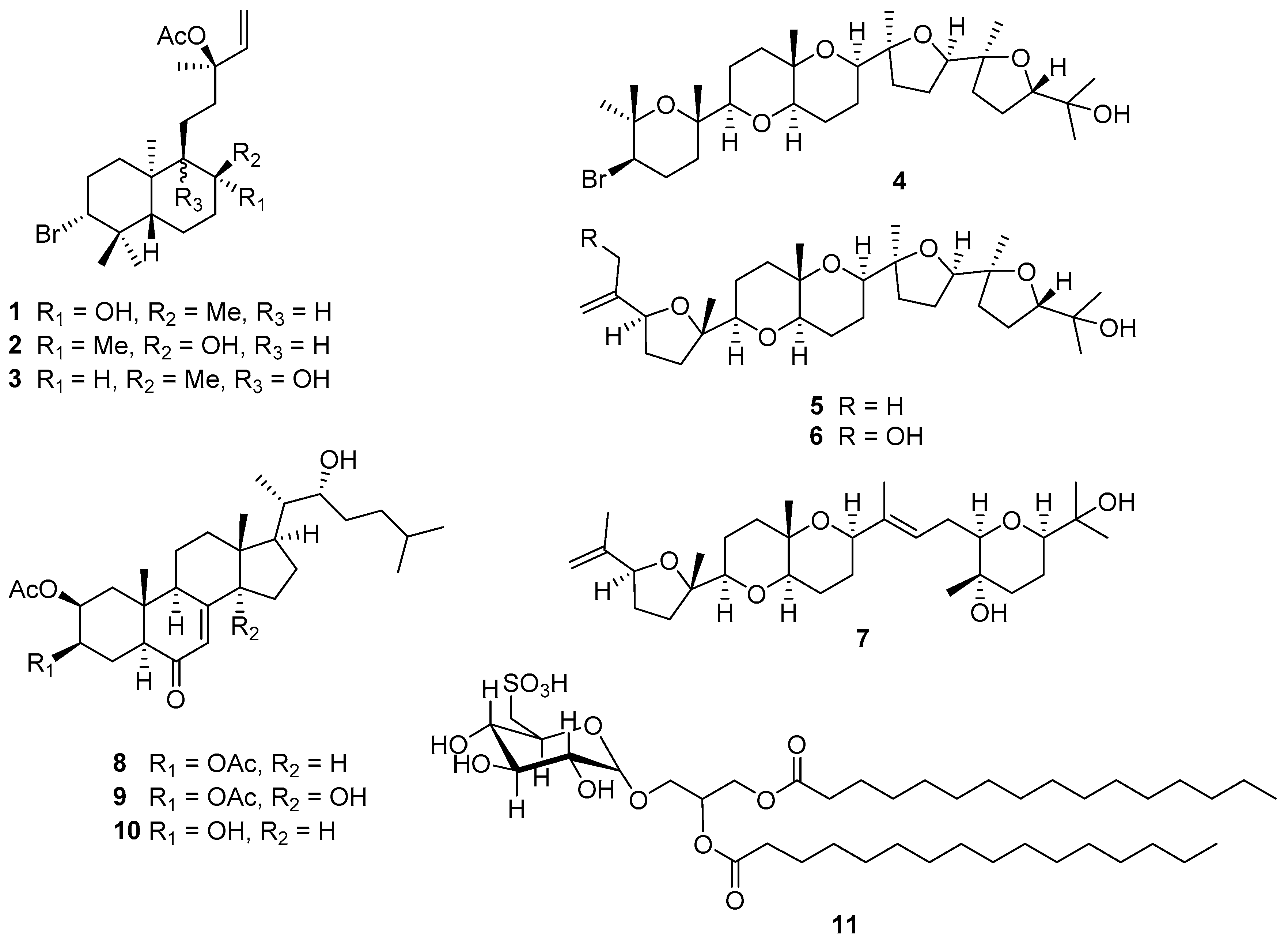 Figure 1
This is an open access article distributed under the
Creative Commons Attribution License
which permits unrestricted use, distribution, and reproduction in any medium, provided the original work is properly cited. (CC BY 4.0).
Share & Cite This Article
MDPI and ACS Style
Dziwornu, G.A.; Caira, M.R.; Mare, J.-A.; Edkins, A.L.; Bolton, J.J.; Beukes, D.R.; Sunassee, S.N. Isolation, Characterization and Antiproliferative Activity of New Metabolites from the South African Endemic Red Algal Species Laurencia alfredensis. Molecules 2017, 22, 513.
Note that from the first issue of 2016, MDPI journals use article numbers instead of page numbers. See further details here.
Related Articles
Comments
[Return to top]