Phenolic Content and Antioxidant Activity in Raw and Denatured Aqueous Extracts from Sprouts and Wheatgrass of Einkorn and Emmer Obtained under Salinity
1
Dipartimento di Scienze Agrarie, Alimentari ed Ambientali, Università di Perugia, Perugia 74-06121, Italy
2
Nutraceutical & Phytochemical Products (NPP) S.r.l, Strada Madonna del Giglio, Perugia 15-06132, Italy
3
Dipartimento di Biologia Cellulare e Molecolare, Università di Perugia, Perugia 74-06121, Italy
4
Groupe de Recherche en Physiologie Végétale (GRPV), Earth and Life Institute- Agronomy (ELI-A), Université catholique de Louvain, Croix du Sud 45, boite L7.07.13, Louvain-la-Neuve B-1348, Belgium
*
Author to whom correspondence should be addressed.
Received: 3 November 2017 / Revised: 30 November 2017 / Accepted: 1 December 2017 / Published: 2 December 2017
Abstract
Total phenolic content (TPC), reducing power (RP), superoxide radical scavenging (RS), and thiobarbituric acid reactive substances (TBARS) production inhibition were measured in raw and denatured aqueous extracts from sprouts and wheatgrass of einkorn and emmer obtained at increasing salinity. Grains were incubated and kept at 0, 25, 50, and 100 mM NaCl until either sprout or wheatgrass stage. Additionally, a recovery treatment was included, in which sprouts obtained at 100 mM NaCl were then transferred at 0 mM NaCl until wheatgrass stage. All parameters (TPC, RP, RS, and TBARS production inhibition) increased with sprouting and were highest in wheatgrass. Salinity increased all parameters, but the effect varied with NaCl concentration, genotype, developmental stage, and plant material processing (raw or denatured). Overall, given the delay and limitation of growth at high NaCl concentration, the best compromise appears to be the application of a moderate salinity (25 to 50 mM NaCl). In denatured extracts, TPC, RP, and RS slightly decreased, and TBARS was not affected, which means that antioxidant activity was mainly related to compounds other than enzymes and peptides, and thus it can be assumed to remain after digestion. Thus, supplementing the human diet with einkorn or emmer sprouts and wheatgrass can actually benefit health.
View Full-Text
►

▼

Figures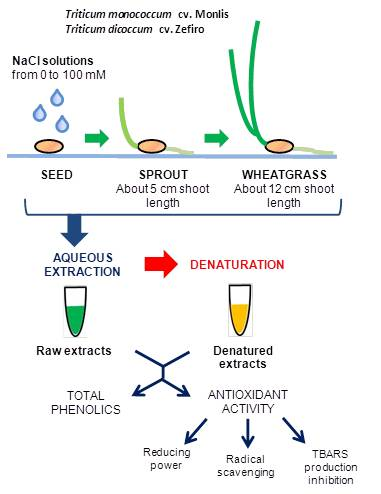 This is an open access article distributed under the
Creative Commons Attribution License
which permits unrestricted use, distribution, and reproduction in any medium, provided the original work is properly cited. (CC BY 4.0).
Share & Cite This Article
MDPI and ACS Style
Falcinelli, B.; Benincasa, P.; Calzuola, I.; Gigliarelli, L.; Lutts, S.; Marsili, V. Phenolic Content and Antioxidant Activity in Raw and Denatured Aqueous Extracts from Sprouts and Wheatgrass of Einkorn and Emmer Obtained under Salinity. Molecules 2017, 22, 2132.
Note that from the first issue of 2016, MDPI journals use article numbers instead of page numbers. See further details here.
Related Articles
Comments
[Return to top]