Synthesis, Characterization and Antibacterial Activity of Novel 1,3-Diethyl-1,3-bis(4-nitrophenyl)urea and Its Metal(II) Complexes
Department of Chemistry, North Tehran Branch, Islamic Azad University, Tehran 1651153311, Iran
*
Author to whom correspondence should be addressed.
Received: 28 October 2017 / Revised: 24 November 2017 / Accepted: 27 November 2017 / Published: 2 December 2017
Abstract
A bioactive ligand and its dinuclear metal(II) complexes were synthesized and characterized by Fourier-transform infrared spectroscopy (FT-IR), ultraviolet-visible (UV-Visible), nuclear magnetic resonance (
1
H-NMR), mass spectroscopy and molar conductance measurements. The ligand has been crystalized in the monoclinic system with a P21/c space group. The biological activities of metal complexes were evaluated using disc diffusion and broth dilution methods. In vitro antibacterial activities of the ligand and their metal complexes were examined against two Gram-positive bacteria (
Bacillus subtilis
and
Staphylococcus aureus
) and two Gram-negative bacteria (
Escherichia coli
and
Serratia marcescens
) and compared to the standard drugs. It was found that metal complexes displayed much higher antibacterial activities and better inhibitory effects than that of the ligand and standard drugs. Among these complexes, the compound having Zn-metal showed greater antibacterial activity against all four tested bacteria and was more effective against
Serratia marcescens
with the zone inhibition diameter of 26 mm and MIC value of 31.25 µg/mL.
View Full-Text
►

▼

Figures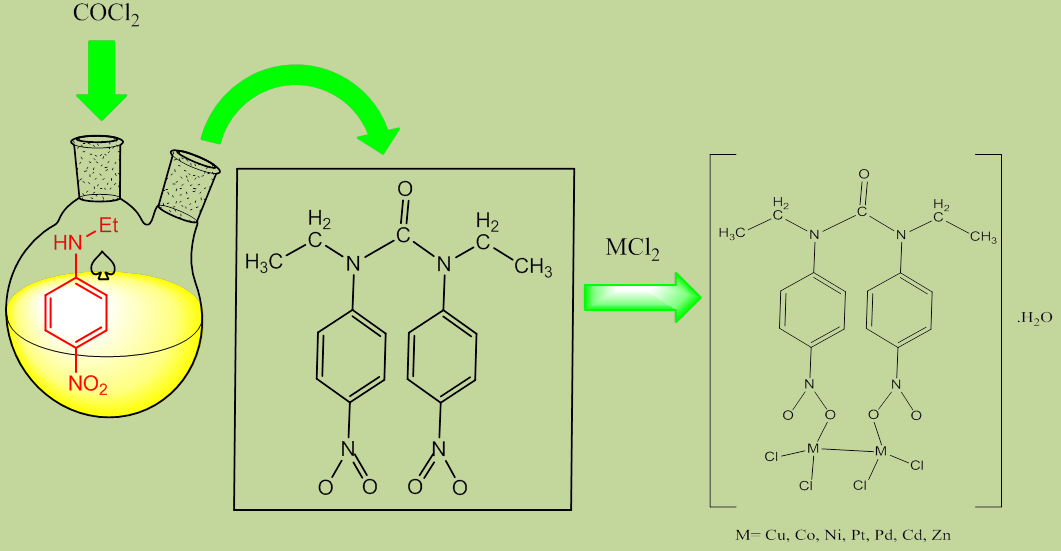 This is an open access article distributed under the
Creative Commons Attribution License
which permits unrestricted use, distribution, and reproduction in any medium, provided the original work is properly cited. (CC BY 4.0).
Share & Cite This Article
MDPI and ACS Style
Pasdar, H.; Hedayati Saghavaz, B.; Foroughifar, N.; Davallo, M. Synthesis, Characterization and Antibacterial Activity of Novel 1,3-Diethyl-1,3-bis(4-nitrophenyl)urea and Its Metal(II) Complexes. Molecules 2017, 22, 2125.
Note that from the first issue of 2016, MDPI journals use article numbers instead of page numbers. See further details here.
Related Articles
Comments
[Return to top]