Connectivity and Topology Invariance in Self-Assembled and Halogen-Bonded Anionic (6,3)-Networks
Laboratory of Nanostructured Fluorinated Materials (NFMLab), Department of Chemistry, Materials, and Chemical Engineering "Giulio Natta", Politecnico di Milano, Via L. Mancinelli 7, 20131 Milano, Italy
*
Author to whom correspondence should be addressed.
Received: 24 October 2017 / Revised: 14 November 2017 / Accepted: 21 November 2017 / Published: 24 November 2017
Abstract
We report here that the halogen bond driven self-assembly of 1,3,5-trifluorotriiodobenzene with tetraethylammonium and -phosphonium bromides affords 1:1 co-crystals, wherein the mutual induced fit of the triiodobenzene derivative and the bromide anions (halogen bond donor and acceptors, respectively) elicits the potential of these two tectons to function as tritopic modules (6,3). Supramolecular anionic networks are present in the two co-crystals wherein the donor and the acceptor alternate at the vertexes of the hexagonal frames and cations are accommodated in the potential empty space encircled by the frames. The change of one component in a self-assembled multi-component co-crystal often results in a change in its supramolecular connectivity and topology. Our systems have the same supramolecular features of corresponding iodide analogues as the metric aspects seem to prevail over other aspects in controlling the self-assembly process.
View Full-Text
►

▼

Figures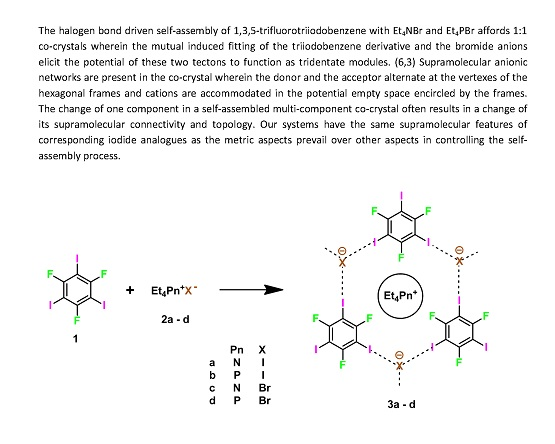 This is an open access article distributed under the
Creative Commons Attribution License
which permits unrestricted use, distribution, and reproduction in any medium, provided the original work is properly cited. (CC BY 4.0).
Share & Cite This Article
MDPI and ACS Style
Meyer, F.; Pilati, T.; Konidaris, K.F.; Metrangolo, P.; Resnati, G. Connectivity and Topology Invariance in Self-Assembled and Halogen-Bonded Anionic (6,3)-Networks. Molecules 2017, 22, 2060.
Note that from the first issue of 2016, MDPI journals use article numbers instead of page numbers. See further details here.
Related Articles
Comments
[Return to top]