Synthesis, Crystal Structure, and Photoluminescent Properties of 3,3′,4,4′-Tetraethyl-5,5′-divinyl-2,2′-bipyrrole Derivatives
1
Department of Creative Engineering, National Institute of Technology, Kitakyushu College, 5-20-1 Shi-i, Kokuraminami-ku, Kitakyushu 802-0985, Japan
2
Advanced School of Creative Engineering, National Institute of Technology, Kitakyushu College, 5-20-1 Shi-i, Kokuraminami-ku, Kitakyushu 802-0985, Japan
3
Department of Chemistry and Biochemistry, Queens College, Queens, NY 11367, USA
4
Department of Materials Science and Chemical Engineering, National Institute of Technology, Kitakyushu College, 5-20-1 Shi-i, Kokuraminami-ku, Kitakyushu 802-0985, Japan
5
Department of Environmental and Life Sciences, Toyohashi University of Technology, 1-1 Tempaku-cho, Toyohashi, Aichi 441-8580, Japan
6
Ph.D. Program in Chemistry and Ph.D. Program in Biochemistry, The Graduate Center of the City University of New York, New York, NY 10016, USA
*
Author to whom correspondence should be addressed.
Received: 13 September 2017 / Revised: 12 October 2017 / Accepted: 23 October 2017 / Published: 26 October 2017
Abstract
Photoluminescent divinylbipyrroles were synthesized from 3,3′,4,4′-tetraetyl-2,2′-bipyrrole-5,5′-dicarboxaldehyde and activated methylene compounds via aldol condensation. For mechanistic clarity, molecular structures of Meldrum's acid- and 1,3-dimethylbarbituric acid-derived divinylbipyrroles were determined by single-crystal X-ray diffraction. Photoluminescent properties of the synthesized divinylbipyrroles in dichloromethane were found to be dependent on the presence of electron withdrawing groups at the vinylic terminal. The divinylbipyrroles derived from malononitrile, Meldrum's acid, and 1,3-dimethylbarbituric acid showed fluorescent peaks at 553, 576, and 602 nm respectively. Computational studies indicated that the alkyl substituents on the bipyrrole 3 and 3′ positions increased energy level of the highest occupied molecular orbital (HOMO) compared to the unsubstituted derivatives and provided rationale for the bathochromic shift of the ultraviolet-visible (UV-Vis) spectra compared to the previously reported analogs.
View Full-Text
►

▼

Figures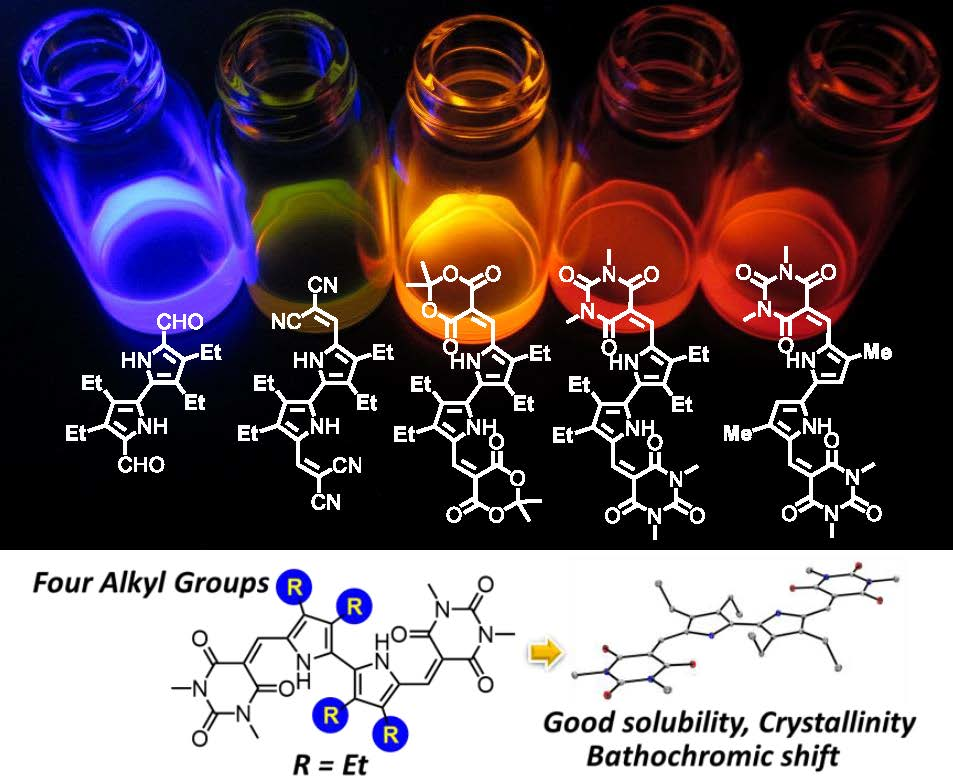 This is an open access article distributed under the
Creative Commons Attribution License
which permits unrestricted use, distribution, and reproduction in any medium, provided the original work is properly cited. (CC BY 4.0).
Share & Cite This Article
MDPI and ACS Style
Okawara, T.; Kawano, R.; Morita, H.; Finkelstein, A.; Toyofuku, R.; Matsumoto, K.; Takehara, K.; Nagamura, T.; Iwasa, S.; Kumar, S. Synthesis, Crystal Structure, and Photoluminescent Properties of 3,3′,4,4′-Tetraethyl-5,5′-divinyl-2,2′-bipyrrole Derivatives. Molecules 2017, 22, 1816.
Note that from the first issue of 2016, MDPI journals use article numbers instead of page numbers. See further details here.
Related Articles
Comments
[Return to top]