Antiprotozoal Activity of Buxus sempervirens and Activity-Guided Isolation of O-tigloylcyclovirobuxeine-B as the Main Constituent Active against Plasmodium falciparum †
1
Institut für Pharmazeutische Biologie und Phytochemie (IPBP), University of Münster, Pharma Campus, Corrensstraße 48, D-48149 Münster, Germany
2
Institut für Lebensmittelchemie, Technische Universität Braunschweig, Schleinitzstraße 20, D-38106 Braunschweig, Germany
3
Swiss Tropical and Public Health Institute (Swiss TPH), Socinstraße 57, CH-4002 Basel, Switzerland
4
University of Basel, Petersplatz 1, CH-4003 Basel, Switzerland
†
This work is cordially dedicated to H. M. Schmidt, Havixbeck, the keeper and co-owner of the Buxus hedge under study, on the occasion of her 50th birthday.
†
Part of the thesis of J.B.A. A preliminary account on part of this work has been published in abstract form (Planta Med. 2013, 79, 1129).
*
Author to whom correspondence should be addressed.
Received: 14 March 2014 / Revised: 9 May 2014 / Accepted: 12 May 2014 / Published: 15 May 2014
Abstract
Buxus sempervirens
L. (European Box, Buxaceae) has been used in ethnomedicine to treat malaria. In the course of our screening of plant extracts for antiprotozoal activity, a CH
2
Cl
2
extract from leaves of
B. sempervirens
showed selective
in vitro
activity against
Plasmodium falciparum
(IC
50
= 2.79
vs.
20.2 µg/mL for cytotoxicity against L6 rat cells). Separation of the extract by acid/base extraction into a basic and a neutral non-polar fraction led to a much more active and even more selective fraction with alkaloids while the fraction of non-polar neutral constituents was markedly less active than the crude extract. Thus, the activity of the crude extract could clearly be attributed to alkaloid constituents. Identification of the main triterpene-alkaloids and characterization of the complex pattern of this alkaloid fraction was performed by UHPLC/+ESI-QTOF-MS analyses. ESI-MS/MS target-guided larger scale preparative separation of the alkaloid fraction was performed by 'spiral coil-countercurrent chromatography'. From the most active subfraction, the cycloartane alkaloid
O
-tigloylcyclovirobuxeine-B was isolated and evaluated for antiplasmodial activity which yielded an IC
50
of 0.455 µg/mL (cytotoxicity against L6 rat cells: IC
50
= 9.38 µg/mL).
O
-tigloylcyclovirobuxeine-B is thus most significantly responsible for the high potency of the crude extract.
View Full-Text
►

▼

Figures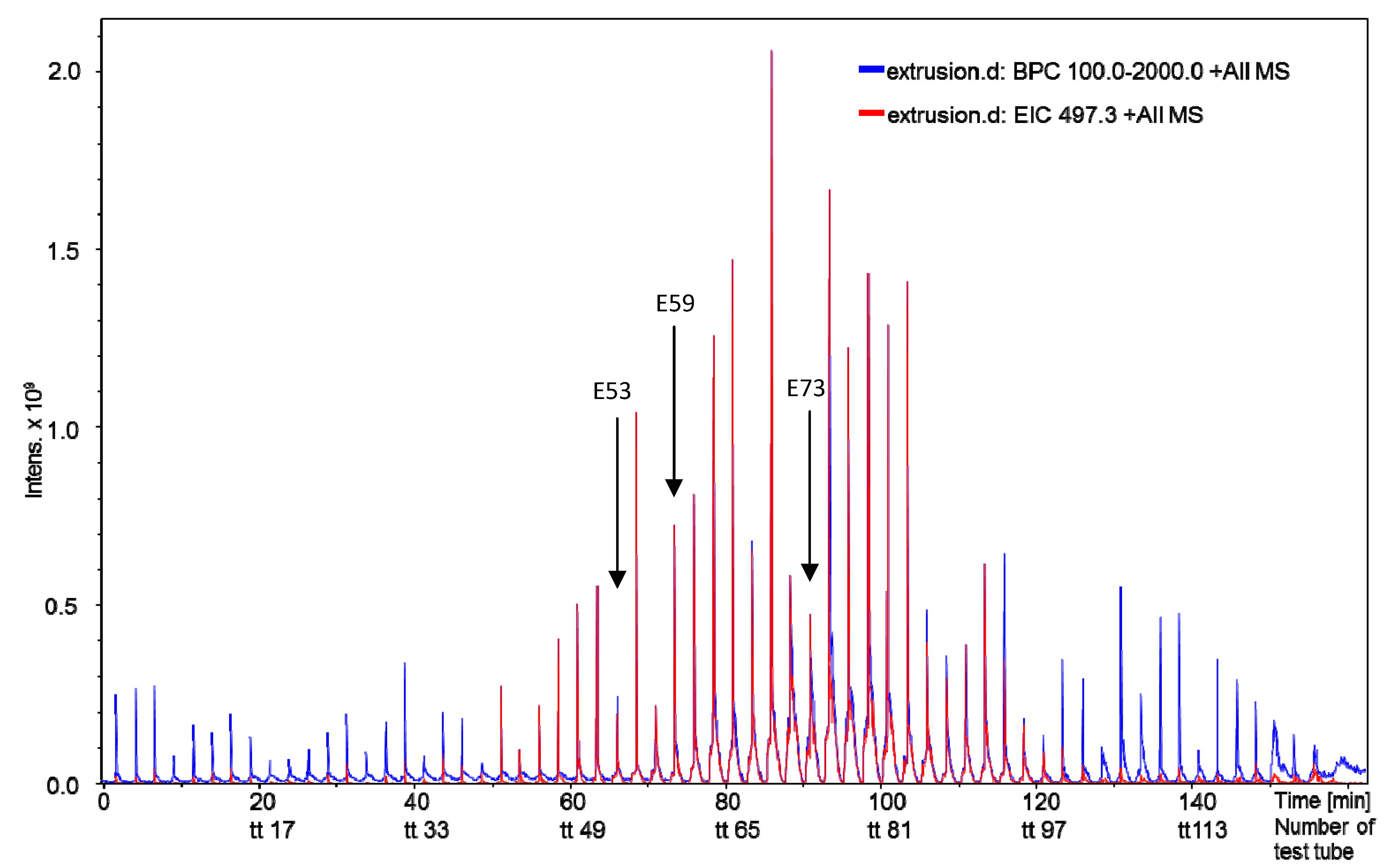 Figure 1
Share & Cite This Article
MDPI and ACS Style
Althaus, J.B.; Jerz, G.; Winterhalter, P.; Kaiser, M.; Brun, R.; Schmidt, T.J. Antiprotozoal Activity of Buxus sempervirens and Activity-Guided Isolation of O-tigloylcyclovirobuxeine-B as the Main Constituent Active against Plasmodium falciparum . Molecules 2014, 19, 6184-6201.
Related Articles
Comments
[Return to top]