Quantification, Antioxidant and Antimicrobial Activity of Phenolics Isolated from Different Extracts of Capsicum frutescens (Pimenta Malagueta)
1
Department of Morphology and Animal Physiology, Federal Rural University of Pernambuco, Av. Dom Manoel de Medeiros, s/n., 52171-900 Recife, Pernambuco, Brazil
2
Department of Molecular Sciences, Federal Rural University of Pernambuco, Av. Dom Manoel de Medeiros, s/n., 52171-900 Recife, Pernambuco, Brazil
3
Department of Biological Sciences, University of Pernambuco, Rua Capitão Pedro Rodrigues, 105, 55290-000 Garanhuns, Pernambuco, Brazil
4
Academic Unit of Garanhuns, Federal Rural University of Pernambuco, Av. Bom Pastor, s/n, 55292-270 Garanhuns, Pernambuco, Brazil
*
Author to whom correspondence should be addressed.
Received: 6 January 2014 / Revised: 8 April 2014 / Accepted: 18 April 2014 / Published: 24 April 2014
Abstract
This paper presents the quantification, antioxidant and antimicrobial activity of capsaicin, dihydrocapsaicin and the flavonoid chrysoeriol isolated from different extracts (hexane and acetonitrile extracts from whole fruit, peel and seed) of
Capsicum frutescens
(pimenta malagueta). The acetonitrile extract of the seeds, peel and whole fruits contained capsaicin as a major component, followed in abundance by dihydrocapsaicin and chrysoeriol. The antimicrobial activity of the isolated compounds against seven microorganisms showed chrysoeriol was the most active compound. In the antioxidant test, the acetonitrile extract from the whole fruit showed the highest activity. The antioxidant activity of pimenta malagueta may be correlated with its phenolic content, principally with the most active compound, capsaicin.
View Full-Text
►

▼

Figures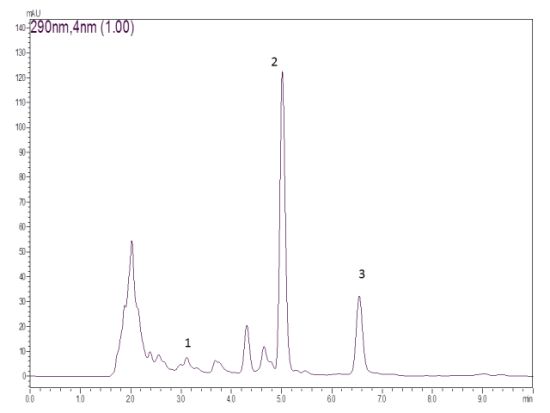 Share & Cite This Article
MDPI and ACS Style
Nascimento, P.L.A.; Nascimento, T.C.E.S.; Ramos, N.S.M.; Silva, G.R.; Gomes, J.E.G.; Falcão, R.E.A.; Moreira, K.A.; Porto, A.L.F.; Silva, T.M.S. Quantification, Antioxidant and Antimicrobial Activity of Phenolics Isolated from Different Extracts of Capsicum frutescens (Pimenta Malagueta). Molecules 2014, 19, 5434-5447.
Related Articles
Comments
[Return to top]