Microsomal Prostaglandin E Synthase-1 Deficiency Exacerbates Pulmonary Fibrosis Induced by Bleomycin in Mice
1
Department of Geriatrics, Peking University First Hospital, Peking University, Beijing 100034, China
2
No.3 Outpatient Department, No.58 Anli Road, Chaoyang District, Beijing 100021, China
3
Department of Urology, Peking University First Hospital & the Institute of Urology, Peking University, Beijing 100034, China
4
National Urological Cancer Center, Beijing 100034, China
5
Sino-German Laboratory for Molecular Medicine, State Key Laboratory of Cardiovascular Disease, FuWai Hospital & Cardiovascular Institute, Chinese Academy of Medical Sciences, Peking Union Medical College, Beijing 100037, China
6
Department of Pediatrics, Peking University First Hospital, Peking University, Beijing 100034, China
7
Department of Physiology and Pathophysiology, Peking University School of Basic Medical Sciences, 38 Xueyuan Road, Beijing 100191, China
8
MOE Key Lab of Molecular Cardiovascular Science, Peking University, 38 Xueyuan Road, Beijing 100191, China
9
Department of Physiology and Pathophysiology, Peking University Health Science Center, Beijing 100191, China
*
Author to whom correspondence should be addressed.
Received: 24 February 2014 / Revised: 8 April 2014 / Accepted: 11 April 2014 / Published: 21 April 2014
Abstract
Microsomal prostaglandin E2 synthase-1 (mPGES-1), an inducible enzyme that converts prostaglandin H2 (PGH
2
) to prostaglandin E2 (PGE
2
), plays an important role in a variety of diseases. So far, the role of mPGES-1 in idiopathic pulmonary fibrosis (IPF) remained unknown. The current study aimed to investigate the role of mPGES-1 in pulmonary fibrosis induced by bleomycin in mice. We found that mPGES-1 deficient (mPGES-1
−
/−
) mice exhibited more severe fibrotic lesions with a decrease in PGE
2
content in lungs after bleomycin treatment when compared with wild type (mPGES-1
+/+
) mice. The mPGES-1 expression levels and PGE
2
content were also decreased in bleomycin-treated mPGES-1
+/+
mice compared to saline-treated mPGES-1
+/+
mice. Moreover, in both mPGES-1
−
/−
and mPGES-1
+/+
mice, bleomycin treatment reduced the expression levels of E prostanoid receptor 2 (EP2) and EP4 receptor in lungs, whereas had little effect on EP1 and EP3. In cultured human lung fibroblast cells (MRC-5), siRNA-mediated knockdown of mPGES-1 augmented transforming growth factor-β1 (TGF-β1)-induced α-smooth muscle actin (α-SMA) protein expression, and the increase was reversed by treatment of PGE
2
, selective EP2 agonist and focal adhesion kinase (FAK) inhibitor. In conclusion, these findings revealed mPGES-1 exerts an essential effect against pulmonary fibrogenesis via EP2-mediated signaling transduction, and activation of mPGES-1-PGE
2
-EP2-FAK signaling pathway may represent a new therapeutic strategy for treatment of IPF patients.
View Full-Text
►

▼

Figures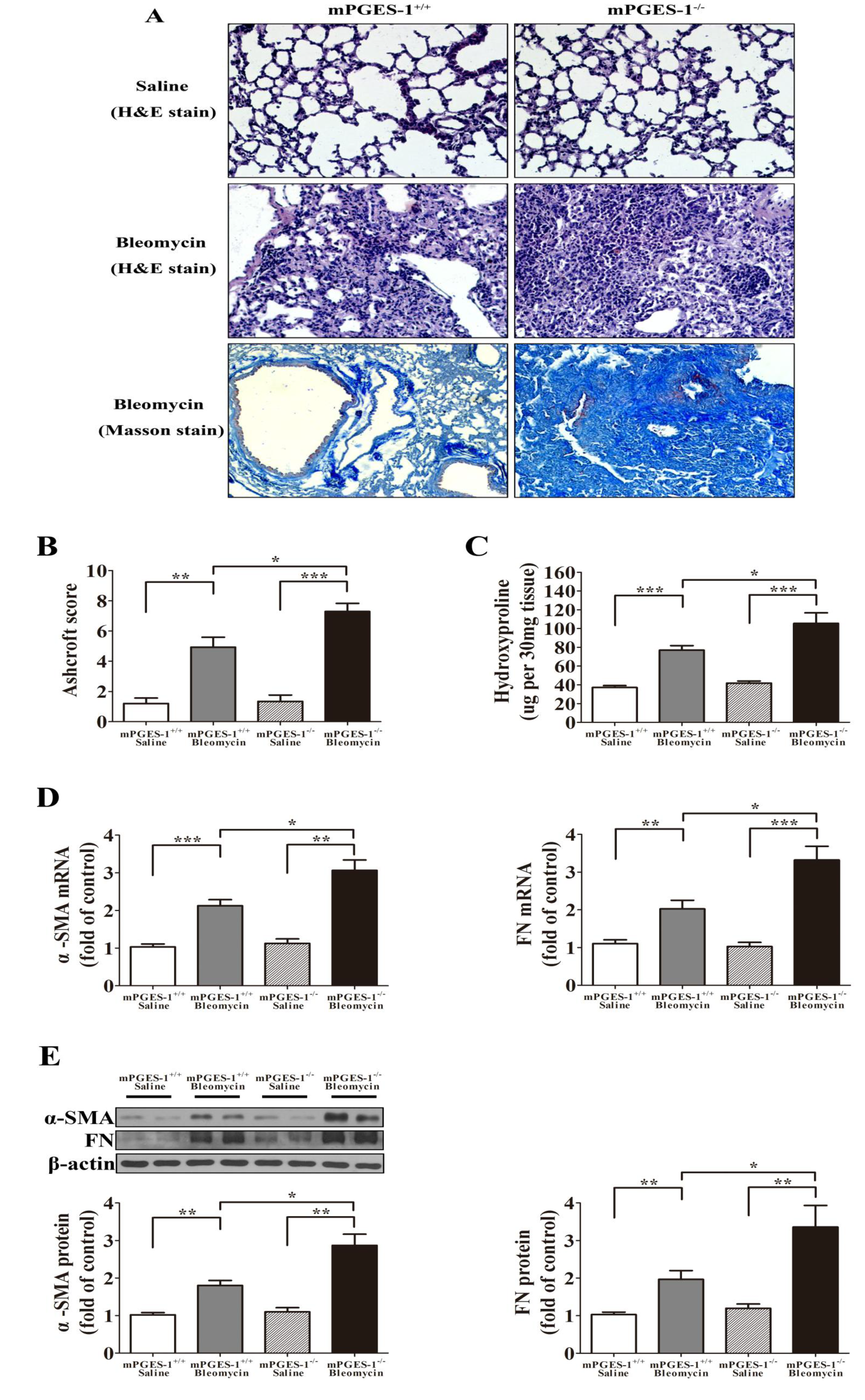 Figure 1
Scifeed alert for new publications
Never miss any articles
matching your research
from any publisher
Get alerts for new papers matching your research
Find out the new papers from selected authors
Updated daily for 49'000+ journals and 6000+ publishers
Share & Cite This Article
MDPI and ACS Style
Wei, B.; Cai, L.; Sun, D.; Wang, Y.; Wang, C.; Chai, X.; Xie, F.; Su, M.; Ding, F.; Liu, J.; Yang, J.; Guan, Y.; Liu, X. Microsomal Prostaglandin E Synthase-1 Deficiency Exacerbates Pulmonary Fibrosis Induced by Bleomycin in Mice. Molecules 2014, 19, 4967-4985.
Related Articles
Comments
[Return to top]