Antioxidant Activity of Co-Products from Guava, Mango and Barbados Cherry Produced in the Brazilian Northeast
1
Programa de Pós-Graduação em Ciência e Tecnologia de Alimentos, Centro de Tecnologia, Universidade Federal da Paraíba, Campus I, João Pessoa, Paraíba 58051-900, Brazil
2
Laboratório de Bioquímica de Alimentos, Departamento de Engenharia de Alimentos, Universidade Federal da Paraíba, Campus I, João Pessoa, Paraíba 58051–900, Brazil
3
Instituto Federal de Educação Ciência e Tecnologia, Campus Sousa, Paraíba, 58015-430, Brazil
4
Departamento de Química, Universidade Federal da Paraíba, Campus I, João Pessoa, Paraíba 58051-900, Brazil
*
Author to whom correspondence should be addressed.
Received: 20 January 2014 / Revised: 25 February 2014 / Accepted: 5 March 2014 / Published: 11 March 2014
Abstract
Co-products from the juice processing of guava (CG), mango (CM) and barbados cherry (CB) were investigated with a view to their exploitation as a potential source of natural antioxidants. The ethanolic extracts were analyzed for total extractable phenolic content (TEP), DPPH radical scavenging activity (RSA-DPPH), ferric reducing antioxidant power (FRAP) and antioxidant activity in relation to the β-carotene/ linoleic acid system. The TEP levels in the CG, CM and CB extracts were (24.15 ± 1.59), (44.18 ± 1.73) and (49.21 ± 3.70) mg GAE/g extract, respectively. The CM extract showed higher DPPH, FRAP and antioxidant activity in the β-carotene/linoleic acid system. The data revealed a positive linear correlation between TEP, RSA-DPPH
and FRAP (r
2
= 0.85 − 0.98); however, the β-carotene/linoleic acid system (r
2
= 0.01 − 0.26) shows low correlation with the TEP levels and other assessment systems. The results suggest that co-products generated from the juice processing of the studied fruit have promising use as a natural source of antioxidants.
View Full-Text
►

▼

Figures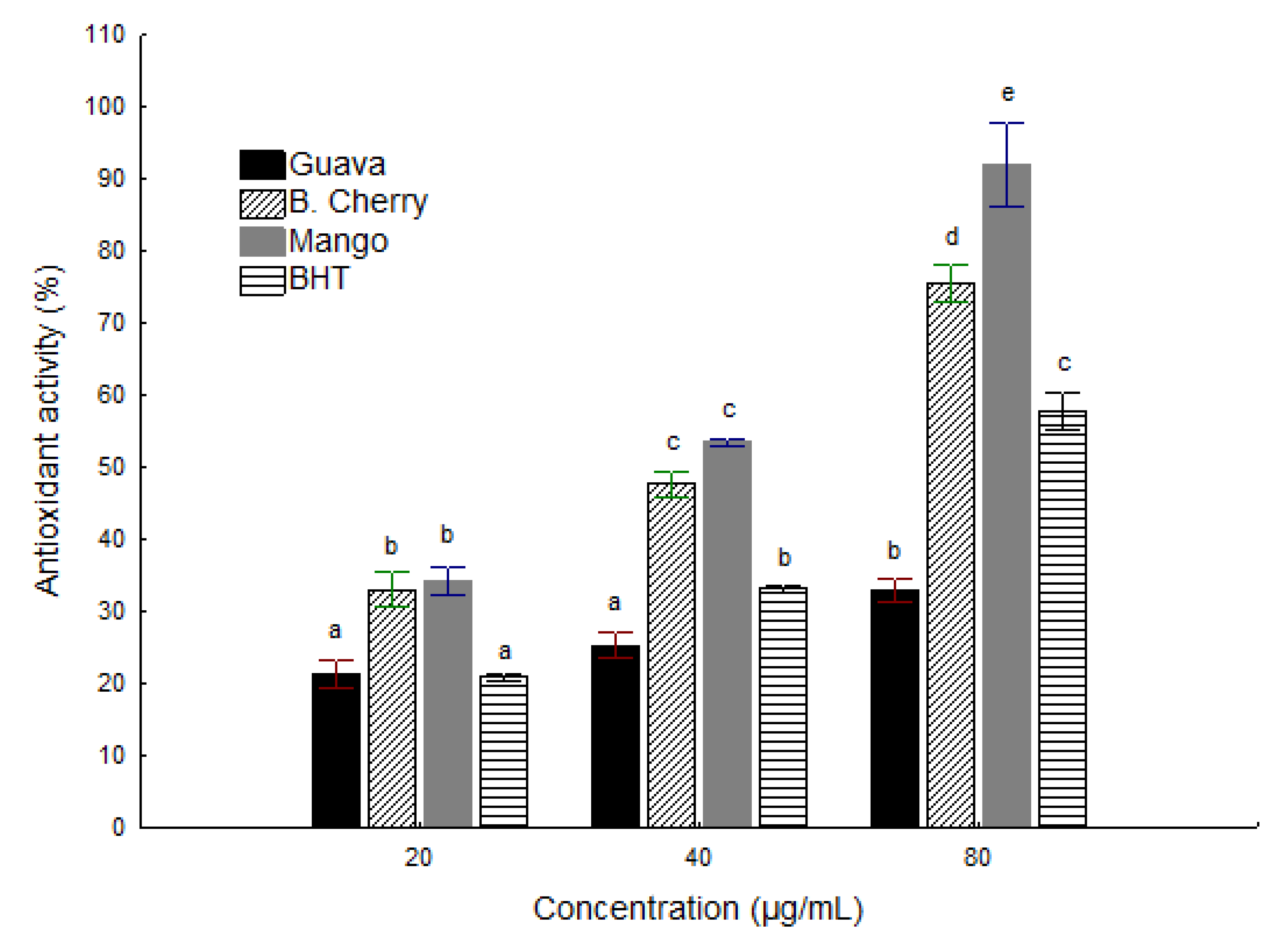 Figure 1
Share & Cite This Article
MDPI and ACS Style
Araújo, K.L.G.V.; Magnani, M.; Nascimento, J.A.; Souza, A.L.; Epaminondas, P.S.; Souza, A.L.; Queiroz, N.; Souza, A.G. Antioxidant Activity of Co-Products from Guava, Mango and Barbados Cherry Produced in the Brazilian Northeast. Molecules 2014, 19, 3110-3119.
Related Articles
Comments
[Return to top]