Spectroscopy and Speciation Studies on the Interactions of Aluminum (III) with Ciprofloxacin and β-Nicotinamide Adenine Dinucleotide Phosphate in Aqueous Solutions
1
Nanjing Maternity and Child Health Care Hospital, Nanjing Medical University, Nanjing 210004, China
2
Jiangsu Key Laboratory of New Power Batteries, School of Chemistry and Materials Science, Nanjing Normal University, Nanjing 210097, China
3
Key Laboratory of NeuroInformation of the Ministry of Education, School of Life Science and Technology, University of Electronic Science and Technology of China, Chengdu 610054, China
*
Authors to whom correspondence should be addressed.
Received: 2 July 2012 / Revised: 25 July 2012 / Accepted: 26 July 2012 / Published: 3 August 2012
Abstract
In this study, both experimental and theoretical approaches, including absorption spectra, fluorescence emission spectra,
1
H- and
31
P-NMR, electrospray ionization mass spectrometry (ESI-MS), pH-potentiometry and theoretical approaches using the BEST & SPE computer programs were applied to study the competitive complexation between ciprofloxacin (CIP) and b-nicotinamide adenine dinucleotide phosphate (NADP) with aluminum (III) in aqueous solutions. Rank annihilation factor analysis (RAFA) was used to analyze the absorption and fluorescence emission spectra of the ligands, the binary complexes and the ternary complexes. It is found, at the mM total concentration level and pH = 7.0, the bidentate mononuclear species [Al(CIP)]
2+
and [Al(NADP)] predominate in the aqueous solutions of the Al(III)-CIP and Al(III)-NADP systems, and the two complexes have similar conditional stability constants. However, the pH-potentiometry results show at the mM total concentration level and pH = 7.0, the ternary species [Al(CIP)(HNADP)] predominates in the ternary complex system. Comparing predicted NMR spectra with the experimental NMR results, it can be concluded that for the ternary complex, CIP binds to aluminum ion between the 3-carboxylic and 4-carbonyl groups, while the binding site of oxidized coenzyme II is through the oxygen of phosphate, which is linked to adenosine ribose, instead of pyrophosphate. The results also suggested CIP has the potential to be a probe molecular for the detection of NADP and the Al(III)-NADP complexes under physiological condition.
View Full-Text
►

▼

Figures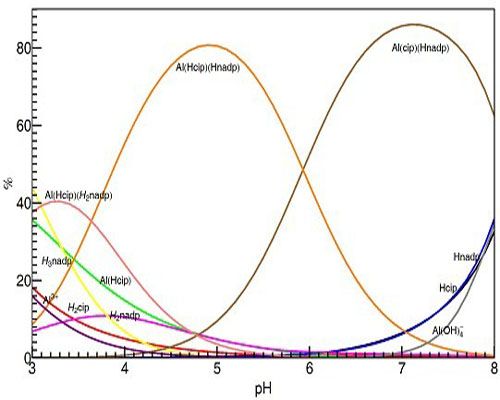 Share & Cite This Article
MDPI and ACS Style
Ma, X.; Li, L.; Xu, C.; Wei, H.; Wang, X.; Yang, X. Spectroscopy and Speciation Studies on the Interactions of Aluminum (III) with Ciprofloxacin and β-Nicotinamide Adenine Dinucleotide Phosphate in Aqueous Solutions. Molecules 2012, 17, 9379-9396.
Related Articles
Comments
[Return to top]