In Vitro and in Vivo Metabolism of Verproside in Rats
1
Drug Metabolism & Bioanalysis Laboratory, College of Pharmacy, The Catholic University of Korea, Bucheon 420-743, Korea
2
Natural Medicine Research Center, Korea Research Institute of Bioscience and Biotechnology, Ochang-eup, Cheongwon-gun, Chungbuk 363-883, Korea
3
Central R&D Institute, Yungjin Pharm. Co., Ltd., Suwon 443-270, Korea
*
Author to whom correspondence should be addressed.
Received: 3 September 2012 / Revised: 28 September 2012 / Accepted: 8 October 2012 / Published: 12 October 2012
Abstract
Verproside, a catalpol derivative iridoid glycoside isolated from
Pseudolysimachion rotundum
var
. subintegrum
, is a biologically active compound with anti-inflammatory, antinociceptic, antioxidant, and anti-asthmatic properties. Twenty-one metabolites were identified in bile and urine samples obtained after intravenous administration of verproside in rats using liquid chromatography-quadrupole Orbitrap mass spectrometry. Verproside was metabolized by
O
-methylation, glucuronidation, sulfation, and hydrolysis to verproside glucuronides (M1 and M2), verproside sulfates (M3 and M4), picroside II (M5), M5 glucuronide (M7), M5 sulfate (M9), isovanilloylcatalpol (M6), M6 glucuronide (M8), M6 sulfate (M10), 3,4-dihydroxybenzoic acid (M11), M11 glucuronide (M12), M11 sulfates (M13 and M14), 3-methyoxy-4-hydroxybenzoic acid (M15), M15 glucuronides (M17 and M18), M15 sulfate (M20), 3-hydroxy-4-methoxybenzoic acid (M16), M16 glucuronide (M19), and M16 sulfate (M21). Incubation of verproside with rat hepatocytes resulted in thirteen metabolites (M1–M11, M13, and M14). Verproside sulfate, M4 was a major metabolite in rat hepatocytes. After intravenous administration of verproside, the drug was recovered in bile (0.77% of dose) and urine (4.48% of dose), and
O
-methylation of verproside to picroside II (M5) and isovanilloylcatalpol (M6) followed by glucuronidation and sulfation was identified as major metabolic pathways compared to glucuronidation and sulfation of verproside in rats.
View Full-Text
►

▼

Figures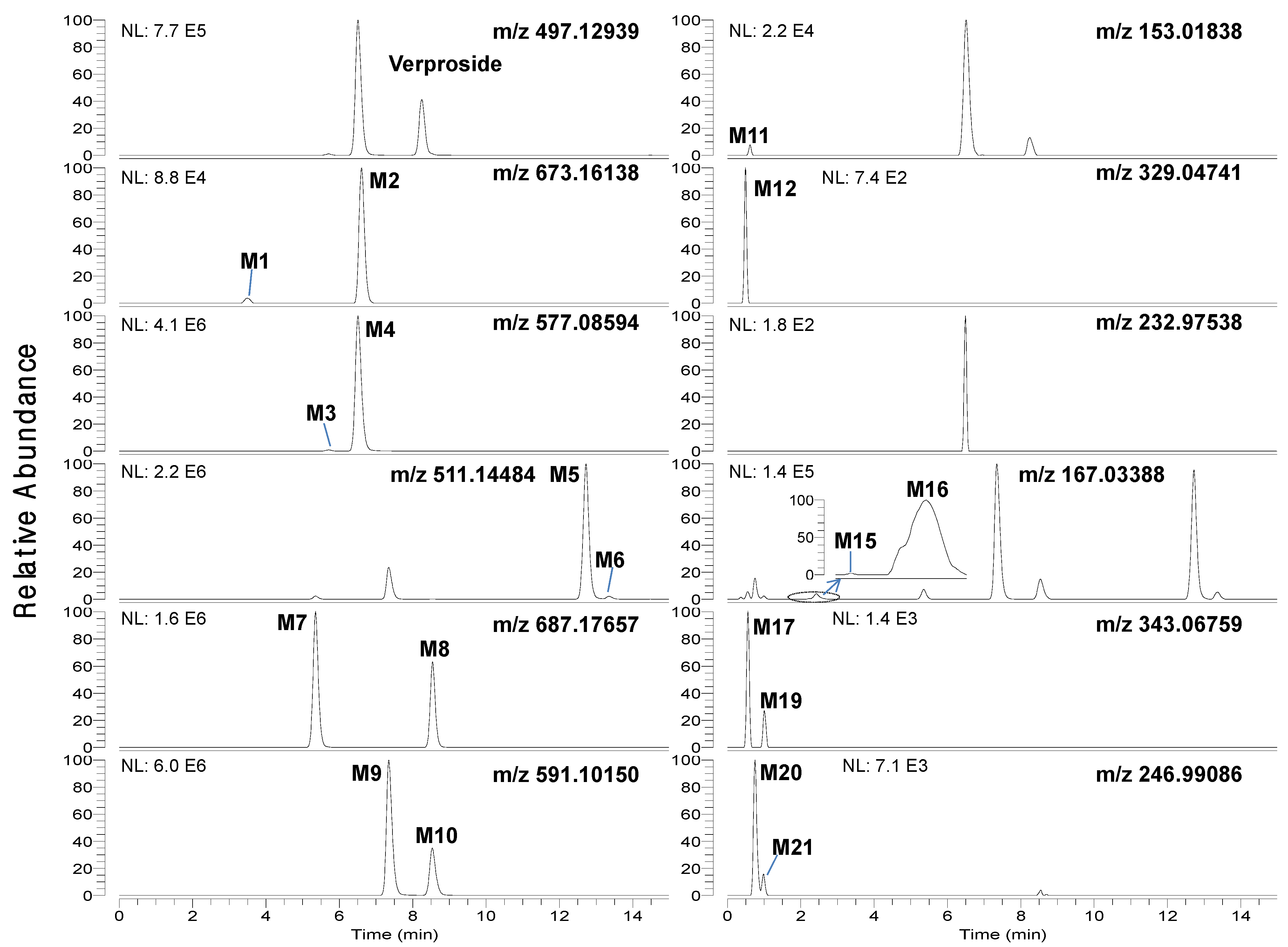 Figure 1
Share & Cite This Article
MDPI and ACS Style
Kim, M.G.; Hwang, D.-K.; Jeong, H.-U.; Ji, H.Y.; Oh, S.-R.; Lee, Y.; Yoo, J.S.; Shin, D.H.; Lee, H.S. In Vitro and in Vivo Metabolism of Verproside in Rats. Molecules 2012, 17, 11990-12002.
Related Articles
Comments
[Return to top]