Chlorine Anion Encapsulation by Molecular Capsules Based on Cucurbit[5]uril and Decamethylcucurbit[5]uril
1
Key Laboratory of Macrocyclic and Supramolecular Chemistry of Guizhou Province, Guizhou University, Guiyang 550025, People's Republic of China
2
Institute of Applied Chemistry, Guizhou University, Guiyang, 550025, People's Republic of China
*
Author to whom correspondence should be addressed.
Received: 2 June 2007 / Revised: 3 July 2007 / Accepted: 3 July 2007 / Published: 6 June 2007
Abstract
Three barrel-shaped artificial molecular capsules 1-3, based on normal cucurbit[5]uril (Q[5]) and decamethylcucurbit[5]uril (Me10Q[5]), were synthesized and structurally characterized by single-crystal X-ray diffraction. Encapsulation of a chlorine anion in the cavity of a Q[5] or Me10Q[5] to form closed a molecular capsule with the coordinated metal ions or coordinated metal ions and water molecules in the crystal structures of these compounds is common. The three complexes [Pr2(C30H30N20O10)Cl3(H2O)13]3+3Cl-·5H2O (1), [Sr2(C40H50N20O10)(H2O)4Cl]3+3Cl-·2(HCl) 19H2O (2) and [K(C40H50N20O10)(H2O)Cl]·[Zn(H2O)2Cl2]·[ZnCl4]2-·2(H3O)+·8H2O (3) all crystallize as isolated molecular capsules.
View Full-Text
►

▼

Figures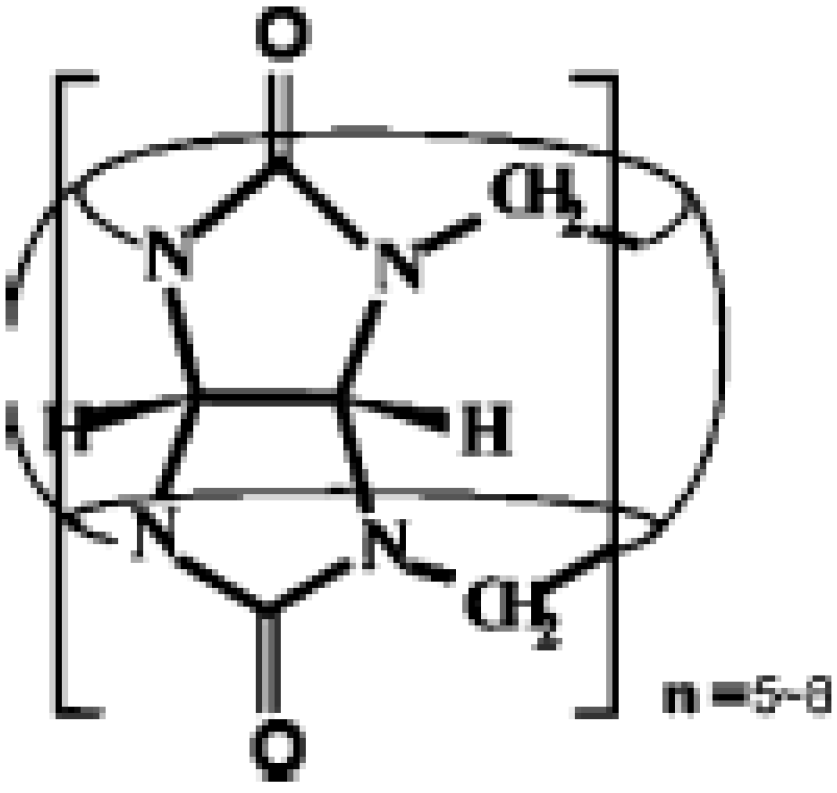 Figure 1
Share & Cite This Article
MDPI and ACS Style
Zhang, Y.-Q.; Zhu, Q.-J.; Xue, S.-F.; Tao, Z. Chlorine Anion Encapsulation by Molecular Capsules Based on Cucurbit[5]uril and Decamethylcucurbit[5]uril. Molecules 2007, 12, 1325-1333.
Related Articles
Comments
[Return to top]