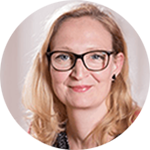 Dr. Marie-Anne Kohl
http://www.fimt.uni-bayreuth.de/de/team/Kohl_Marie-Anne/index.html
Managing Director and Research Fellow, Research Institute for Music Theater Studies, University of Bayreuth, 95349 Thurnau, Germany.

Interests: Gender Studies; Music Theatre; Performance Art; Music and Postcolonialism; Globalisation; Vocal Music; Contemporary Music

Marie-Anne Kohl has been a member of the research and teaching staff and Managing Director of the Research Institute for Music Theatre Studies (fimt) at the University of Bayreuth (Germany) since 2015. Her key research interests encompass Gender Studies, Voice and Vocal Music, Music and Decoloniality, Performance Studies, Talent Shows, Media and Popular Culture, Music and Globalisation. From 2012 till 2015 she was co-director and chief curator of the Berlin-based feminist art space alpha nova-kulturwerkstatt & galerie futura. Kohl is a member of the academic boards of Jahrbuch Musik und Gender and European Journal of Musicology and a member of the Cluster of Excellence Africa Multiple. She is co-editor of recently published Power to the People? Patronage, Intervention and Transformation in African Performative Arts (Matatu/ Brill), and Ghosts, Spectres, Revenants. Hauntology as a Means to Think and Feel Future (iwalewabooks). Her current research project "Talent Shows as Glocal Music Theater" had been funded by the VolkswagenStiftung.
---