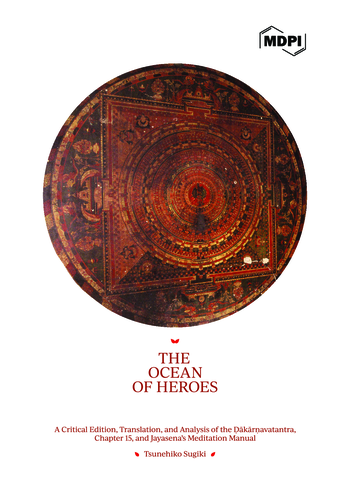 The Ocean of Heroes
A Critical Edition, Translation, and Analysis of the Ḍākārṇavatantra, Chapter 15, and Jayasena's Meditation Manual
Published: June 2022
Pages: 420
© by the authors
MDPI uses a print-on-demand service. Your book will be printed and delivered directly from one of three print stations, allowing you to profit from economic shipping to any country in the world. Generally, we use Premium shipping with an estimated delivery time of 7-12 business days. P.O. Boxes cannot be used as a Ship-To Address.
Please note that shipping time does not include the time for placing and processing the order or printing. For this, an additional turnaround time of 10 working days should be expected.
Summary
The Śrīḍākārṇavamahāyoginītantrarāja (abbreviated to Ḍākārṇava, "Ocean of Ḍākas or Heroes") is one of the last scriptures belonging to the Buddhist Saṃvara tradition in South Asia. It was composed in the eastern area of the Indian subcontinent sometime between the late 10th and 12th centuries, and its extant version was most likely compiled around the early 12th century. Chapter 15 of the Ḍākārṇava, (hereafter Ḍākārṇava 15) teaches a large-scale and elaborate maṇḍala of the highest god Heruka that comprises 986 major deities.
This monograph presents the first critical edition and English translation (with annotation) of the Sanskrit text of the Ḍākārṇava 15, elucidates its form and meanings, and clarifies its significance in the history of Buddhism in South Asia. I also provide the first critical edition and English translation (with annotation) of Jayasena's Ratnapadmarāganidhi ("Precious Ruby Treasury," composed in the 12th century), which is the oldest manual for visualizing the Heruka maṇḍala of the Ḍākārṇava 15.
In the last stage of the history of Tantric Buddhism in India, when various Buddhist Tantric traditions were already present, some texts were composed, such as the Kālacakratantra and the Vajrāvalī of Abhayākaragupta. These texts provide inclusive Tantric systems in which various preceding traditions are integrated and reorganized. The Ḍākārṇava is one such text. The Heruka maṇḍala in the Ḍākārṇava 15 is comprehensive and integrates deities from various Tantric traditions and components of the Buddhist cosmos within the framework of the Saṃvara system.
Keywords
Tantric Buddhism in India, Nepal, and Tibet; Heruka; Samvara; Jayasena; Maṇḍala; Visualization and art
Book Statistics
Added to shopping cart.
This book will be available in print soon.
---
×