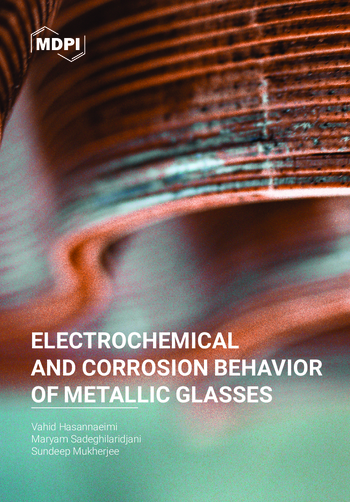 Electrochemical and Corrosion Behavior of Metallic Glasses
Published: February 2021
Pages: 104
© by the authors
MDPI uses a print-on-demand service. Your book will be printed and delivered directly from one of three print stations, allowing you to profit from economic shipping to any country in the world. Generally, we use Premium shipping with an estimated delivery time of 7-12 business days. P.O. Boxes cannot be used as a Ship-To Address.
Please note that shipping time does not include the time for placing and processing the order or printing. For this, an additional turnaround time of 10 working days should be expected.
Summary
Metallic glasses are multi-component metallic alloys with disordered atomic distribution unlike their crystalline counterparts with long range periodicity in arrangement of atoms. Metallic glasses of different compositions are being commercially used in bulk form and as coatings because of their excellent corrosion resistance. This book was written with the objective of providing a comprehensive understanding of the electrochemical and corrosion behavior of metallic glasses for a wide range of compositions. Corrosion in structural materials leads to rapid deterioration in the performance of critical components and serious economic implications including property damage and loss in human life. Discovery and development of metallic alloys with enhanced corrosion resistance will have a sizable impact in a number of areas including manufacturing, aerospace, oil and gas, nuclear industry, and load-bearing bioimplants. The corrosion resistance of many metallic glass systems is superior compared to conventionally used alloys in different environments. In this book, we discuss in detail the role of chemistry, processing conditions, environment, and surface state on the corrosion behavior of metallic glasses and compare their performance with conventional alloys. Several of these alloy systems consist of all biocompatible and non-allergenic elements making them attractive for bioimplants, stents, and surgical tools. To that end, critical insights are provided on the bio-corrosion response of some metallic glasses in simulated physiological environment.
Keywords
Corrosion; Metallic Glass; Electrochemistry; Amorphous Alloy; Glass Forming Ability
Review Mode
Review by external reviewer
Book Statistics
Added to shopping cart.
This book will be available in print soon.
---
×