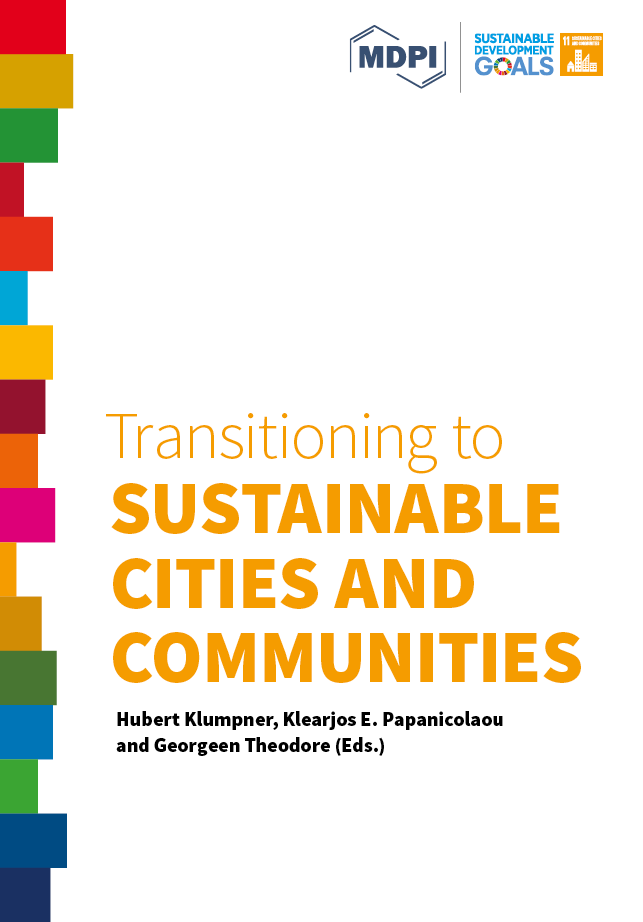 Transitioning to Sustainable Cities and Communities
Expected Date of Publication: Apr 2023
© by the authors
This book will be available for purchase once published.
Summary
Transitioning to Sustainable Cities and Communities is part of MDPI's new Open Access book series Transitioning to Sustainability. With this series, MDPI pursues environmentally and socially relevant research that contributes to efforts toward a sustainable world. Transitioning to Sustainability aims to add to the conversation about regional and global sustainable development according to the 17 SDGs. The book series is intended to reach beyond disciplinary, even academic boundaries.
Preliminary Content and Working Titles
Christian Werthmann
Wicked Transformations

Michael Walczak
Impact of Urban Planning on Air Quality: The Consequences of the Mismatch Between Natural Wind Flows and Building Typologies

Anna Heringer and Martin Rauch
Material Realities

David Kretzer
The Relationship Between Public Lighting and Urban Sustainability in Bogotá's Informal Settlements
Manuel Herz
Tambacounda Hospital as an Urban and Regional Intervention
Melanie Fessel
Sustainability Discourse Urban Design Studio Education and Research
Clara Rellensmann
Studio Bagan: Strengthening Cultural Heritage Conservation Through Interdisciplinary Problem-Based Learning
Rahul Mehrotra
From the Absolute to the Transitionary
Stephanie Briers and Yael Borofsky
Everynight Life in Informal Settlements
Gruia Bădescu
Towards Sustainable Post-War Reconstruction: Reflecting on City-Making and Conflict
Andres Lepik
Curating Critical Futures
Tanya Chandra
Positioning: How isolated development policy can adversely affect a sustainable goal?
Alejandro Restrepo
DreaMed-ellín: Urban planning as an instrument of social equity, environmental quality and sustainability
Teddy Cruz and Fonna Forman
Mobilizing the 'Other' in 'Us'
Mitchell Joachim, Peder Anker and Nicholas Gervasi
Evolution in Animal Aided Design: Transitioning to Urban Biodiversity
Aaron Betksy
Ways of life, Reconfigured
Weijen Wang
Densities of the future
Hubert Klumpner and Diego Ceresuela-Wiesmann
Education, Culture and a New Urban Paradigm in Colombia
Chukwuemeka Vincent Chukwuemeka, Kris Scheerlinck and Yves Schoonjans
Centering Urban Market[places] within SDG-11 in the Postcolony: Learning from Onitsha Markets, Nigeria
Arnd Bätzner
Sustainable Development Goals and the Future of Urban Transport: Aggressive Fiction vs Structural Requirements - Realigning Urban Mobility Objectives in an Age of Transition
Added to shopping cart.
This book will be available in print soon.
---
×