28–30 November 2018
ANNOUNCEMENT OF WORKSHOP ON: AUTHENTICATION FOR THE FUTURE INTERNET OF THINGS
Melbourne, Australia
Location: Deakin Downtown, Level 12 Tower 2 at 727 Collins Street, Melbourne, 3000.
Organizers: Professor Lynn Margaret Batten, Deakin University Centre for Cyber Security Research and Innovation, and Dr. Leonie Simpson, School of Electrical Engineering and Computer Science, Science and Engineering Faculty, Queensland University of Technology.
Work-streams: Participants will choose one of several proposed work-streams affording them the opportunity to develop joint research leading to journal publications.
For applications to attend, please see the Website: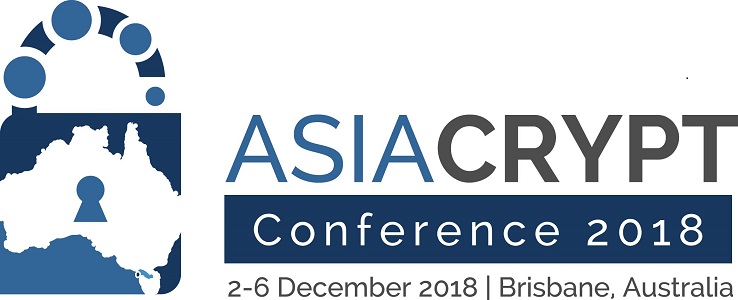 2–6 December 2018
24th Annual International Conference on the Theory and Application of Cryptology and Information Security (Asiacrypt 2018)
Brisbane, Australia
The first AsiaCrypt Conference was held in 1991 in Fujiyoshia, Japan. In 2000, the conference became an IACR event and joined the flagship EuroCrypt and Crypto events. Australia welcomed AsiaCrypt to the Gold Coast in 2001 and Melbourne in 2008. Ten years on, we look forward to welcoming the 24th edition of AsiaCrypt back to Australia in sunny Brisbane!
THE CONFERENCE PROGRAM
The AsiaCrypt Conference 2018 provides a platform for important discussion surrounding current developments in the theory and practise of cryptology. In particular, our conference focuses on:
- Mathematics and the foundation theory of cryptology.
- The design and analysis of cryptographic algorithms and protocols.
- Secure implementation of cryptographic tools in hardware and software.
- The application aspects of cryptography.
The AsiaCrypt Conference 2018 will include plenary sessions presented by internationally-acclaimed experts,
parallel sessions, a rump session and opportunities to network at social functions. Amongst these presentations, there will be an IACR Distinguished Lecture by Mitsuru Matsui. Dr Matsui is the inventor of linear cryptanalysis, which is now considered as a standard test to measure the quality of encryption algorithms.

4–6 September 2019
International Conference on Materials Science and Engineering
Melbourne, Australia
Keeping updated on the latest trends in material science across a wide range of industries can be an intimidating task. Realizing this imperative, PRISM is set to organize International Conference on Materials Science and Engineering which is going to take place during September 04-06, 2019 at Melbourne, Australia with a view to promote awareness and enhance research aiming in developing solutions for the challenges encountered. This materials science conference will provides an international medium to share and exchange the theoretical and experimental studies and research related to the electronic, electrochemical, ionic, magnetic, optical, and biosensing properties of solid state materials in bulk, thin film and particulate forms. It focuses on synthesis, processing, characterization, structure, physical properties and computational aspects of nano-crystalline, crystalline, amorphous and glassy forms of ceramics, semiconductors, layered insertion compounds, low-dimensional compounds and systems, fast-ion conductors, polymers and dielectrics. Materials Oceania aims to bring together leading academic scientists, industrialist, research scholars, students, delegates and exhibitors to exchange and share their experiences, research results about all aspects of Materials Science, Nanotechnology, Chemistry and Physics. This engineering conference is also providing a platform to the companies and/or institutions to present their services, products, innovations and research results. Meet the Objective Business sector with individuals from and around the globe concentrated on finding out about Materials science and Engineering, this is the best chance to achieve the biggest collection of members from all over the world. This conference will leads you to get disperse data, meet with current, make a sprinkle with another product offering and get name acknowledgment at this occasion. Widely acclaimed speakers, the latest methods, strategies, and the most up to date overhauls in Materials science and Engineering are signs of this meeting. For more details please visit: https://www.materialsconferenceaustralia.com