Comparative Magnetic Studies in the Solid State and Solution of Two Isostructural 1D Coordination Polymers Containing CoII/NiII-Curcuminoid Moieties
1
Departament de Química Inorgànica i Orgànica, Secció d' Inorgànica, Universitat de Barcelona, Diagonal 645, 08028 Barcelona, Spain
2
CSIC-ICMAB (Institut de Ciència dels Materials de Barcelona) Campus de la Universitat Autònoma de Barcelona, 08193 Bellaterra, Spain
3
Advanced Light Source, Lawrence Berkeley National Laboratory, Berkeley, CA 94720, USA
4
Institut de Nanociència i Nanotecnologia, Universitat de Barcelona, Av. Diagonal 645, 08028 Barcelona, Spain
5
Departamento de Ciencia de los Materiales, Facultad de Ciencias Físicas y Matemáticas, Universidad de Chile, Beaucheff 851, Santiago, Chile
6
ICREA (Institució Catalana de Recerca i Estudis Avançats), Pg. Lluís Companys 23, 08010 Barcelona, Spain
*
Authors to whom correspondence should be addressed.
Academic Editor: Carlos J. Gómez García
Received: 16 June 2016 / Revised: 18 July 2016 / Accepted: 19 July 2016 / Published: 29 July 2016
Abstract
Two novel 1D coordination chains containing the curcuminoid (CCMoid) ligand 9Accm have been characterized: [Co
II
(9Accm)
2
(4,4´-bpy)]
n
(
1
) and [Ni
II
(9Accm)
2
(4,4´-bpy)]
n
(
2
). The two compounds were synthesized by solvothermal and microwave (MW) assisted techniques, respectively, and crystals of both systems were directly obtained from the mother solutions. Crystal structures of
1
and
2
prove that both systems are isostructural, with the ligands in a
trans
configuration. The two chains have been magnetically characterized in solution by paramagnetic
1
H NMR, where
1
displayed typical features from Co
II
systems, with spread out signals; meanwhile,
2
showed diamagnetic behaviour. The dissociation of the latest in solution and the stability of the "[Ni(9Accm)
2
]" unit were proved by further experiments in C
5
D
5
N. Additional UV-Vis absorption and fluorescence studies in solution were performed using exclusively
1
. In the solid state χ
M
T
vs.
T
and
M
/
N
µ
B
vs.
H
/
T
data were collected and fitted for
1
and
2
; both systems display Ising plane anisotropy, with significant
D
values. System
1
presented slow relaxation of the magnetization, displaying frequency dependence in the in-phase/out-phase ac magnetic susceptibility data, when an external dc field of 0.2 T was applied. Finally,
1
was deposited on a HOPG (highly oriented pyrolytic graphite) substrate by spin-coating and analysed by AFM.
View Full-Text
►

▼

Figures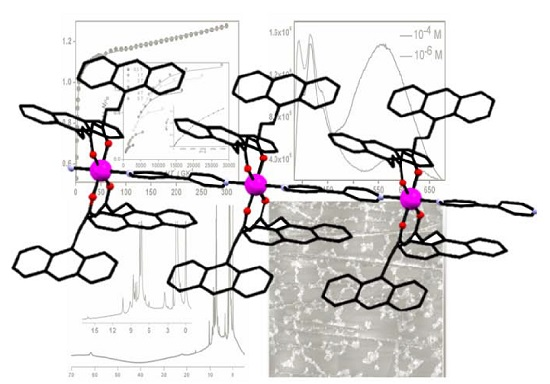 This is an open access article distributed under the
Creative Commons Attribution License
which permits unrestricted use, distribution, and reproduction in any medium, provided the original work is properly cited. (CC BY 4.0).
Share & Cite This Article
MDPI and ACS Style
Díaz-Torres, R.; Menelaou, M.; González-Campo, A.; Teat, S.J.; Sañudo, E.C.; Soler, M.; Aliaga-Alcalde, N. Comparative Magnetic Studies in the Solid State and Solution of Two Isostructural 1D Coordination Polymers Containing CoII/NiII-Curcuminoid Moieties. Magnetochemistry 2016, 2, 29.
Note that from the first issue of 2016, MDPI journals use article numbers instead of page numbers. See further details here.
Related Articles
Comments
[Return to top]