Vibrational Coupling of Nearest Neighbors in 1-D Spin Crossover Polymers of Rigid Bridging Ligands. A Nuclear Inelastic Scattering and DFT Study
1
Department of Physics, University of Kaiserslautern, Erwin-Schrödinger-Str. 46, 67663 Kaiserslautern, Germany
2
European Synchrotron Radiation Facility, CS 40220, Grenoble Cedex 9, 38043, France
3
Deutsches Elektronen-Synchrotron DESY, Ein Forschungszentrum der Helmholtz-Gemeinschaft Notkestraße 85, 22607 Hamburg, Germany
*
Author to whom correspondence should be addressed.
Academic Editors: Guillem Aromí and José Antonio Real
Received: 15 January 2016 / Revised: 19 February 2016 / Accepted: 25 February 2016 / Published: 25 March 2016
Abstract
The nuclear inelastic scattering signatures of the low-spin centers of the methanosulphonate, tosylate, and perchlorate salts of the spin crossover polymer ([Fe(II)(4-amino-1,2,4-triazole)
3
]
2+
)
n
have been compared for the low-spin phase, for the mixed high-spin and low-spin phases, as well as for Zn(II) diluted samples. Within this series a change in the vibrational pattern in the 320–500 cm
−1
region is observed. Significant shifts and decreasing intensity of bands at ~320 cm
−1
and bands over 400 cm
−1
are observed as the molar fraction of the low-spin (LS) centers decrease. Density functional theory calculations using Gaussian09 (B3LYP/CEP-31G) for pentameric, heptameric, and nonameric model molecules yielded the normal modes of several spin isomers: these include the all high-spin (HS) and the all low-spin (LS) configuration but also mixtures of LS and HS centers, with a special focus on those with LS centers in a HS matrix and
vice versa
. The calculations reproduce the observed spectral changes and show that they are caused by strain extorted on a LS Fe(II) center by its HS neighbors due to the rigid character of the bridging aminotriazole ligand. Additionally, the normal mode analysis of several spin isomers points towards a coupling of the vibrations of the iron centers of the same spin: the metal-ligand stretching modes of the all LS and the all HS spin isomers reveal a collective character: all centers of the same spin are involved in characteristic normal modes. For the isomers containing both LS and HS centers, the vibrational behavior corresponds to two different subsets (sublattices) the vibrational modes of which are not coupled. Finally, the calculation of nuclear inelastic scattering data of spin isomers containing a
ca.
1:1 mixture of HS and LS Fe(II) points towards the formation of blocks of the same spin during the spin transition, rather than to alternate structures with a HS-LS-HS-LS-HS motif.
View Full-Text
►

▼

Figures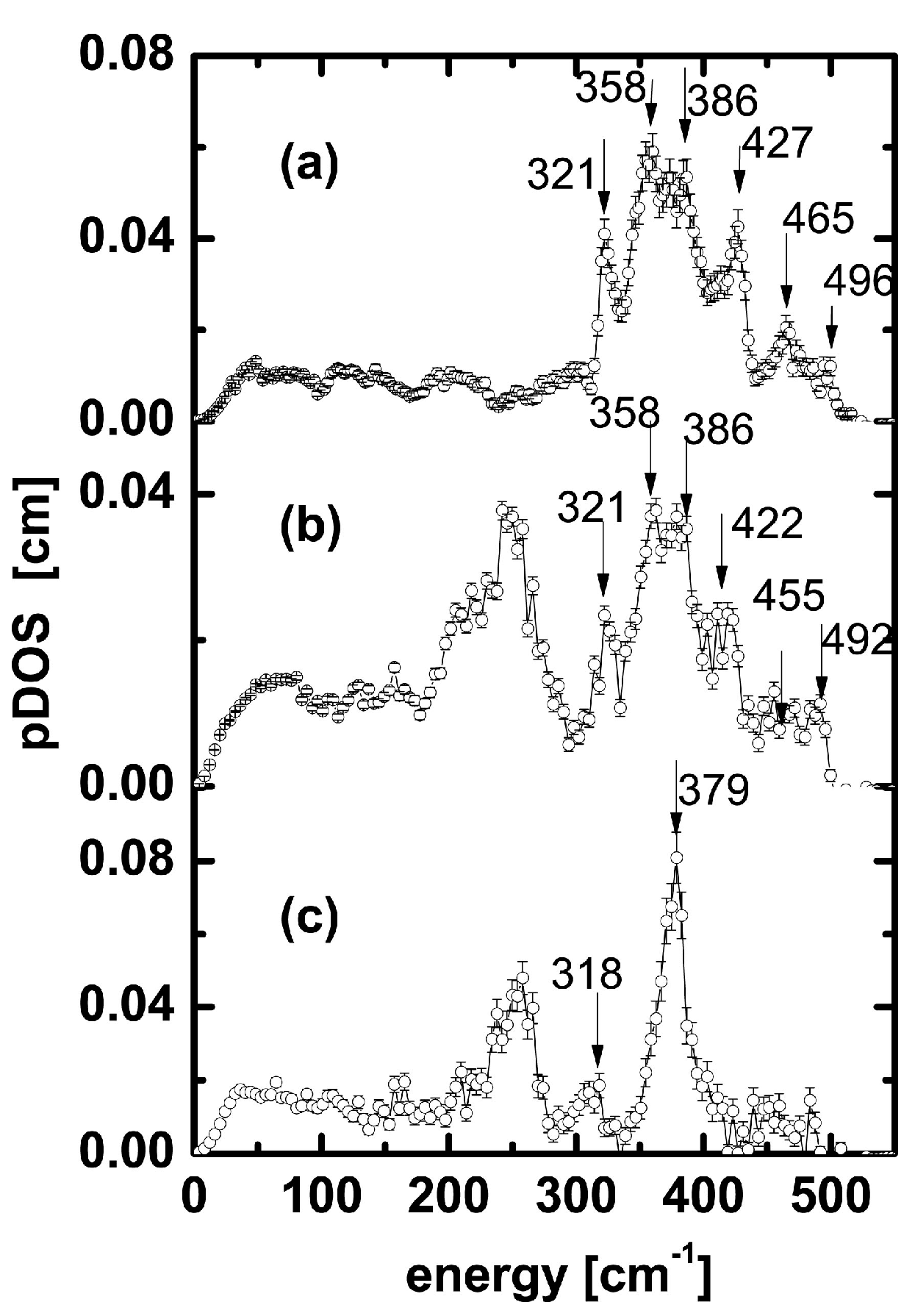 Figure 1
This is an open access article distributed under the
Creative Commons Attribution License
which permits unrestricted use, distribution, and reproduction in any medium, provided the original work is properly cited. (CC BY 4.0).
Share & Cite This Article
MDPI and ACS Style
Wolny, J.A.; Faus, I.; Marx, J.; Rüffer, R.; Chumakov, A.I.; Schlage, K.; Wille, H.-C.; Schünemann, V. Vibrational Coupling of Nearest Neighbors in 1-D Spin Crossover Polymers of Rigid Bridging Ligands. A Nuclear Inelastic Scattering and DFT Study. Magnetochemistry 2016, 2, 19.
Note that from the first issue of 2016, MDPI journals use article numbers instead of page numbers. See further details here.
Related Articles
Comments
[Return to top]