Spin-Crossover Hysteresis of [FeII(LHiPr)2(NCS)2] (LHiPr = N-2-Pyridylmethylene-4-Isopropylaniline) Accompanied by Isopropyl Conformation Isomerism
Department of Engineering Science, The University of Electro-Communications, Chofu, Tokyo 182-8585, Japan
*
Author to whom correspondence should be addressed.
Academic Editor: Guillem Aromí
Received: 31 October 2015 / Accepted: 16 November 2015 / Published: 20 November 2015
Abstract
[Fe
II
(L
H
iPr
)
2
(NCS)
2
] (L
H
iPr
=
N
-2-pyridylmethylene-4-isopropylaniline) showed an abrupt spin-crossover (SCO) at
T
1/2
↓ = 154 K on cooling and at
T
1/2
↑ = 167 K on heating. The thermal hysteresis with a width of 13 K is related with the structural solid-state phase transition. The space group was unchanged as
P
2
1
/
n
with
Z
= 8, and there are two crystallographically independent molecules in a unit cell at 130 and 180 K. The two iron (II) sites synchronously underwent the SCO. The most drastic structural change across the SCO was found in the conformation isomerization of an isopropyl group. Namely, rotation around the C(sp
2
)–C(sp
3
) bond by
ca.
120° takes place during the SCO. There is no structural disorder in the high-temperature phase. The thermal hysteresis probably originates in the bulk isomerization requiring considerable activation energy in the crystalline solid.
View Full-Text
►

▼

Figures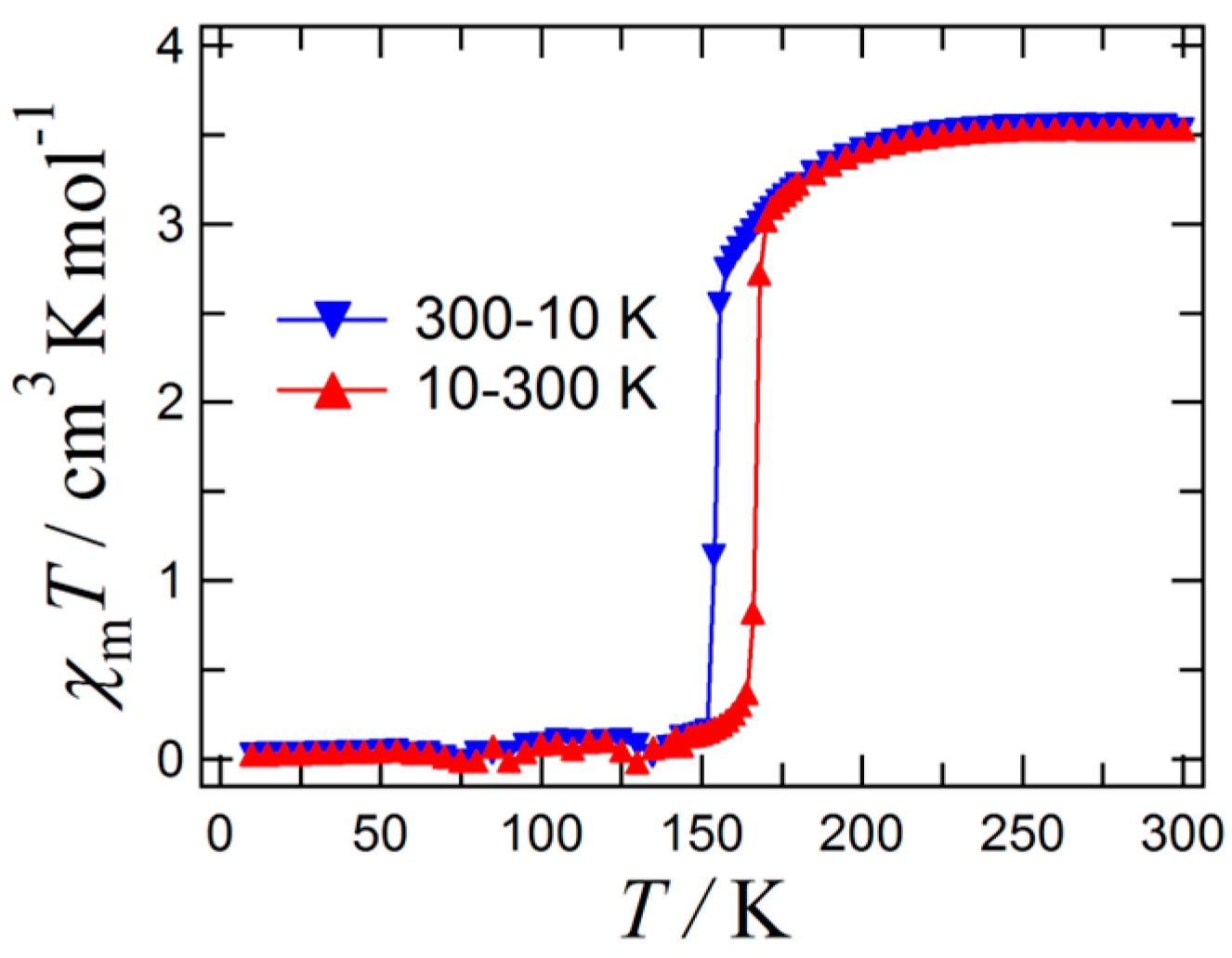 Figure 1
This is an open access article distributed under the
Creative Commons Attribution License
which permits unrestricted use, distribution, and reproduction in any medium, provided the original work is properly cited. (CC BY 4.0).
Supplementary material
Supplementary File 1:

default (ZIP, 35 KB)
Share & Cite This Article
MDPI and ACS Style
Mochida, N.; Kimura, A.; Ishida, T. Spin-Crossover Hysteresis of [FeII(LHiPr)2(NCS)2] (LHiPr = N-2-Pyridylmethylene-4-Isopropylaniline) Accompanied by Isopropyl Conformation Isomerism. Magnetochemistry 2015, 1, 17-27.
Related Articles
Comments
[Return to top]