Hypoxia Supports Epicardial Cell Differentiation in Vascular Smooth Muscle Cells through the Activation of the TGFβ Pathway
1
Case Cardiovascular Research Institute, Case Western Reserve University School of Medicine, Cleveland, OH 44106, USA
2
Department of Pharmacology, Vanderbilt University Medical Center, Nashville, TN 37232, USA
3
Department of Pediatrics, Rainbow Babies and Children's Hospital, The Congenital Heart Collaborative, Cleveland, OH 44106, USA
4
University Hospitals Harrington-McLaughlin Heart & Vascular Institute, Cleveland, OH 44106, USA
†
Current affiliation: Department of Physicians Assistants, University of Toledo, Toledo, OH 43614, USA.
*
Author to whom correspondence should be addressed.
Received: 16 January 2018 / Revised: 4 April 2018 / Accepted: 4 April 2018 / Published: 13 April 2018
Abstract
Epicardium-derived cells (EPDCs) are an important pool of multipotent cardiovascular progenitor cells. Through epithelial-to-mesenchymal-transition (EMT), EPDCs invade the subepicardium and myocardium and further differentiate into several cell types required for coronary vessel formation. We previously showed that epicardial hypoxia inducible factor (HIF) signaling mediates the invasion of vascular precursor cells critical for patterning the coronary vasculature. Here, we examine the regulatory role of hypoxia (1% oxygen) on EPDC differentiation into vascular smooth muscle cells (VSMCs). Results: Hypoxia stimulates EMT and enhances expression of several VSMC markers in mouse epicardial cell cultures. This stimulation is specifically blocked by inhibiting transforming growth factor-beta (TGFβ) receptor I. Further analyses indicated that hypoxia increases the expression level of TGFβ-1 ligand and phosphorylation of TGFβ receptor II, suggesting an indispensable role of the TGFβ pathway in hypoxia-stimulated VSMC differentiation. We further demonstrate that the non-canonical RhoA/Rho kinase (ROCK) pathway acts as the main downstream effector of TGFβ to modulate hypoxia's effect on VSMC differentiation. Conclusion: Our results reveal a novel role of epicardial HIF in mediating coronary vasculogenesis by promoting their differentiation into VSMCs through noncanonical TGFβ signaling. These data elucidate that patterning of the coronary vasculature is influenced by epicardial hypoxic signals.
View Full-Text
►

▼

Figures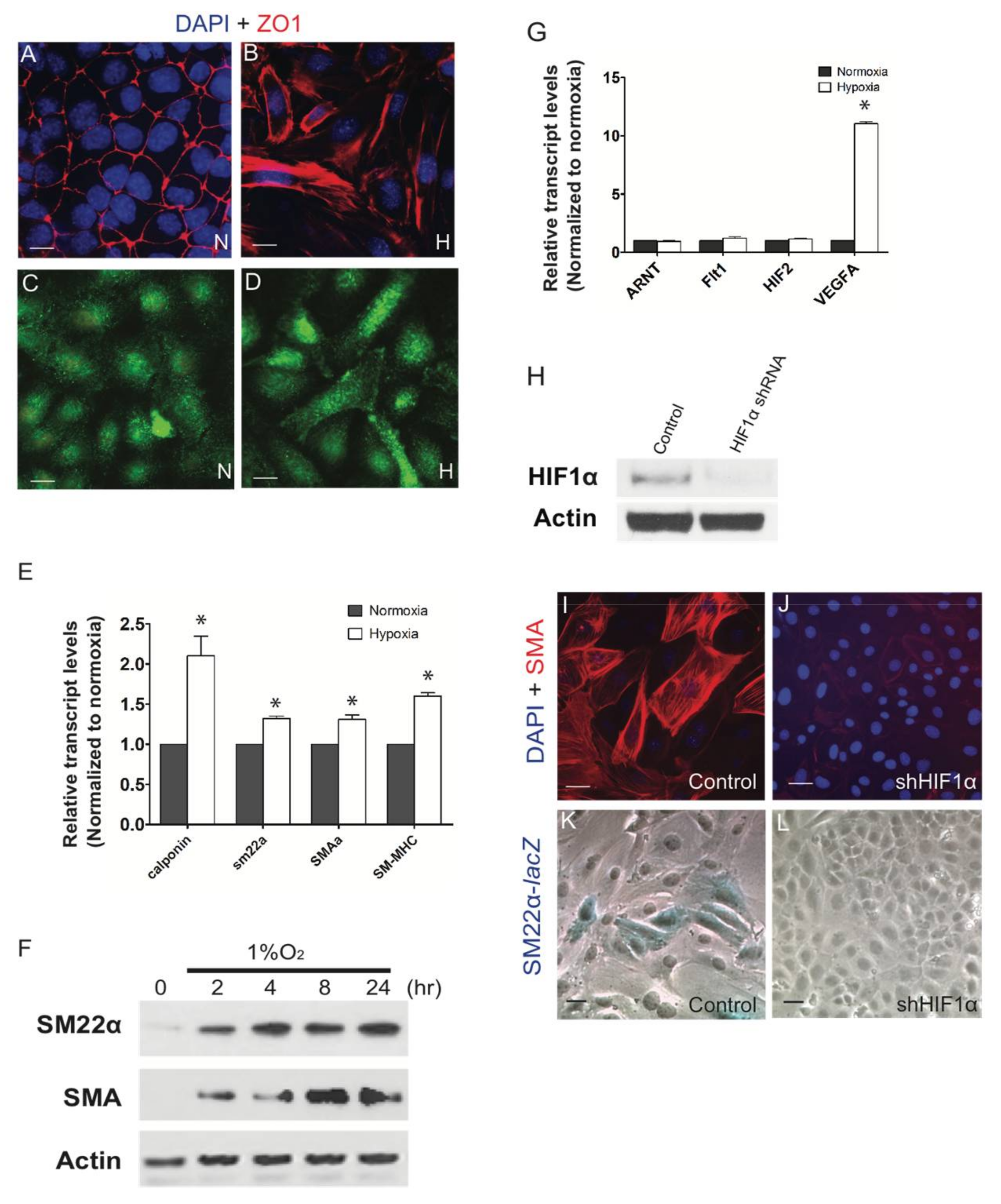 Figure 1
This is an open access article distributed under the
Creative Commons Attribution License
which permits unrestricted use, distribution, and reproduction in any medium, provided the original work is properly cited. (CC BY 4.0).
Share & Cite This Article
MDPI and ACS Style
Tao, J.; Barnett, J.V.; Watanabe, M.; Ramírez-Bergeron, D. Hypoxia Supports Epicardial Cell Differentiation in Vascular Smooth Muscle Cells through the Activation of the TGFβ Pathway. J. Cardiovasc. Dev. Dis. 2018, 5, 19.
Note that from the first issue of 2016, MDPI journals use article numbers instead of page numbers. See further details here.
Related Articles
Comments
[Return to top]