Reproductive Disorders and Leptospirosis: A Case Study in a Mixed-Species Farm (Cattle and Swine)
1
Bacterial Zoonoses of Livestock, Operational Directorate Bacterial Diseases, Veterinary and Agrochemical Research Centre, CODA-CERVA, 1180 Brussels, Belgium
2
Dierengezondheidszorg Vlaanderen, DGZ, 8820 Torhout, Belgium
3
Virology, Operational Directorate Enzotic and (re)emerging diseases, Veterinary and Agrochemical Research Centre, CODA-CERVA, 1180 Brussels, Belgium
4
Epidemiology, Operational Directorate Interaction and surveillance, Veterinary and Agrochemical Research Centre, CODA-CERVA, 1180 Brussels, Belgium
†
Current address: Boehringer Ingelheim, 1200 Woluwe-Saint-Lambert, Belgium.
*
Author to whom correspondence should be addressed.
Academic Editors: Chrissanthy Papadopoulou, Vangelis Economou and Hercules Sakkas
Received: 29 September 2017 / Revised: 22 November 2017 / Accepted: 23 November 2017 / Published: 1 December 2017
Abstract
Animal leptospirosis, exempt in rodents, manifests as peculiar biology where the animal can function, simultaneously or not, as a susceptible host or reservoir. In the first case, clinical symptoms are likely. In the second case, infection is subclinical and manifestations are mild or absent. Mild clinical symptoms encompass reproductive failure in production animals for host-adapted
Leptospira
sp. serovars. This work presents a study on
Leptospira
sp. infection in a mixed-species (bovine and swine) farm with documented reproductive disorders in the cattle unit. A long calving interval (above 450 days) was the hallmark observed in cows. Some cows (2/26 tested) presented a high titre of antibodies against
Leptospira
sp. serogroup Sejroe, but the overall within-herd prevalence was low (11.5% and 7.7% for cut-off titres of 1:30 and 1:100, respectively). The in-herd prevalence of leptospirosis in the sow unit (determined for 113/140 animals) was high when using a lowered cut-off threshold (32.7% vs. 1.8% for cut-off titre of 1:30 and 1:100, respectively). In this unit, the most prevalent serogroup was Autumnalis. The final diagnostic confirmation of
Leptospira
sp. maintenance within the farm was obtained through detection by PCR of
Leptospira
sp. DNA in an aborted swine litter. Despite the fact that a common causative infective agent was diagnosed in both species, the direct link between the two animal units was not found. Factors such as drinking from the same water source and the use of manure prepared with the swine slurry might raise suspicion of a possible cross-contamination between the two units. In conclusion, this work suggests that leptospirosis be included in the differential diagnosis of reproductive disorders and spontaneous abortions in production animals and provides data that justify the use of a lowered threshold cut-off for herd diagnosis.
View Full-Text
►

▼

Figures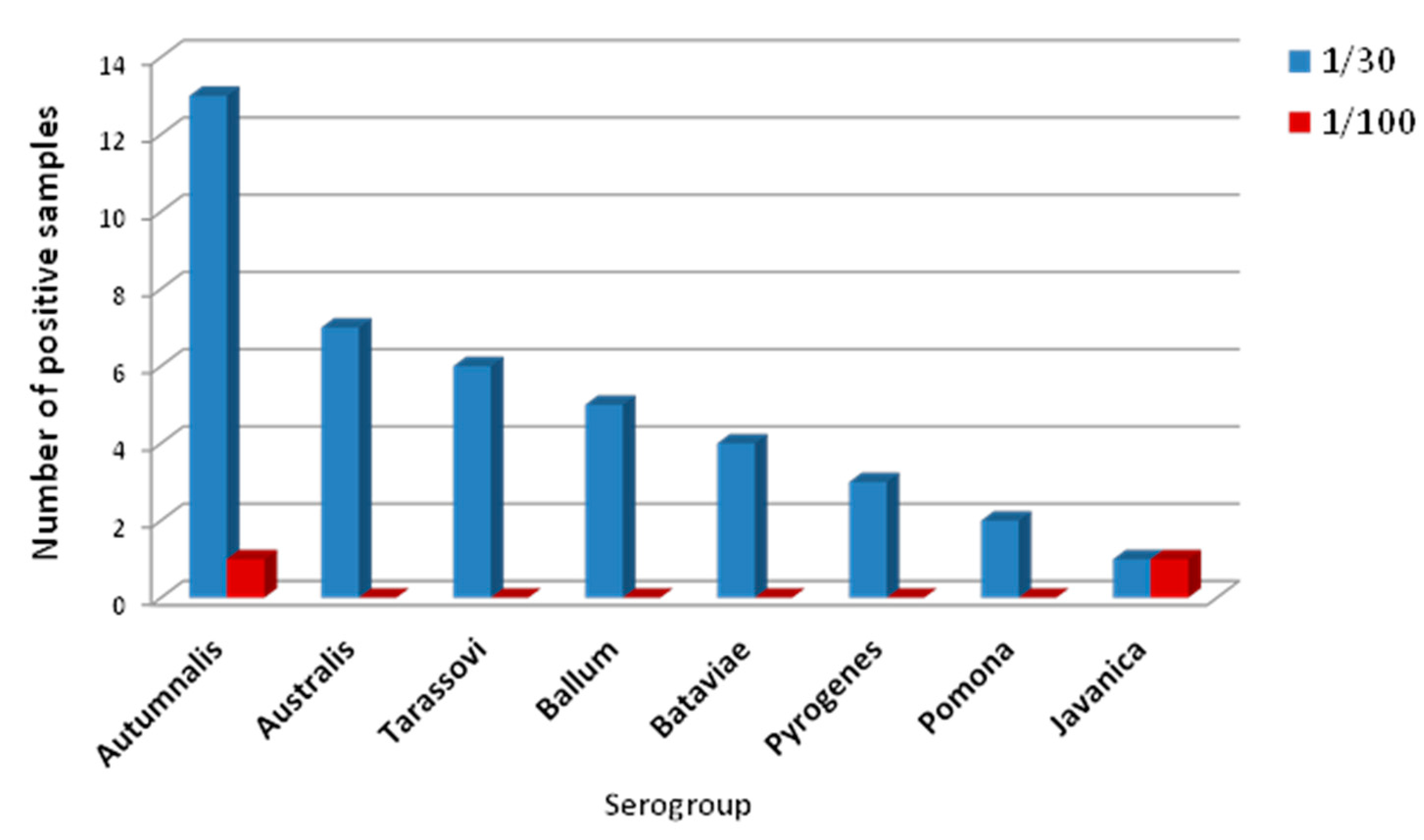 Figure 1
This is an open access article distributed under the
Creative Commons Attribution License
which permits unrestricted use, distribution, and reproduction in any medium, provided the original work is properly cited. (CC BY 4.0).
Share & Cite This Article
MDPI and ACS Style
Mori, M.; Bakinahe, R.; Vannoorenberghe, P.; Maris, J.; de Jong, E.; Tignon, M.; Marin, M.; Desqueper, D.; Fretin, D.; Behaeghel, I. Reproductive Disorders and Leptospirosis: A Case Study in a Mixed-Species Farm (Cattle and Swine). Vet. Sci. 2017, 4, 64.
Note that from the first issue of 2016, MDPI journals use article numbers instead of page numbers. See further details here.
Related Articles
Comments
[Return to top]