HPLC Method Development for Quantification of Doxorubicin in Cell Culture and Placental Perfusion Media
1
Department of Obstetrics & Gynecology, University of Texas Medical Branch, 301 University Boulevard, Galveston, TX 77555-1062, USA
2
Department of Pharmacology and Toxicology, University of Texas Medical Branch, Galveston, TX 77555-1062, USA
3
School of Medicine, University of Texas Medical Branch, Galveston, TX 77555-1062, USA
4
Department of Pharmaceutical Analytical Chemistry, Ain-Shams University, Cairo 1156, Egypt
5
Department of Obstetrics & Gynecology, Medical University of South Carolina, Charleston, SC 29425-2221, USA
*
Author to whom correspondence should be addressed.
Received: 20 November 2017 / Revised: 22 December 2017 / Accepted: 10 January 2018 / Published: 24 January 2018
Abstract
Assessment of drug transport across the placenta is important in understanding the effect of drugs on placental and fetal health. These phenomena can be studied in both in vitro cell lines and ex vivo placental perfusions. We have successfully developed a sensitive yet simple high performance liquid chromatography (HPLC) method coupled with fluorescence detection to determine the concentration of doxorubicin (DXR) in cell culture media for transport studies in human trophoblast cells (BeWo, b30 clone) and in fetal media for placental perfusion experiments. The method was developed based on a protein precipitation technique and was validated in both media types for linearity, intra-day, and inter-day precision and accuracy. The relationship of peak area to concentration was linear with
R
2
values of 0.99 or greater obtained over the concentration range of 1.5 to 15,000 ng/mL. Despite the high concentrations of albumin in fetal perfusion media (30 mg/mL), the lower limits of detection and quantification for DXR were found to be 1.5 and 5 ng/mL, respectively. This analytical method may be used to study the transport of DXR across BeWo cells and human placenta during placental perfusion studies.
View Full-Text
►

▼

Figures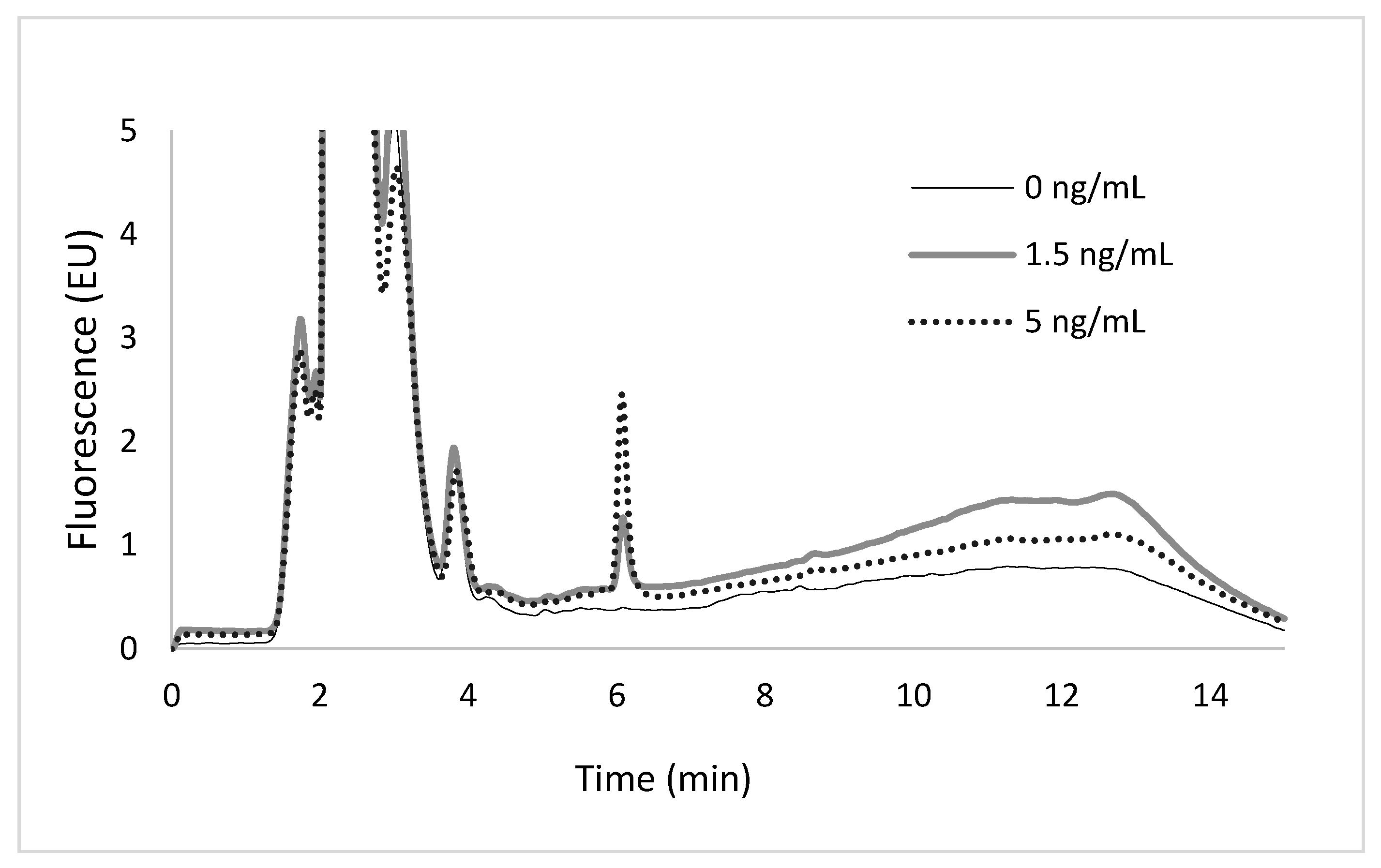 Figure 1
This is an open access article distributed under the
Creative Commons Attribution License
which permits unrestricted use, distribution, and reproduction in any medium, provided the original work is properly cited. (CC BY 4.0).
Share & Cite This Article
MDPI and ACS Style
Shah, M.; Bourner, L.; Ali, S.; Al-Enazy, S.; Youssef, M.M.; Fisler, M.; Rytting, E. HPLC Method Development for Quantification of Doxorubicin in Cell Culture and Placental Perfusion Media. Separations 2018, 5, 9.
Note that from the first issue of 2016, MDPI journals use article numbers instead of page numbers. See further details here.
Comments
[Return to top]