Open Access This article is
freely available
re-usable
Article
Mathematical Analysis of Replication by Cash Flow Matching
University of Augsburg, Universitätsstraße 14, 86159 Augsburg, Germany
*
Correspondence: Tel.: +49-821-598-2220
Academic Editor: Luca Regis
Received: 17 August 2016 / Accepted: 24 February 2017 / Published: 28 February 2017
Abstract
:
The replicating portfolio approach is a well-established approach carried out by many life insurance companies within their Solvency II framework for the computation of risk capital. In this note, we elaborate on one specific formulation of a replicating portfolio problem. In contrast to the two most popular replication approaches, it does not yield an analytic solution (if, at all, a solution exists and is unique). Further, although convex, the objective function seems to be non-smooth, and hence a numerical solution might thus be much more demanding than for the two most popular formulations. Especially for the second reason, this formulation did not (yet) receive much attention in practical applications, in contrast to the other two formulations. In the following, we will demonstrate that the (potential) non-smoothness can be avoided due to an equivalent reformulation as a linear
second order cone program
(SOCP). This allows for a numerical solution by efficient second order methods like interior point methods or similar. We also show that—under weak assumptions—existence and uniqueness of the optimal solution can be guaranteed. We additionally prove that—under a further similarly weak condition—the fair value of the replicating portfolio equals the fair value of liabilities. Based on these insights, we argue that this unloved stepmother child within the replication problem family indeed represents an equally good formulation for practical purposes.
Keywords:
life insurance; replicating portfolio; market consistent valuation; cash flow matching; fair value; stochastic Fermat–Torricelli problem
Author Contributions
The authors, Jan Natolski and RalfWerner, contributed equally to this research paper.
Conflicts of Interest
The authors declare no conflict of interest.
2.A recent paper by Broadie et al. [19] gives some first arguments in this direction. Although the paper does not explicitly treat replicating portfolio, but focuses on least squares Monte Carlo methods, the idea can also be extended to replicating portfolios. The reason for this is that replication and least squares Monte Carlo are strongly interconnected, as has been shown by Glasserman and Yu [4].

3.All results of this exposition remain true with one obvious exception: if instead of the risk neutral measure the real world measure is chosen. Naturally, the result on the fair value in Section 3.4 crucially depends on the property that a risk neutral measure is chosen.

4.

We use tilded variables to express the fact that the variable is discounted.

5. represents the pathwise discounted terminal value of all cash flows of asset

i

, i.e., the cash flow at time

t

is invested in the numeraire until time

T

, and the aggregated value of all these is discounted by the terminal numeraire value to time 0.

6.

Let us note that in Theorem 4 we will need a somewhat stronger condition; however, this condition can be satisfied exactly along the same lines as Assumption 3, and can thus also be characterized as rather weak condition.

7.

A function is called coercive iff whenever .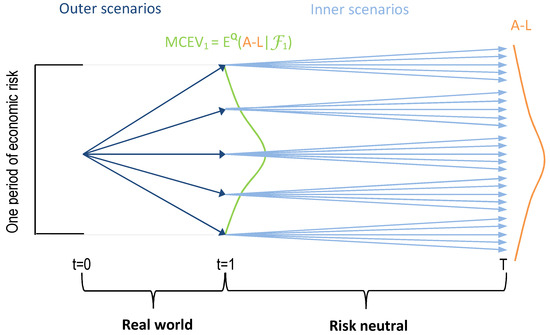 Figure 1. Replicating portfolio approach: Each node at and represents a state of the portfolio and liabilities. The target is to estimate the quantile of the market consistent embedded value (MCEV) distribution at .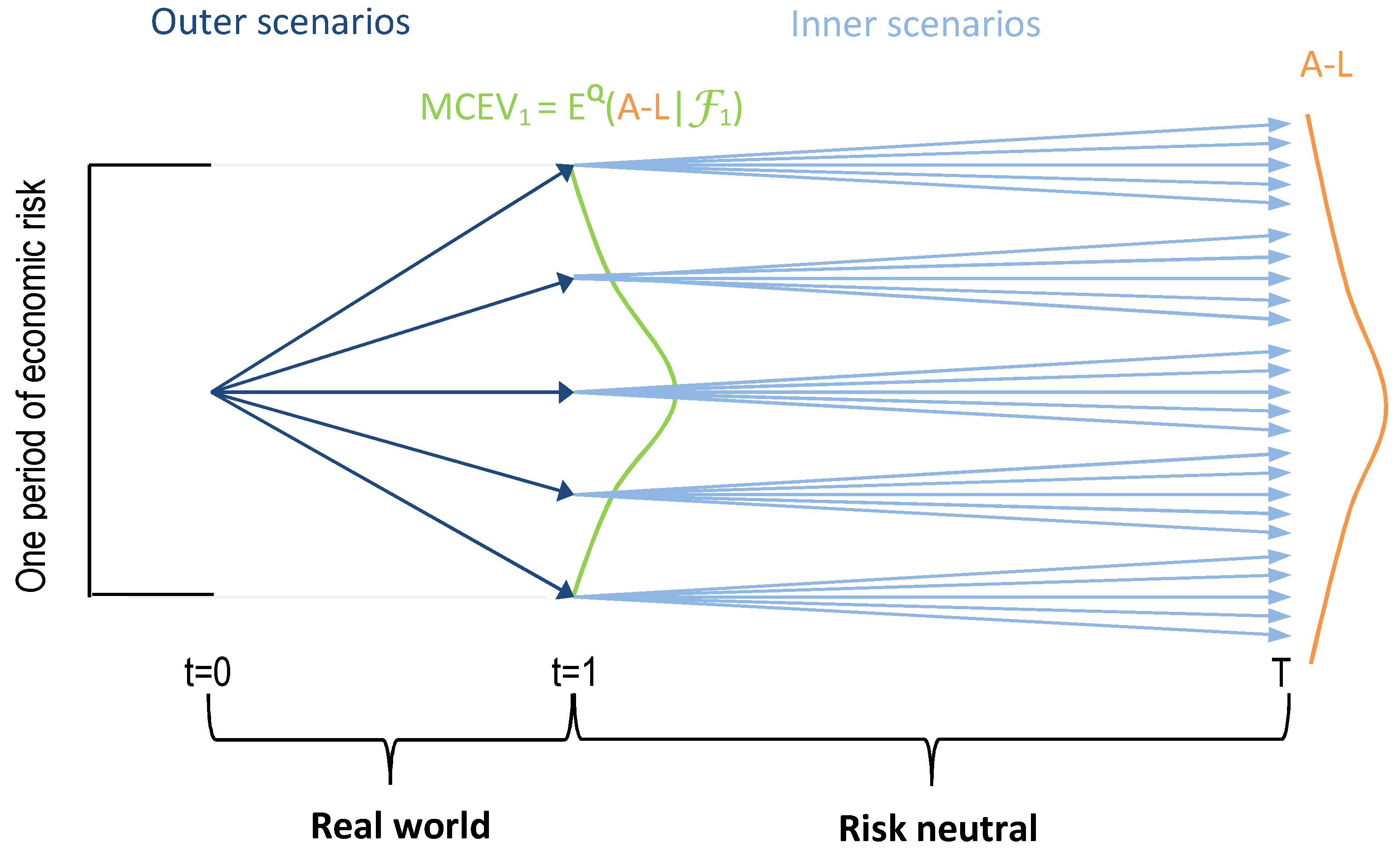 © 2017 by the authors. Licensee MDPI, Basel, Switzerland. This article is an open access article distributed under the terms and conditions of the Creative Commons Attribution (CC BY) license ( http://creativecommons.org/licenses/by/4.0/).