Antimicrobial Resistance and the Alternative Resources with Special Emphasis on Plant-Based Antimicrobials—A Review
1
High Altitude Plant Physiology Research Centre, Hemvati Nandan Bahuguna (H.N.B.) Garhwal University, Srinagar, Garhwal 246174, Uttarakhand, India
2
Department of Microbiology, Bangalore City College, Bangalore 560043, India
3
Department of Microbiology, Institute of Biosciences and Biotechnology, Chhatrapati Shahu Ji Maharaj (C.S.J.M.) University, Kanpur 208024, India
4
Department of Pharmaceutical Chemistry, Hemvati Nandan Bahuguna (H.N.B.) Garhwal University, Srinagar, Garhwal 246174, Uttarakhand, India
*
Authors to whom correspondence should be addressed.
Academic Editor: Milan S. Stankovic
Received: 8 February 2017 / Revised: 20 March 2017 / Accepted: 23 March 2017 / Published: 10 April 2017
Abstract
Indiscriminate and irrational use of antibiotics has created an unprecedented challenge for human civilization due to microbe's development of antimicrobial resistance. It is difficult to treat bacterial infection due to bacteria's ability to develop resistance against antimicrobial agents. Antimicrobial agents are categorized according to their mechanism of action, i.e., interference with cell wall synthesis, DNA and RNA synthesis, lysis of the bacterial membrane, inhibition of protein synthesis, inhibition of metabolic pathways, etc. Bacteria may become resistant by antibiotic inactivation, target modification, efflux pump and plasmidic efflux. Currently, the clinically available treatment is not effective against the antibiotic resistance developed by some bacterial species. However, plant-based antimicrobials have immense potential to combat bacterial, fungal, protozoal and viral diseases without any known side effects. Such plant metabolites include quinines, alkaloids, lectins, polypeptides, flavones, flavonoids, flavonols, coumarin, terpenoids, essential oils and tannins. The present review focuses on antibiotic resistance, the resistance mechanism in bacteria against antibiotics and the role of plant-active secondary metabolites against microorganisms, which might be useful as an alternative and effective strategy to break the resistance among microbes.
View Full-Text
►

▼

Figures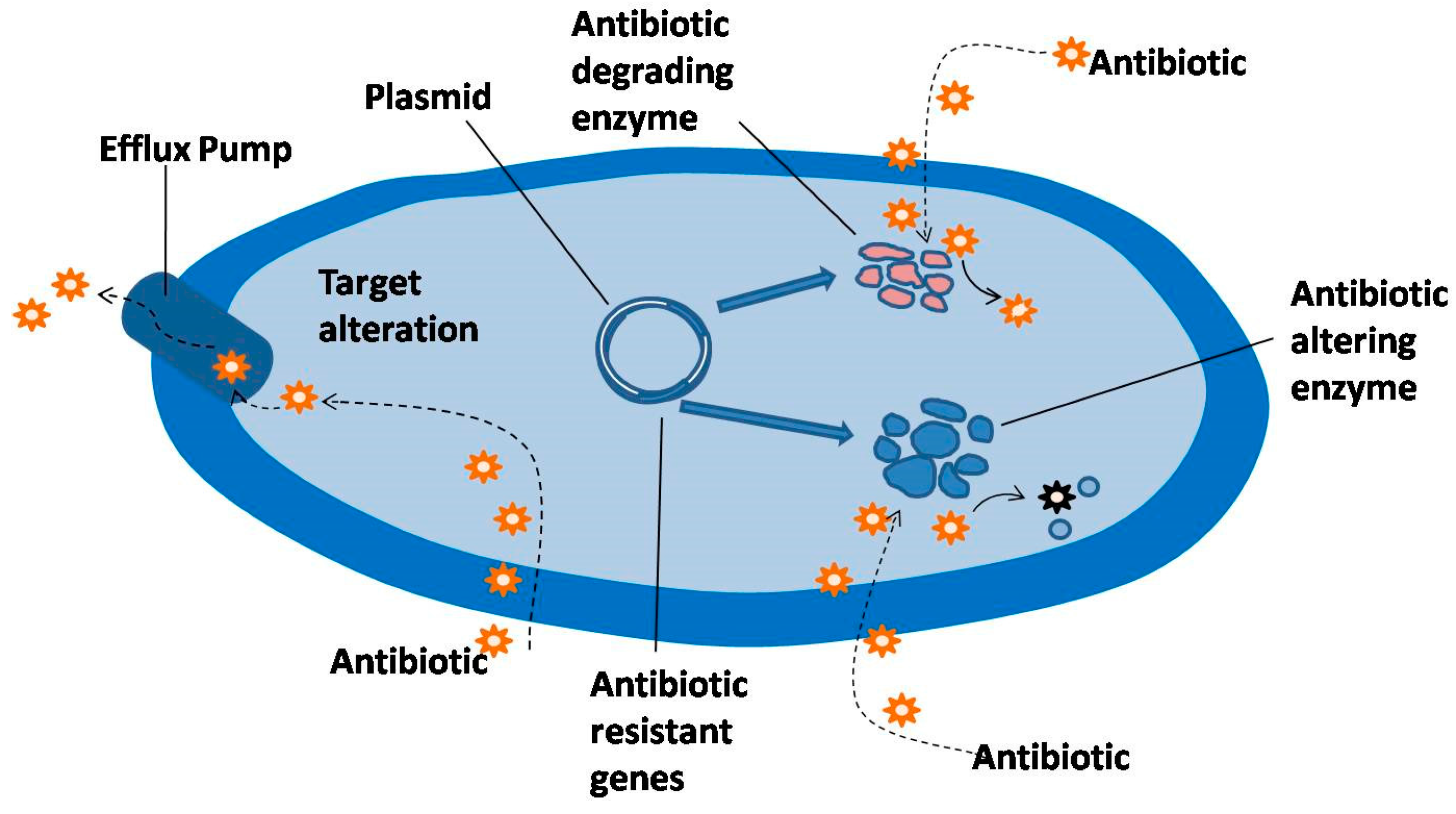 Figure 1
This is an open access article distributed under the
Creative Commons Attribution License
which permits unrestricted use, distribution, and reproduction in any medium, provided the original work is properly cited. (CC BY 4.0).
Share & Cite This Article
MDPI and ACS Style
Chandra, H.; Bishnoi, P.; Yadav, A.; Patni, B.; Mishra, A.P.; Nautiyal, A.R. Antimicrobial Resistance and the Alternative Resources with Special Emphasis on Plant-Based Antimicrobials—A Review. Plants 2017, 6, 16.
Note that from the first issue of 2016, MDPI journals use article numbers instead of page numbers. See further details here.
Related Articles
Comments
[Return to top]