Quantification of (1→4)-β-d-Galactans in Compression Wood Using an Immuno-Dot Assay
School of Biological Sciences, The University of Auckland, Private Bag 92019, Auckland 1142, New Zealand
*
Author to whom correspondence should be addressed.
Academic Editor: Dilantha Fernando
Received: 29 October 2014 / Accepted: 6 January 2015 / Published: 14 January 2015
Abstract
Compression wood is a type of reaction wood formed on the underside of softwood stems when they are tilted from the vertical and on the underside of branches. Its quantification is still a matter of some scientific debate. We developed a new technique that has the potential to do this based on the higher proportions of (1→4)-β-d-galactans that occur in tracheid cell walls of compression wood. Wood was milled, partially delignified, and the non-cellulosic polysaccharides, including the (1→4)-β-d-galactans, extracted with 6 M sodium hydroxide. After neutralizing, the solution was serially diluted, and the (1→4)-β-d-galactans determined by an immuno-dot assay using the monoclonal antibody LM5, which specifically recognizes this polysaccharide. Spots were quantified using a dilution series of a commercially available (1→4)-β-d-galactan from lupin seeds. Using this method, compression and opposite woods from radiata pine (
Pinus
radiata
) were easily distinguished based on the amounts of (1→4)-β-d-galactans extracted. The non-cellulosic polysaccharides in the milled wood samples were also hydrolysed using 2 M trifluoroacetic acid followed by the separation and quantification of the released neutral monosaccharides by high performance anion exchange chromatography. This confirmed that the compression woods contained higher proportions of galactose-containing polysaccharides than the opposite woods.
View Full-Text
►

▼

Figures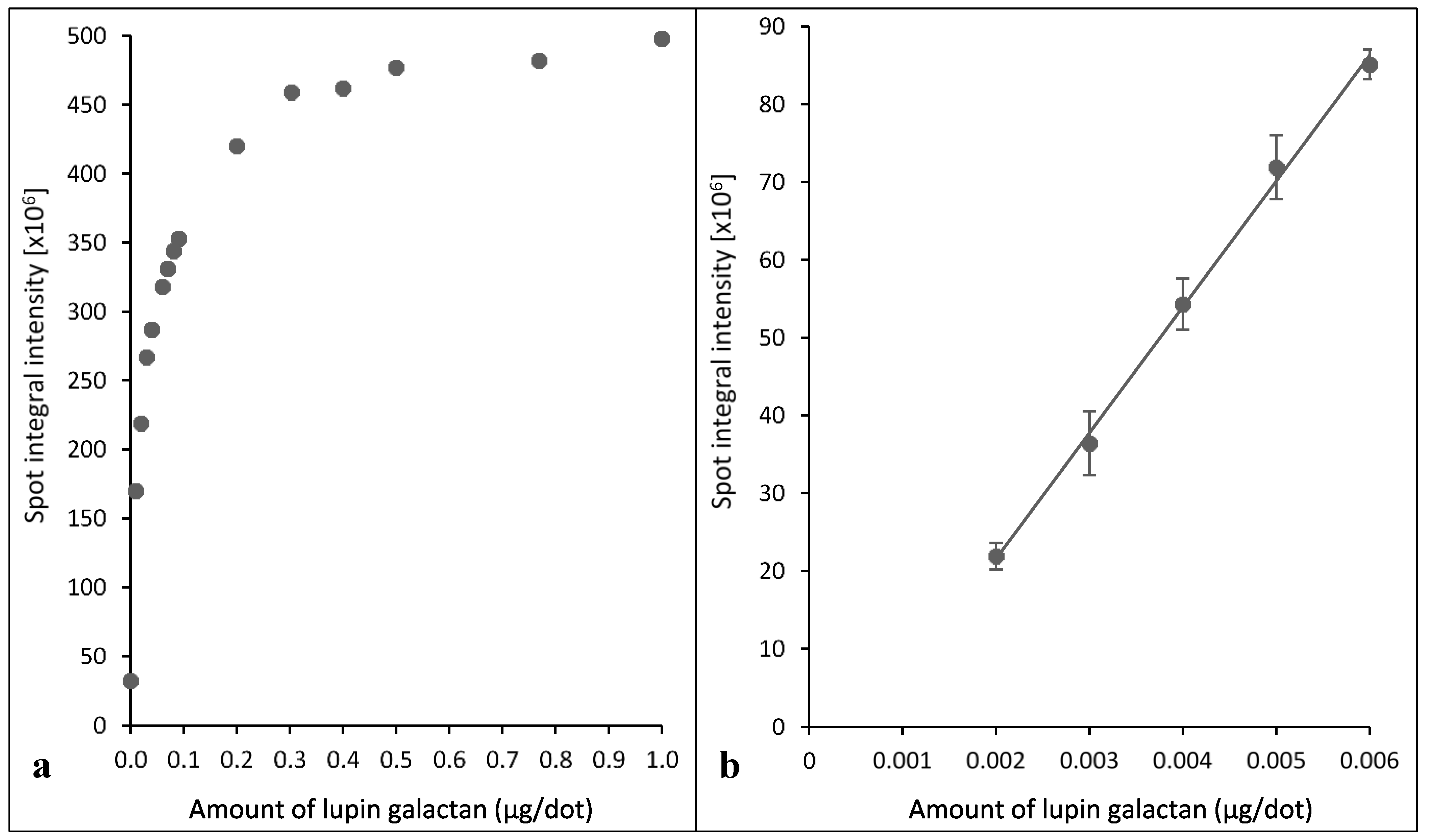 Figure 1
This is an open access article distributed under the
Creative Commons Attribution License
which permits unrestricted use, distribution, and reproduction in any medium, provided the original work is properly cited. (CC BY 4.0).
Share & Cite This Article
MDPI and ACS Style
Chavan, R.R.; Fahey, L.M.; Harris, P.J. Quantification of (1→4)-β-d-Galactans in Compression Wood Using an Immuno-Dot Assay. Plants 2015, 4, 29-43.
Related Articles
Comments
[Return to top]