Open Access This article is
freely available
re-usable
Review
Lysosomal Regulation of mTORC1 by Amino Acids in Mammalian Cells
1
Life Sciences Institute, University of Michigan, 210 Washtenaw Avenue, Ann Arbor, MI 48109, USA
2
Department of Molecular and Integrative Physiology, University of Michigan Medical School, 1137 East Catherine Street, Ann Arbor, MI 48109, USA
3
Department of Internal Medicine, University of Michigan Medical School, 1500 East Medical enter Drive, Ann Arbor, MI 48109, USA
*
Author to whom correspondence should be addressed.
Academic Editors: Kazuhiro Shiozaki and Ted Powers
Received: 1 June 2017 / Accepted: 4 July 2017 / Published: 7 July 2017
Abstract
:
The mechanistic target of rapamycin complex 1 (mTORC1) is a master regulator of cell growth in eukaryotic cells. The active mTORC1 promotes cellular anabolic processes including protein, pyrimidine, and lipid biosynthesis, and inhibits catabolic processes such as autophagy. Consistent with its growth-promoting functions, hyper-activation of mTORC1 signaling is one of the important pathomechanisms underlying major human health problems including diabetes, neurodegenerative disorders, and cancer. The mTORC1 receives multiple upstream signals such as an abundance of amino acids and growth factors, thus it regulates a wide range of downstream events relevant to cell growth and proliferation control. The regulation of mTORC1 by amino acids is a fast-evolving field with its detailed mechanisms currently being revealed as the precise picture emerges. In this review, we summarize recent progress with respect to biochemical and biological findings in the regulation of mTORC1 signaling on the lysosomal membrane by amino acids.
Keywords:
mTOR; mTORC1; rapamycin; Rheb; Rag; TSC; lysosome; amino acid; growth factor
Acknowledgments
The research in the laboratory of K.I. is supported by grants from the National Institute of Health (NIH DK083491, GM110019) and the Department of Defense (DOD TS140055).
Author Contributions
Y.Y. wrote the first drat, E.J. and K.I. edited and completed the manuscript.
Conflicts of Interest
The authors declare no conflict of interest.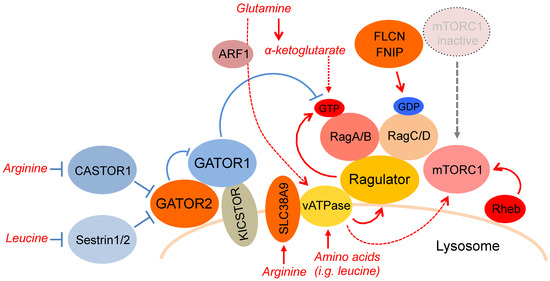 Figure 1. Amino acid-sensing mechanisms that recruit mechanistic target of mTORC1 to the lysosomal membrane. Cytosolic arginine and leucine activate GATOR2 by CASTOR1 and Sestrin1/2, respectively, leading to the inhibition of GATOR1, the GAP for the RagA/B small GTPases. Lysosomal luminal arginine activates vATPase through SLC38A9, leading to the activation of Ragulator, the guanine exchange factor (GEF) for RagA/B. Upon the activation of the Rag heterodimer, mTORC1 is recruited to the lysosomal membrane and is then activated by the small Rheb GTPase. CASTOR: cellular arginine sensor for mTORC1; Rheb: Ras homolog enriched in brain; GATOR: GTPase activating protein (GAP) activity toward Rags; KICKSTOR: Kaptin (KPTN), Integrin alpha phenylalanyl-glycyl-glycyl-alanyl-prolyl (FG-GAP) repeat containing 2 (ITFG2), chromosome 12 open reading frame 66 (C12orf66) and seizure threshold 2 homolog (SZT2)-containing regulator of mTORC1; Rag: Ras-related GTP binding; mTORC1: mechanistic target of rapamycin complex 1; GDP: guanosine 5'-diphosphate; GTP: guanosine 5'-triphosphate; ARF1: adenosine diphosphate-ribosylation factor 1; FLCN: folliculin; FNIP: folliculin interacting protein; vATPase: vacuolar H+-ATPase; SLC38A9: solute carrier family 38 member 9.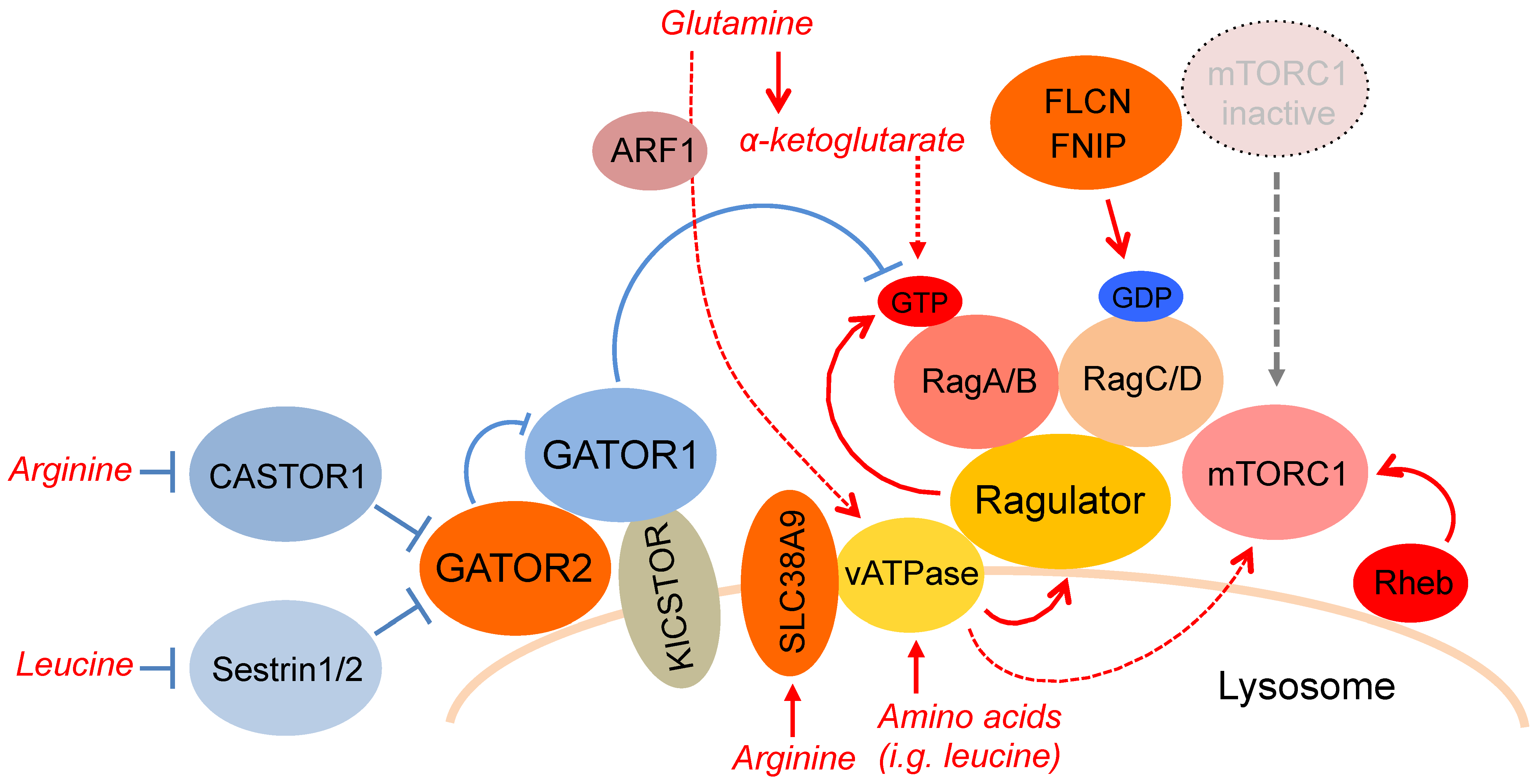 Figure 2. Spatial regulation of the tuberous sclerosis complex (TSC) complex on the lysosomes.The TSC complex preferentially interacts with both GDP-bound RagA and Rheb on the lysosomal membrane under growth factor and amino acid-deficient conditions. Upon growth factor and amino acid stimulation, TSC2 is phosphorylated by Akt and dissociates from the lysosomal membrane leading to the activation of Rheb.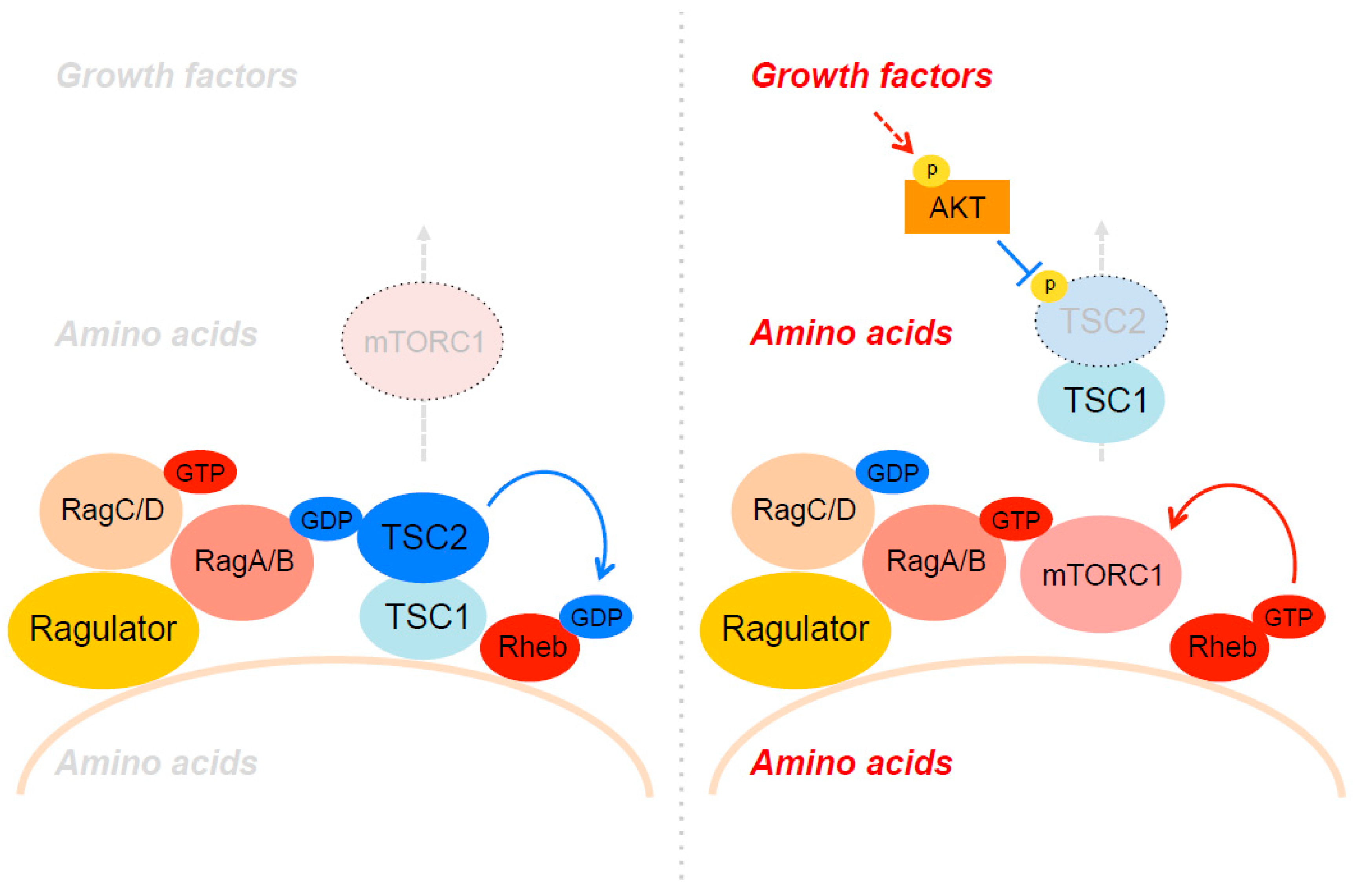 © 2017 by the authors. Licensee MDPI, Basel, Switzerland. This article is an open access article distributed under the terms and conditions of the Creative Commons Attribution (CC BY) license (http://creativecommons.org/licenses/by/4.0/).