Metabolomics with Nuclear Magnetic Resonance Spectroscopy in a Drosophila melanogaster Model of Surviving Sepsis
1
Clinical Research, Investigation, and Systems Modeling of Acute Illness (CRISMA) Laboratory, Department of Critical Care Medicine, University of Pittsburgh School of Medicine, Pittsburgh, 15261 PA, USA
2
Laboratoire Chimie, Structures, Propriétés de Biomatériaux et d'Agents Thérapeutiques (CSPBAT), UMR 7244, Université Paris 13, 93000 Bobigny, France
3
Intensive Care Unit, Jean Verdier University Hospital, Paris 13 University, 93140 Bondy, France
4
Laboratoire Structure—Activité des biomolécules Normales et Pathologiques (SABNP), U1204, Université d'Evry Val d'Essonne, 91025 Evry, France
5
Unité de Biologie Intégrative des Adaptations à l'Exercice (UBIAE), EA 7362, Université d'Evry Val d'Essonne, 91025 Evry, France
6
Department of Anesthesiology, University of Pittsburgh, Pittsburgh, 15261 PA, USA
†
These authors contributed equally to this work.
*
Author to whom correspondence should be addressed.
Academic Editor: Vladimir V. Tolstikov
Received: 28 October 2016 / Revised: 3 December 2016 / Accepted: 13 December 2016 / Published: 21 December 2016
Abstract
Patients surviving sepsis demonstrate sustained inflammation, which has been associated with long-term complications. One of the main mechanisms behind sustained inflammation is a metabolic switch in parenchymal and immune cells, thus understanding metabolic alterations after sepsis may provide important insights to the pathophysiology of sepsis recovery. In this study, we explored metabolomics in a novel
Drosophila melanogaster
model of surviving sepsis using Nuclear Magnetic Resonance (NMR), to determine metabolite profiles. We used a model of percutaneous infection in
Drosophila melanogaster
to mimic sepsis. We had three experimental groups: sepsis survivors (infected with Staphylococcus aureus and treated with oral linezolid), sham (pricked with an aseptic needle), and unmanipulated (positive control). We performed metabolic measurements seven days after sepsis. We then implemented metabolites detected in NMR spectra into the MetExplore web server in order to identify the metabolic pathway alterations in sepsis surviving
Drosophila
. Our NMR metabolomic approach in a
Drosophila
model of recovery from sepsis clearly distinguished between all three groups and showed two different metabolomic signatures of inflammation. Sham flies had decreased levels of maltose, alanine, and glutamine, while their level of choline was increased. Sepsis survivors had a metabolic signature characterized by decreased glucose, maltose, tyrosine, beta-alanine, acetate, glutamine, and succinate.
View Full-Text
►

▼

Figures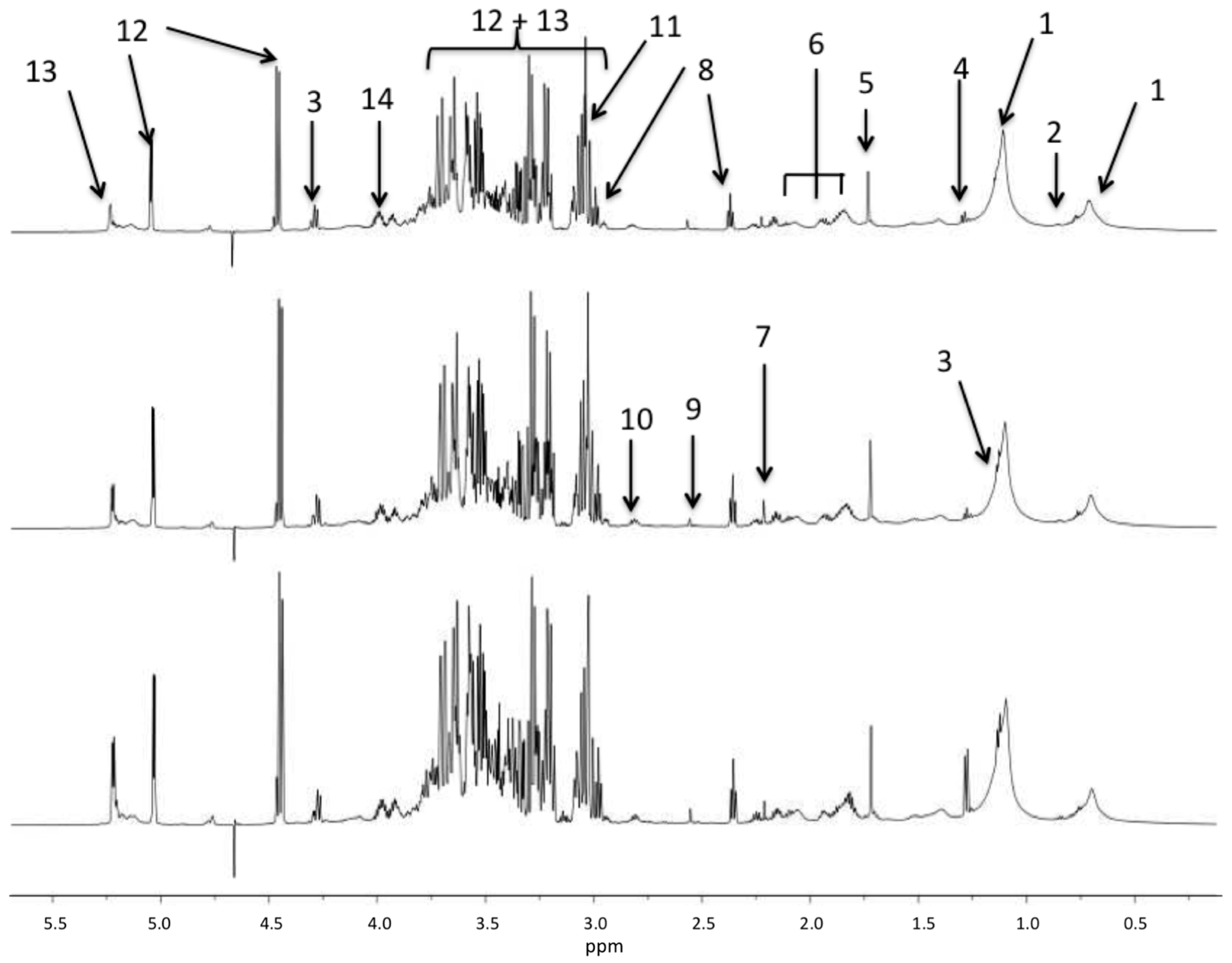 Figure 1
This is an open access article distributed under the
Creative Commons Attribution License
which permits unrestricted use, distribution, and reproduction in any medium, provided the original work is properly cited. (CC BY 4.0).
Share & Cite This Article
MDPI and ACS Style
Bakalov, V.; Amathieu, R.; Triba, M.N.; Clément, M.-J.; Reyes Uribe, L.; Le Moyec, L.; Kaynar, A.M. Metabolomics with Nuclear Magnetic Resonance Spectroscopy in a Drosophila melanogaster Model of Surviving Sepsis. Metabolites 2016, 6, 47.
Note that from the first issue of 2016, MDPI journals use article numbers instead of page numbers. See further details here.
Related Articles
Comments
[Return to top]