MOGAT2: A New Therapeutic Target for Metabolic Syndrome
Institute of Metabolic Disorders, Genesis Biotechnology Group, Hamilton, NJ 08691, USA
*
Authors to whom correspondence should be addressed.
Academic Editor: Maurizio Battino
Received: 29 June 2015 / Revised: 13 August 2015 / Accepted: 17 August 2015 / Published: 28 August 2015
Abstract
Metabolic syndrome is an ever-increasing health problem among the world's population. It is a group of intertwined maladies that includes obesity, hypertriglyceridemia, hypertension, nonalcoholic fatty liver disease (NAFLD), and diabetes mellitus type II (T2D). There is a direct correlation between high triacylglycerol (triglyceride; TAG) level and severity of metabolic syndrome. Thus, controlling the synthesis of TAG will have a great impact on overall systemic lipid metabolism and thus metabolic syndrome progression. The Acyl-CoA: monoacylglycerolacyltransferase (MGAT) family has three members (MGAT1, -2, and -3) that catalyze the first step in TAG production, conversion of monoacylglycerol (MAG) to diacylglycerol (DAG). TAG is then directly synthesized from DAG by a Acyl-CoA: diacylglycerolacyltransferase (DGAT). The conversion of MAG → DAG → TAG is the major pathway for the production of TAG in the small intestine, and produces TAG to a lesser extent in the liver. Transgenic and pharmacological studies in mice have demonstrated the beneficial effects of MGAT inhibition as a therapy for treating several metabolic diseases, including obesity, insulin resistance, T2D, and NAFLD. In this review, the significance of several properties of MGAT physiology, including tissue expression pattern and its relationship to overall TAG metabolism, enzymatic biochemical properties and their effects on drug discovery, and finally what is the current knowledge about MGAT small molecule inhibitors and their efficacy will be discussed. Overall, this review highlights the therapeutic potential of inhibiting MGAT for lowering TAG synthesis and whether this avenue of drug discovery warrants further clinical investigation.
View Full-Text
►

▼

Figures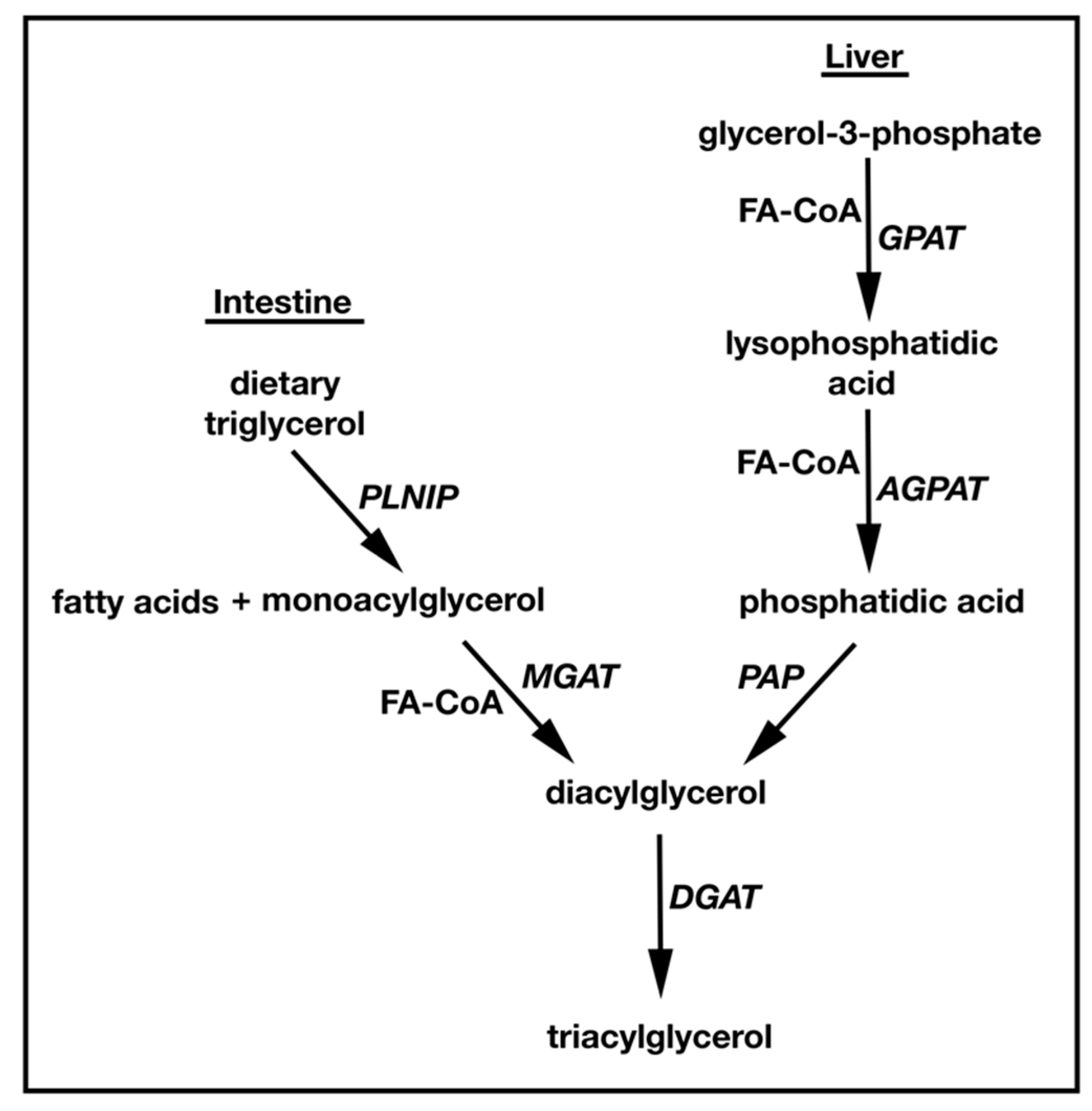 Figure 1
This is an open access article distributed under the
Creative Commons Attribution License
which permits unrestricted use, distribution, and reproduction in any medium, provided the original work is properly cited. (CC BY 4.0).
Share & Cite This Article
MDPI and ACS Style
Yang, M.; Nickels, J.T., Jr. MOGAT2: A New Therapeutic Target for Metabolic Syndrome. Diseases 2015, 3, 176-192.
Related Articles
Comments
[Return to top]