NF-κB Activation Exacerbates, but Is not Required for Murine Bmpr2-Related Pulmonary Hypertension
1
Division of Allergy, Pulmonary, and Critical Care Medicine, Vanderbilt University Medical Center, Nashville, TN 37232, USA
2
Department of Anesthesiology, Intensive Care Medicine and Pain Therapy, University Hospital Johann Wolfgang Goethe, Frankfurt 60590, Germany
3
Department of Anesthesiology, University of Colorado Health Sciences Center, Denver, CO 80045, USA
†
These authors contributed equally to this work.
*
Author to whom correspondence should be addressed.
Received: 18 April 2014 / Revised: 20 May 2014 / Accepted: 21 May 2014 / Published: 30 May 2014
Abstract
Aim: The present study investigates the role of NF-κB in Bmpr2-related pulmonary hypertension (PH) using a murine model of PH with inducible overexpression of a cytoplasmic tail Bmpr2 mutation. Methods and Results: Electrophoretic mobility shift assay for nuclear extracts in Bmpr2
R899X
mouse lung and immunohistochemistry for NF-κB p65 in human PAH lung demonstrate that NF-κB is activated in end-stage disease. Acute inflammation or expression of a constitutively active NF-κB elicits a strong suppression of the BMP pathway in mice inversely correlating to activation of NF-κB targets. However, Bmpr2 mutation does not result in NF-κB activation in early disease development as assessed by luciferase reporter mice. Moreover, Bmpr2 mutant mice in which NF-κB activation is genetically blocked develop PH indistinguishable from that without the block. Finally, delivery of a virus causing NF-κB activation strongly exacerbates development of PH in Bmpr2 mutant mice, associated with increased remodeling. Conclusion: NF-κB activation exacerbates, but is not required for Bmpr2-related PH. Pulmonary vascular-specific activation of NF-κB may be a "second hit" that drives penetrance in heritable PH.
View Full-Text
►

▼

Figures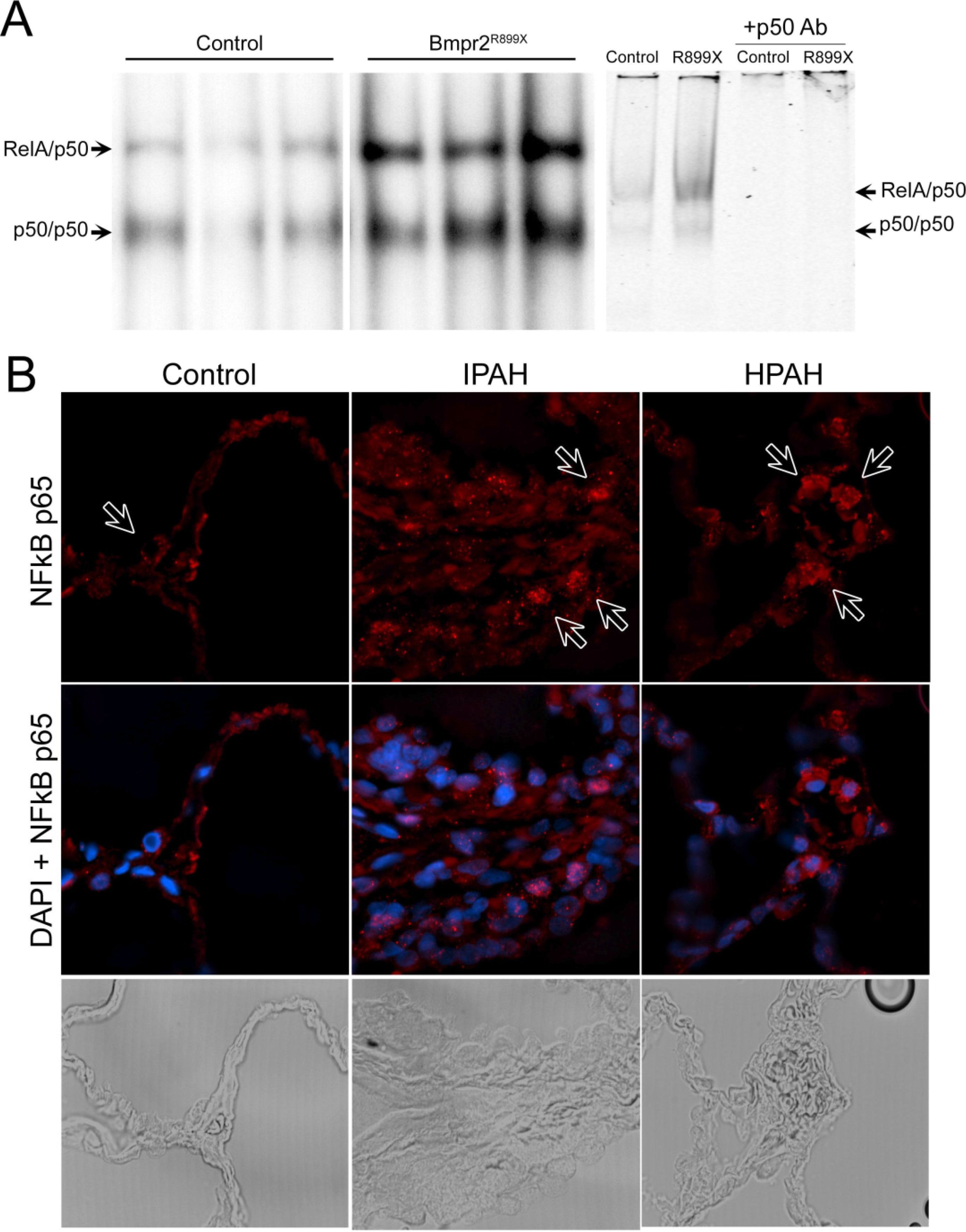 Figure 1
Share & Cite This Article
MDPI and ACS Style
Talati, M.; Mutlak, H.; Lane, K.B.; Han, W.; Hemnes, A.; Mutlak, O.; Blackwell, T.; Zaynagetdinov, R.; Blackwell, T.S.; West, J. NF-κB Activation Exacerbates, but Is not Required for Murine Bmpr2-Related Pulmonary Hypertension. Diseases 2014, 2, 148-167.
Related Articles
Comments
[Return to top]