Open Access This article is
freely available
re-usable
Article
Light Emission Intensities of Luminescent Y2O3:Eu and Gd2O3:Eu Particles of Various Sizes
1
INM—Leibniz Institute for New Materials, 66123 Saarbrücken, Germany
2
Siemens AG, Corporate Technology, 81739 Munich, Germany
3
DELMIC B.V., 2629JA Delft, the Netherlands
*
Correspondence: Tel.: +49-681-9300-261
Academic Editor: Thomas Nann
Received: 28 October 2016 / Accepted: 18 January 2017 / Published: 25 January 2017
Abstract
:
There is great technological interest in elucidating the effect of particle size on the luminescence efficiency of doped rare earth oxides. This study demonstrates unambiguously that there is a size effect and that it is not dependent on the calcination temperature. The Y2O3:Eu and Gd2O3:Eu particles used in this study were synthesized using wet chemistry to produce particles ranging in size between 7 nm and 326 nm and a commercially available phosphor. These particles were characterized using three excitation methods: UV light at 250 nm wavelength, electron beam at 10 kV, and X-rays generated at 100 kV. Regardless of the excitation source, it was found that with increasing particle diameter there is an increase in emitted light. Furthermore, dense particles emit more light than porous particles. These results can be explained by considering the larger surface area to volume ratio of the smallest particles and increased internal surface area of the pores found in the large particles. For the small particles, the additional surface area hosts adsorbates that lead to non-radiative recombination, and in the porous particles, the pore walls can quench fluorescence. This trend is valid across calcination temperatures and is evident when comparing particles from the same calcination temperature.
Keywords:
Y
2
O
3
:Eu; Gd
2
O
3
:Eu; luminescence; fluorescence; cathodoluminescence; scintillation; particle size effect
Acknowledgments
We express our thanks to the colleagues at INM, to Aron Schorr for his work covering particle syntheses and measurements of properties, as well as to Rudolf Karos, Birgit Heiland, Andrea Jung, and Robert Drumm for their measurement services. We thank Albert Polman and the FOM institute for use of their CL system. This work was carried out in the frame of the HOP-X project which was sponsored by the Federal Ministry of Education and Research within the funding program Photonics Research Germany (Contract number 13N12378).
Author Contributions
Jens Adam conceived the whole study concept and wrote the paper except for some subsections. Jennifer S. Atchison provided the language revision. Design and performance of experiments: Peter König and Jens Adam (syntheses and structural particle characterisation), Marcus Koch (electron microscopy), Jens Adam (fluorescence and QY), Toon Coenen (cathodoluminescence), Wilhelm Metzger (scintillation). All authors analysed the data, especially Jennifer S. Atchison and Peter Rogin with respect to the physics of electron transfers in particles, Jennifer S. Atchison with respect to the PLE and PL analysis. Wilhelm Metzger contributed the commercial lamp phosphor particles 'L581'.
Conflicts of Interest
The authors declare no conflict of interest. The founding sponsors had no role in the design of the study; in the collection, analyses, or interpretation of data; in the writing of the manuscript, and in the decision to publish the results.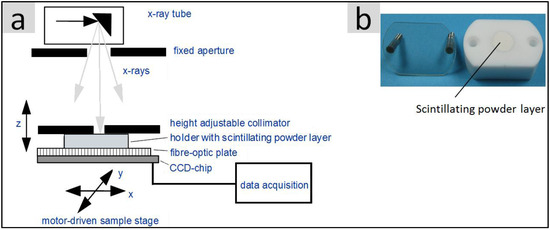 Figure 1. (a) Schematic structure of the X-ray measuring station for the spatially resolved determination of the X-ray excited light yield of scintillating materials; (b) Sample holder made of highly reflective Teflon containing a 0.5 mm thick scintillating powder layer (see the text for further details).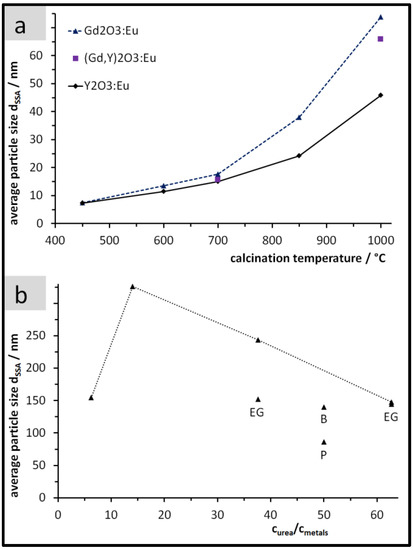 Figure 2.
Average particle size
d
SSA
after calcination. (
a
) Peroxidic Precipitation (PP) particles as a function of the calcination temperature; (
b
) Urea based homogeneous precipitation (UBHP) particles after calcination at 850 °C as a function of the concentration ratio
c
urea
/
c
metals
and of the reaction medium (pure H
2
O for points connected with the dotted line; others: H
2
O plus EG = ethylene glycol, B = 1-butanol, P = 2-propanol, see
Table 1
. At
c
urea
/
c
metals
= 63 there are two overlapping data points).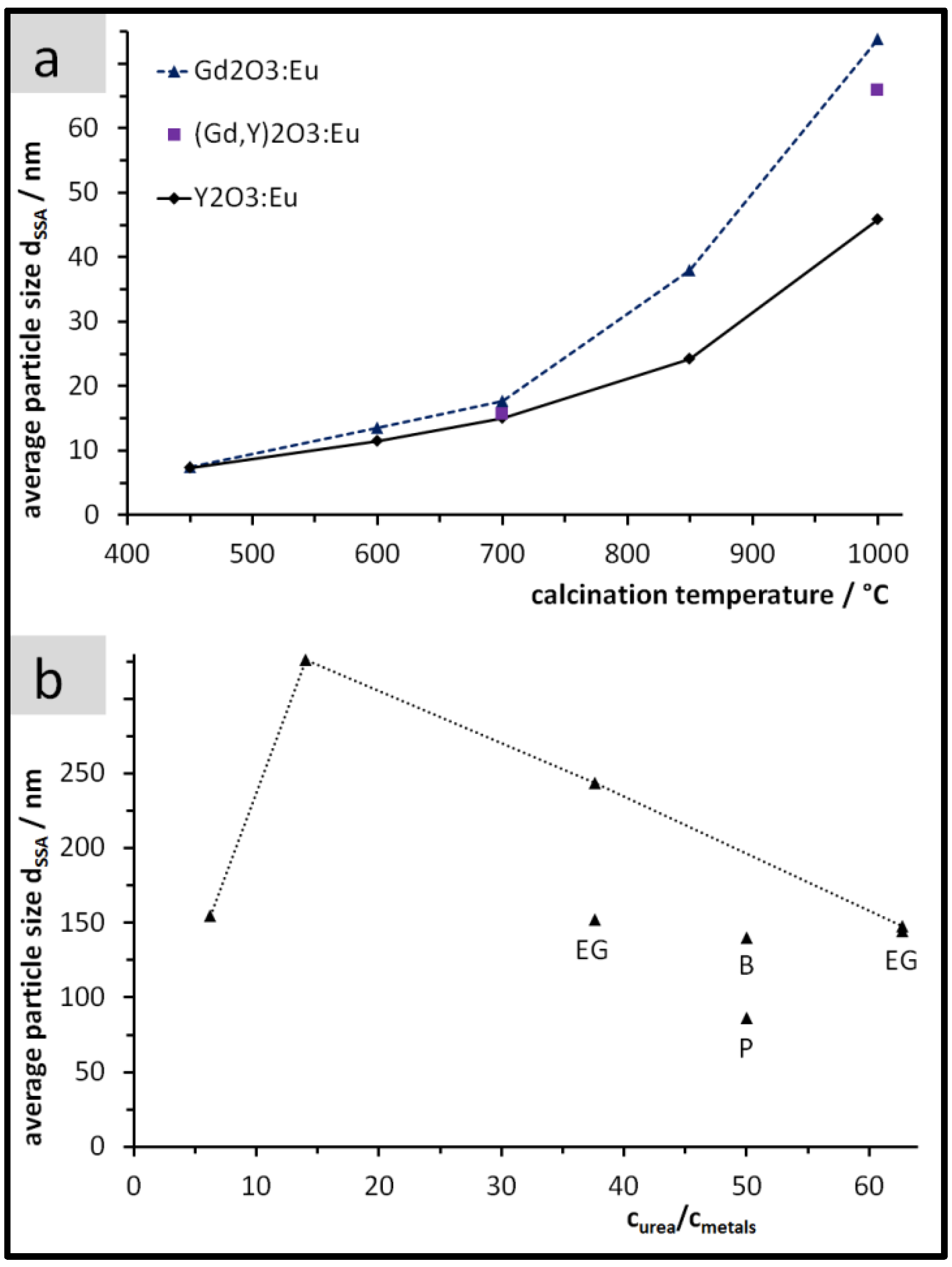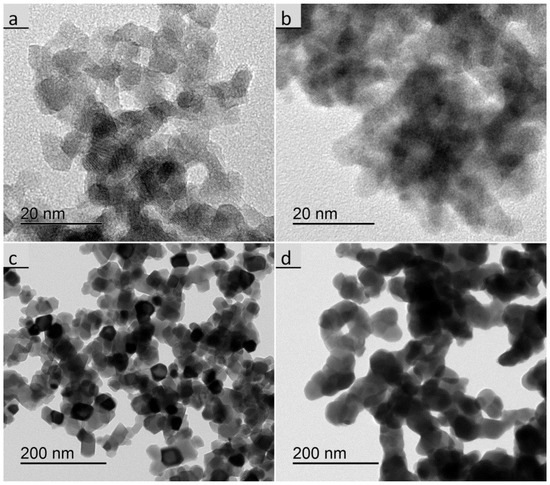 Figure 3. Transmission electron microscope (TEM) images of the PP particles, (a) Y2O3:Eu calcined at 450 °C; (b) Gd2O3:Eu calcined at 450 °C; (c) Y2O3:Eu calcined at 1000 °C; (d) Gd2O3:Eu calcined at 1000 °C.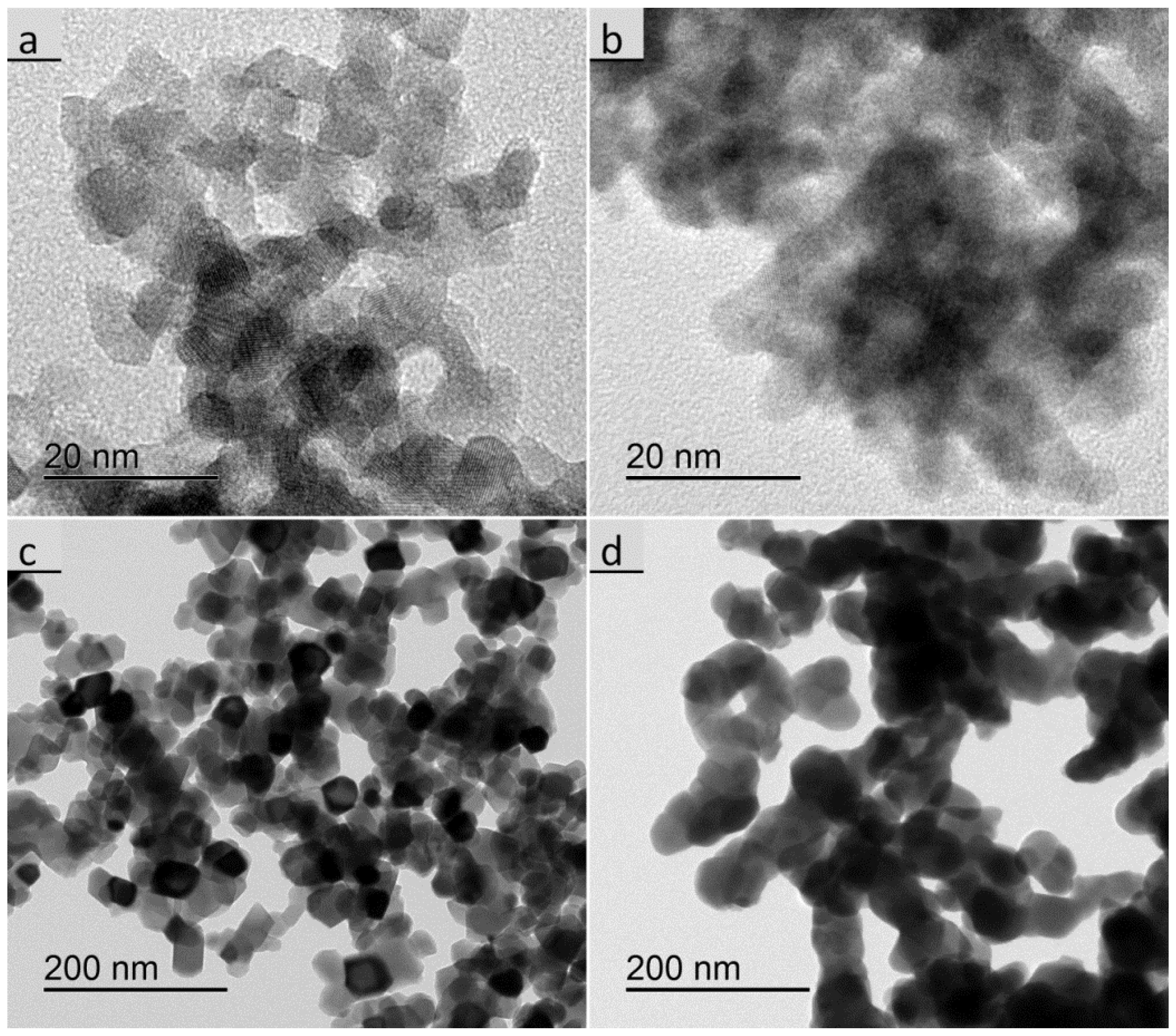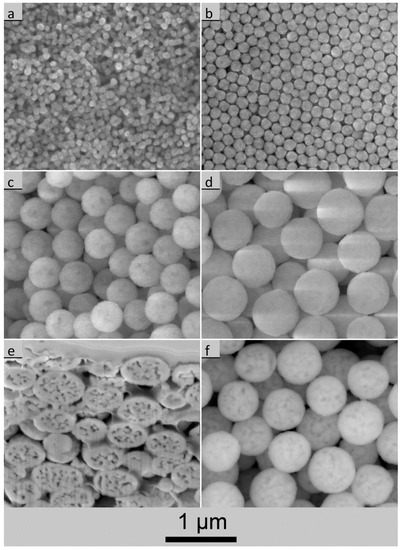 Figure 4.
Environmental scanning electron microscope (ESEM) images [taken with the large field detector, exception: image (f)] of UBHP Gd
2
O
3
:Eu particles calcined at 850 °C; (
a
) NS141-850 (
d
SSA
= 86 nm); (
b
) NS130-850 (
d
SSA
= 147 nm); (
c
) NS126-850 (
d
SSA
= 244 nm); (
d
) NS133-850 (
d
SSA
= 326 nm); (
e
) NS133-850—view into a trench cut by Focused Ion Beam (FIB) into the pellet pressed for prior cathodoluminescence (CL) examination; (
f
) NS133-850—particle image, taken with the back-scattered electron (BSE) detector.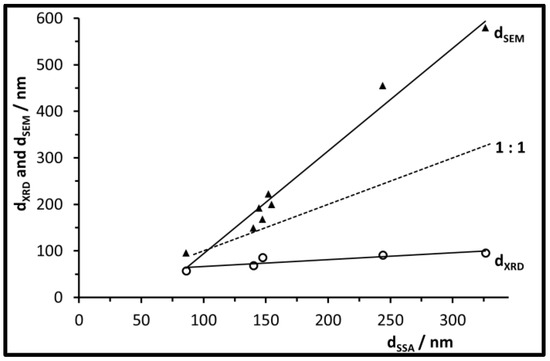 Figure 5.
Particle size
d
SEM
and crystallite size
d
XRD
of the calcined UBHP particles, as a function of the size information
d
SSA
.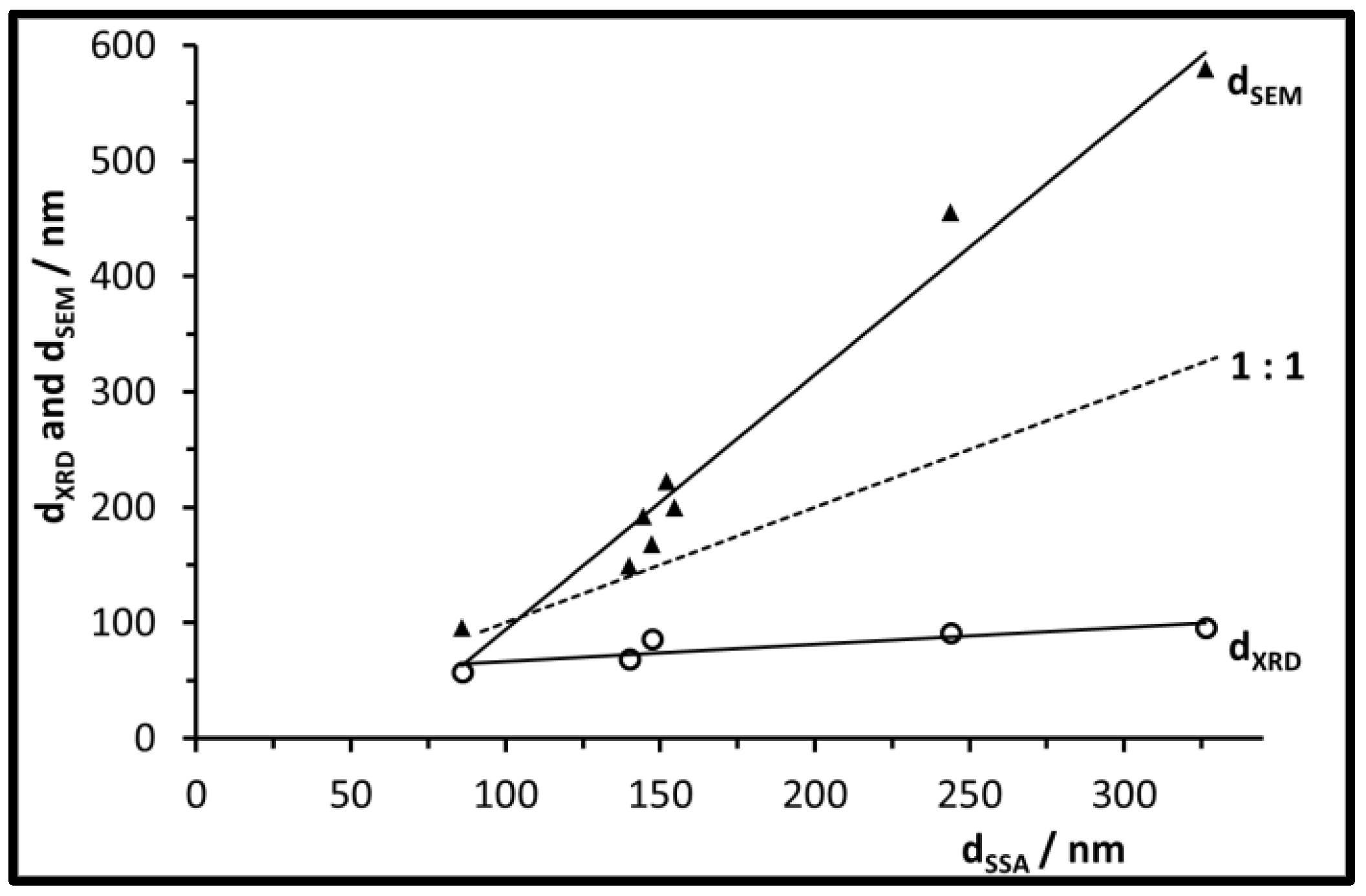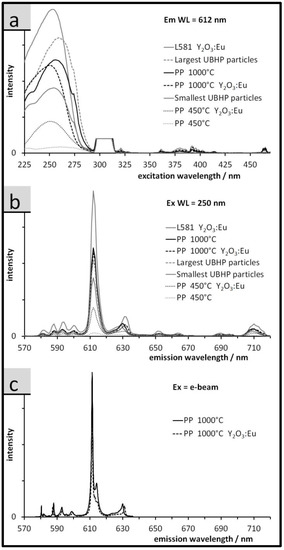 Figure 6. Luminescence spectra of the Gd2O3:Eu particles (no indication) and of the Y2O3:Eu particles (where indicated), (a) fluorescence excitation spectra (cut peak around 306 nm = 1st order diffraction from monochromator, i.e., spectrometer artefact); (b) fluorescence emission spectra; (c) cathodoluminescence emission spectra (taken from 577 to 636 nm).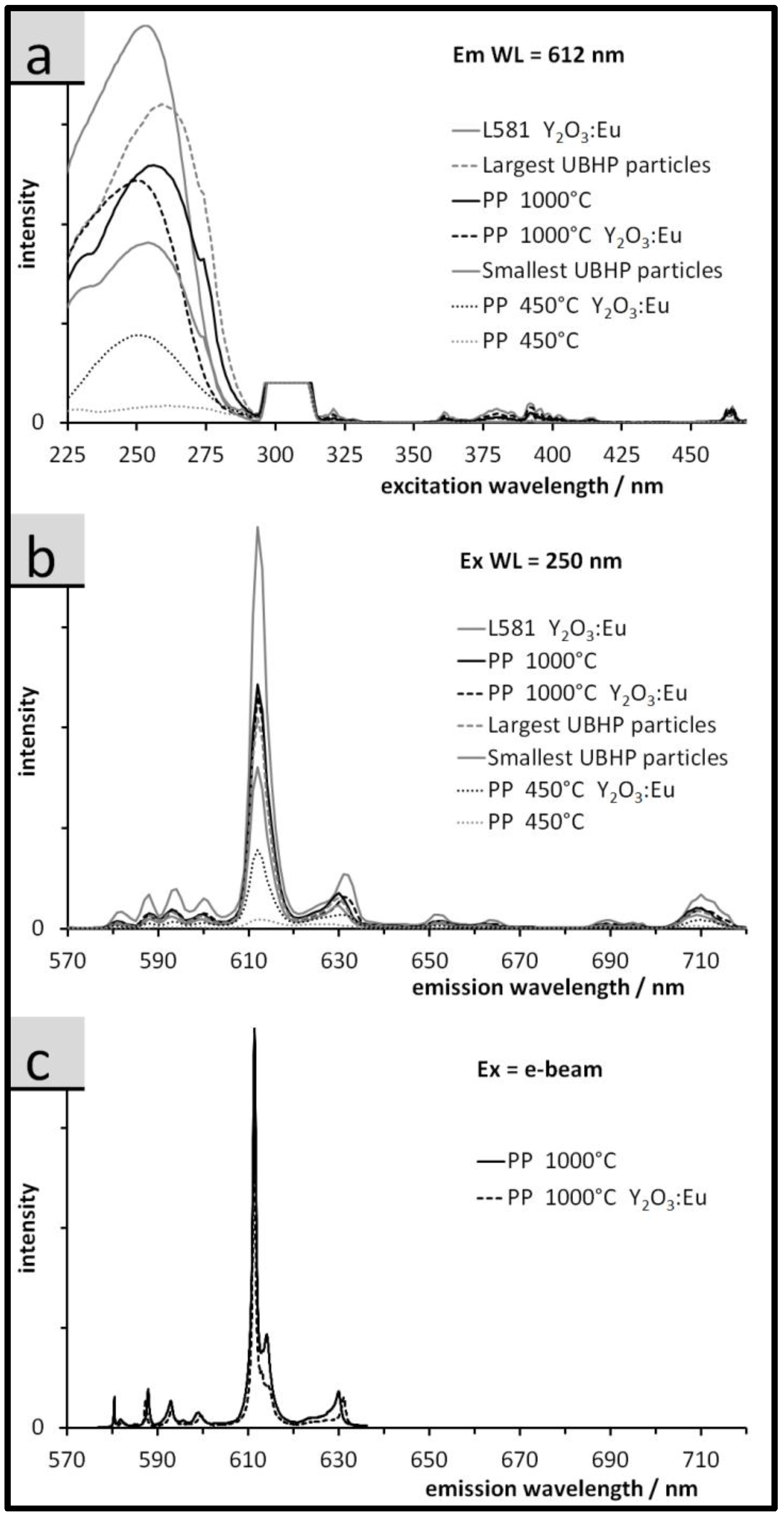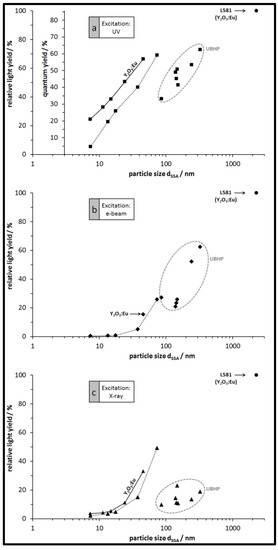 Figure 7.
Relative light yield of the Gd
2
O
3
:Eu particles (no indication) and of the Y
2
O
3
:Eu particles (where indicated), depicted in dependence of the particle size
d
SSA
. Particles with sizes up to 74 nm are from the PP synthesis, larger particles with data points in the ovals are from the UBHP synthesis. (
a
) For excitation with 250 nm UV light (second ordinate giving the absolute QY values); (
b
) for excitation with e-beam (cathodoluminescence); (
c
) for excitation with X-ray.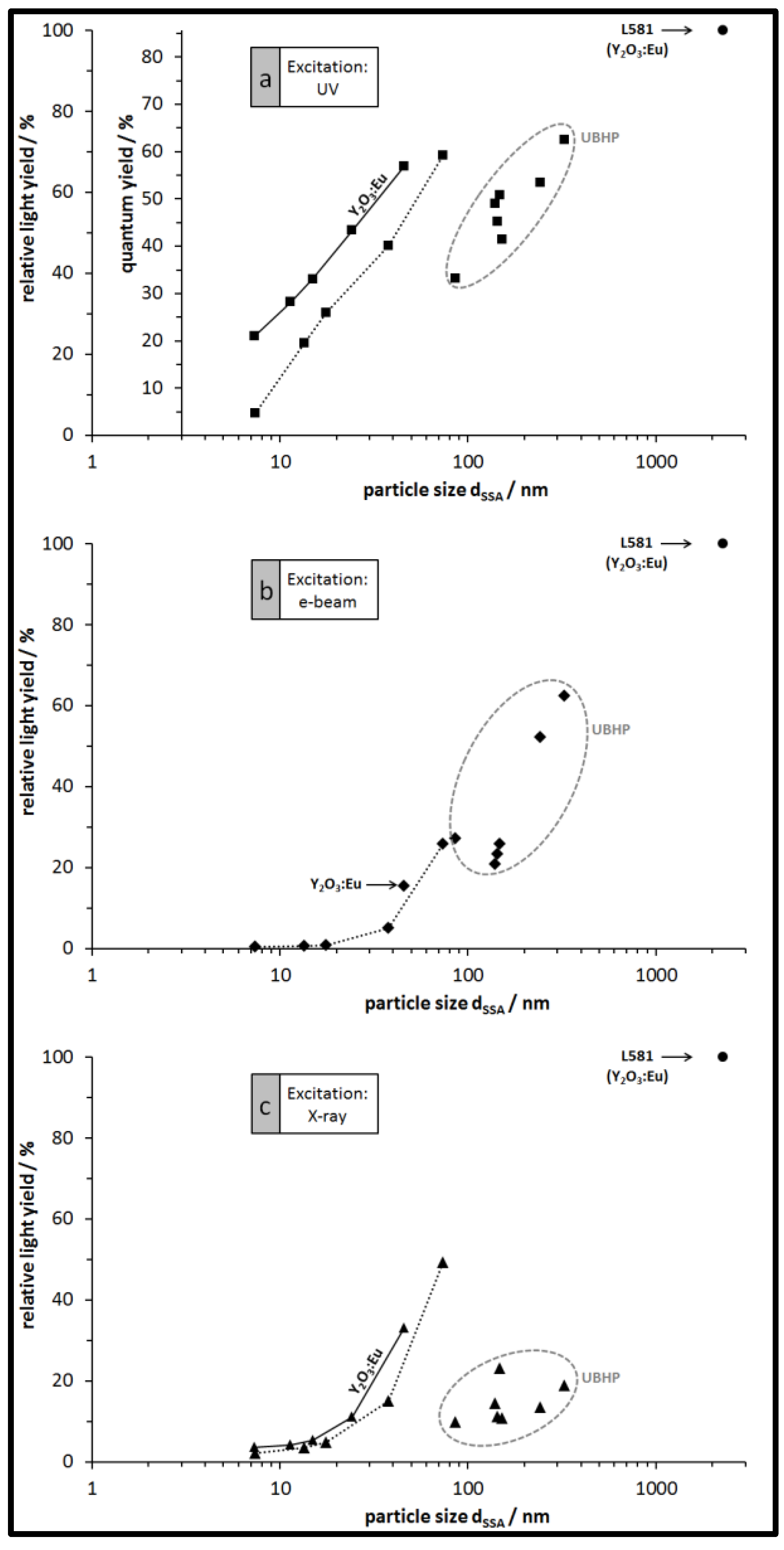 Table 1. Varied parameters of urea based homogeneous precipitation (UBHP) syntheses.
Batch
NS129
NS133
NS126
NS130
NS141
NS134
NS127
NS132
Solvent [vol.-ratio]
H2O
H2O
H2O
H2O
2-propanol + H2O (6:4)
1-butanol + H2O (6:4)
ethylene glycol + H2O (2:8)
ethylene glycol + H2O (2:8)

c

urea/

c

metals
6.3
14.1
37.6
62.7
50.1
50.1
37.6
62.7
© 2017 by the authors. Licensee MDPI, Basel, Switzerland. This article is an open access article distributed under the terms and conditions of the Creative Commons Attribution (CC BY) license ( http://creativecommons.org/licenses/by/4.0/).