SERS-Based Flavonoid Detection Using Ethylenediamine-β-Cyclodextrin as a Capturing Ligand
1
Center for Biotechnology Research in UBITA (CBRU), Institute for Ubiquitous Information Technology and Application (UBITA), Konkuk University, Seoul 05029, Korea
2
Department of Bioscience and Biotechnology, Konkuk University, Seoul 05029, Korea
3
Department of Bioscience and Biotechnology, Microbial Carbohydrate Resource Bank (MCRB) & Center for Biotechnology Research in UBITA (CBRU), Konkuk University, Seoul 05029, Korea
4
Department of Chemistry Education, Seoul National University, Seoul 08826, Korea
5
School of Chemical and Biological Engineering, Seoul National University, Seoul 08826, Korea
6
Department of Physics, Konkuk University, Seoul 05029, Korea
7
Departments of Bacteriology and Genetics, University of Wisconsin-Madison, Madison, WI 53706, USA
*
Authors to whom correspondence should be addressed.
Academic Editor: Helmut Cölfen
Received: 10 September 2016 / Revised: 2 December 2016 / Accepted: 30 December 2016 / Published: 6 January 2017
Abstract
Ethylenediamine-modified β-cyclodextrin (Et-β-CD) was immobilized on aggregated silver nanoparticle (NP)-embedded silica NPs (SiO
2
@Ag@Et-β-CD NPs) for the effective detection of flavonoids. Silica NPs were used as the template for embedding silver NPs to create hot spots and enhance surface-enhanced Raman scattering (SERS) signals. Et-β-CD was immobilized on Ag NPs to capture flavonoids via host-guest inclusion complex formation, as indicated by enhanced ultraviolet absorption spectra. The resulting SiO
2
@Ag@Et-β-CD NPs were used as the SERS substrate for detecting flavonoids, such as hesperetin, naringenin, quercetin, and luteolin. In particular, luteolin was detected more strongly in the linear range 10
−7
to 10
−3
M than various organic molecules, namely ethylene glycol, β-estradiol, isopropyl alcohol, naphthalene, and toluene. In addition, the SERS signal for luteolin captured by the SiO
2
@Ag@Et-β-CD NPs remained even after repeated washing. These results indicated that the SiO
2
@Ag@Et-β-CD NPs can be used as a rapid, sensitive, and selective sensor for flavonoids.
View Full-Text
►

▼

Figures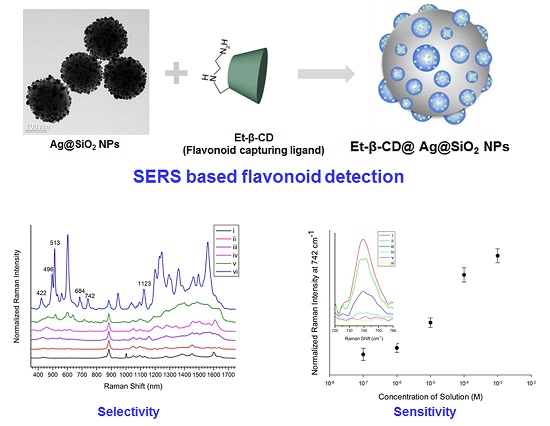 This is an open access article distributed under the
Creative Commons Attribution License
which permits unrestricted use, distribution, and reproduction in any medium, provided the original work is properly cited. (CC BY 4.0).
Supplementary materials
Supplementary File 1:

Supplementary (PDF, 729 KB)

Externally hosted supplementary file 1
Link: http://no
Description: Figure S1. Schematic illustration of the synthesis of Et-β-CD@Ag@SiO2 NPs. Figure S2. 1D NMR spectra of Et-β-CD. (a) 1H NMR spectrum; (b) 13C NMR spectrum. The NMR experiments were carried out on a Brucker Avance spectrometer at 600 MHz in a D2O solution at 25 °C. Figure S3. UV-Vis absorbance of SiO2@Ag@Et-β-CD NPs reacted with Nar, Hes, Lut, and Que. Figure S4. TEM images of Ag@SiO2 NPs in EtOH Ag@SiO2 NPs measured using an energy-filtering transmission electron microscope (EF-TEM, LIBRA 120, Carl Zeiss, Oberkochen, Germany ). The accelerating voltage was 120 kV. Figure S5. Surface-enhanced Raman scattering (SERS) spectra. (a) SERS spectra of organic molecu-les after mixing with Et-β-CD@Ag@SiO2 NPs (i. no target, ii. ethylene glycol, iii. β-estradiol, iv. Isop-ropyl alcohol, v. naphthalene, vi. toluene and vii. Lut); (b) SERS spectra of (i) SiO2@Ag NPs, (ii) SiO2@Ag NPs reacted with Aniline, (iii) SiO2@Ag@Et-β-CD reacted with Aniline, and (iv) SiO2@Ag@Et-β--CD NPs reacted with mixing solution of Lut and aniline. Figure S6. Surface-enhanced Raman scattering (SERS) spectra and normalized SERS intensity graph. SERS spectra of SiO2@ Ag NPs mixed with Lut at 1 × 10−2 M to 1 × 10−7 M.
Scifeed alert for new publications
Never miss any articles
matching your research
from any publisher
Get alerts for new papers matching your research
Find out the new papers from selected authors
Updated daily for 49'000+ journals and 6000+ publishers
Share & Cite This Article
MDPI and ACS Style
Choi, J.M.; Hahm, E.; Park, K.; Jeong, D.; Rho, W.-Y.; Kim, J.; Jeong, D.H.; Lee, Y.-S.; Jhang, S.H.; Chung, H.J.; Cho, E.; Yu, J.-H.; Jun, B.-H.; Jung, S. SERS-Based Flavonoid Detection Using Ethylenediamine-β-Cyclodextrin as a Capturing Ligand. Nanomaterials 2017, 7, 8.
Note that from the first issue of 2016, MDPI journals use article numbers instead of page numbers. See further details here.
Related Articles
Comments
[Return to top]