Atomic Layer Deposition TiO2 Films and TiO2/SiNx Stacks Applied for Silicon Solar Cells
1
Institute of Photonic System, National Chiao Tung University, Tainan 71150, Taiwan
2
Department of Electro-Optical Engineering, Southern Taiwan University of Science and Technology, Tainan 710, Taiwan
3
Department of Materials Science and Engineering, National Dong Hwa University, Hualien 97401, Taiwan
*
Author to whom correspondence should be addressed.
Academic Editor: Paolo Minzioni
Received: 19 June 2016 / Revised: 31 July 2016 / Accepted: 12 August 2016 / Published: 19 August 2016
Abstract
Titanium oxide (TiO
2
) films and TiO
2
/SiN
x
stacks have potential in surface passivation, anti-reflection coatings and carrier-selective contact layers for crystalline Si solar cells. A Si wafer, deposited with 8-nm-thick TiO
2
film by atomic layer deposition, has a surface recombination velocity as low as 14.93 cm/s at the injection level of 1.0 × 10
15
cm
−3
. However, the performance of silicon surface passivation of the deposited TiO
2
film declines as its thickness increases, probably because of the stress effects, phase transformation, atomic hydrogen and thermal stability of amorphous TiO
2
films. For the characterization of 66-nm-thick TiO
2
film, the results of transmission electron microscopy show that the anatase TiO
2
crystallinity forms close to the surface of the Si. Secondary ion mass spectrometry shows the atomic hydrogen at the interface of TiO
2
and Si which serves for chemical passivation. The crystal size of anatase TiO
2
and the homogeneity of TiO
2
film can be deduced by the measurements of Raman spectroscopy and spectroscopic ellipsometry, respectively. For the passivating contacts of solar cells, in addition, a stack composed of 8-nm-thick TiO
2
film and a plasma-enhanced chemical-vapor-deposited 72-nm-thick SiN
x
layer has been investigated. From the results of the measurement of the reflectivity and effective carrier lifetime, TiO
2
/SiN
x
stacks on Si wafers perform with low reflectivity and some degree of surface passivation for the Si wafer.
View Full-Text
►

▼

Figures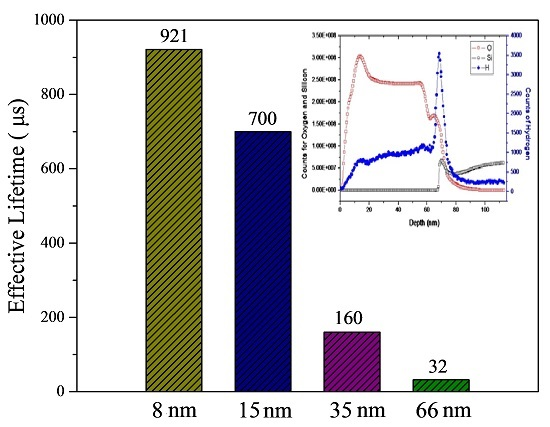 This is an open access article distributed under the
Creative Commons Attribution License
which permits unrestricted use, distribution, and reproduction in any medium, provided the original work is properly cited. (CC BY 4.0).
Share & Cite This Article
MDPI and ACS Style
Yang, Z.-P.; Cheng, H.-E.; Chang, I.-H.; Yu, I.-S. Atomic Layer Deposition TiO2 Films and TiO2/SiNx Stacks Applied for Silicon Solar Cells. Appl. Sci. 2016, 6, 233.
Note that from the first issue of 2016, MDPI journals use article numbers instead of page numbers. See further details here.
Related Articles
Comments
[Return to top]